House Oversight and Government Reform Committee Chairman Trey Gowdy (R-S.C.) has said he is confident the FBI's use of an informant to speak with members of President Donald Trump's 2016 election campaign was appropriate—and that the agency's investigation "has nothing to do with Donald Trump."
Gowdy was one of several lawmakers to meet with FBI Director Christopher Wray and Deputy Attorney General Rod Rosenstein last week to discuss the FBI's investigation into Russian meddling in the presidential election and specifically, its use of a secret informant.
Trump has repeatedly accused the FBI of planting a spy in his campaign for political purposes, but Gowdy said on Fox News show The Story on Tuesday that after last week's meeting, he is "even more convinced that the FBI did exactly what my fellow citizens would want them to do when they got the information they got, and that it has nothing to do with Donald Trump."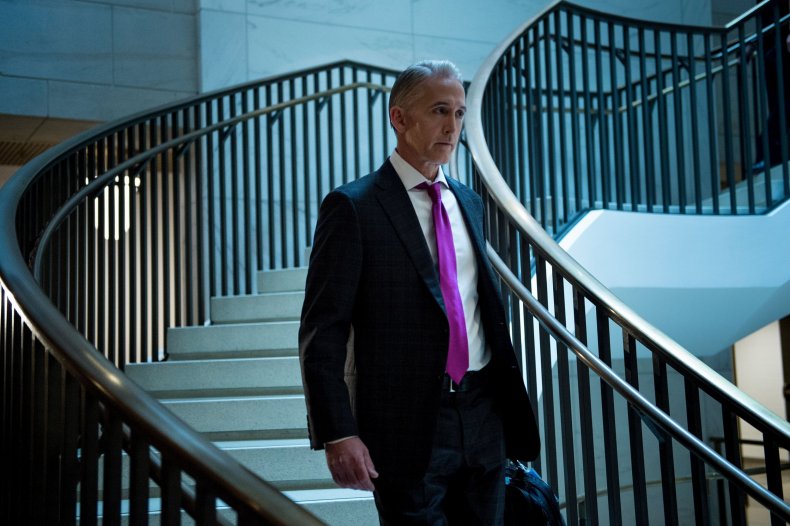 The oversight committee chairman said both Wray and Rosenstein made it clear that Trump has never been the target of the investigation.
"Chris Wray and Rod Rosenstein have at least made it clear to us Donald Trump was never the target of the investigation, he's not the current target of the investigation," Gowdy said.
"Now, keep in mind, that can all change depending on what a witness says, but as of now, I think Chris Wray and Rod Rosenstein are stunned whenever people think Trump is the target of their investigation," he added.
Gowdy said he believed the FBI was in fact, doing what Trump "told them to do. It was Trump himself who said, 'I didn't collude with Russia but if anyone did, I want the FBI to find that out.'"
Trump has continued to rail against the FBI's investigation into Russian interference in the 2016 election, most recently appearing to suggest that the agency spied on his team under President Barack Obama's administration in a series of tweets posted early on Tuesday morning. He did not offer any evidence to support those claims.
Asked what he thought about the U.S. leader's tweets, Gowdy said "the president should have access to the best legal minds in the country and I think he should take advantage of those. And he's got some really good communicators that are on his staff and are at his call."
"If I was his lawyer, and I never will be, I would tell him to rely on his lawyer and his comms folks," Gowdy said.