President Donald Trump was reportedly more preoccupied with watching one of golf's most famous tournaments instead of what his former homeland security, counterterrorism and cybersecurity adviser had to tell him, according to reporter Bob Woodward's new book.
Tom Bossert, now a homeland security analyst for ABC News, approached Trump and asked if the president had a moment to speak. Instead, Trump said he preferred to watch the Masters.
"I want to watch the Masters...You and your cyber...are going to get me in a war — with all your cyber shit," Trump said according to an excerpt of Woodward's book Fear obtained by Axios.
Another excerpt showed how Trump's aides watered down briefings for a president known to have a short attention span or read very much. Woodward writes that Trump "was given a Reader's Digest version of the Hezbollah briefing."
Trump is well known not only for his love of golf but for his frequent visits to his properties with courses. After nearly 600 days in office, the president has visited one of his golf properties 153 times, according to NBC News's tally. Trump just recently played golf during a service for late Senator John McCain on Saturday.
The president's proclivity to hit the links stood in firm contrast to what he said on the campaign trail. Trump, in an attempt to deride former President Barack Obama's golf playing, said he would be too busy as commander-in-chief to play.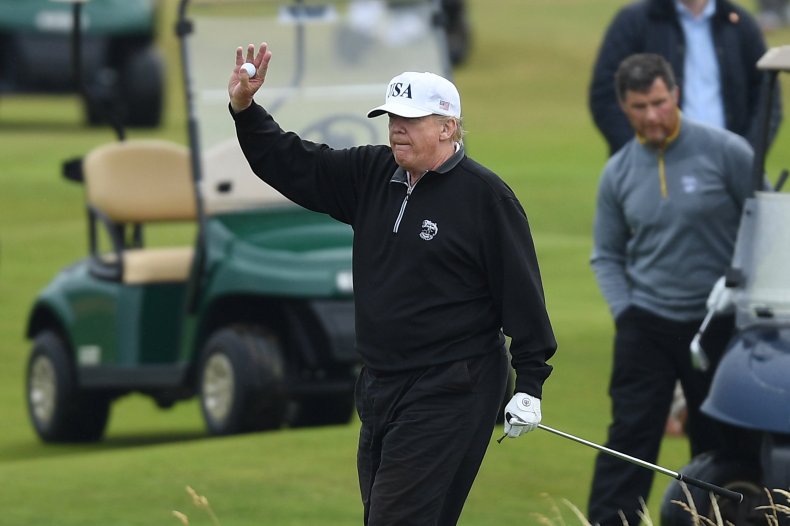 Nevertheless, the encounter between Trump and Bossert served as another example in Woodward's book of a president and White House in potential crisis.
Among many other damning reports, many of the president's top advisers have questioned his intellect and fitness for office behind Trump's back. Chief of staff John Kelly was quoted as calling Trump both "unhinged" and an "idiot," while describing the administration as "Crazytown."
Defense secretary Jim Mattis also reportedly described Trump as a "fifth- or sixth-grader" after speaking with the president about the importance of the U.S. military's presence on the Korean Peninsula.
Both Kelly and Mattis publicly denied Woodward's quotes Tuesday and Trump bashed the book as "made up." Trump also questioned if Woodward was an "operative" for Democrats.
On Wednesday morning, Trump questioned whether Washington lawmakers could look into changing libel laws as well.
"Isn't it a shame that someone can write an article or book, totally make up stories and form a picture of a person that is literally the exact opposite of the fact, and get away with it without retribution or cost. Don't know why Washington politicians don't change libel laws?" the president tweeted.