Ron Klein, the chair of the Jewish Democratic Council of America, blasted Donald Trump on Wednesday, saying the president has been "weaponizing anti-Semitism" which "incites violence" that causes harm to the American Jewish community.
"Weaponizing anti-Semitism means that he's using it as a tool to drive wedges in this country, [to] drive hate and violence," Klein, a Democrat who previously served in Florida's House of Representatives, said during an interview with CNN's New Day.
"I'm personally sick and tired of the president using language which incites violence," he said.
Klein argued that people, particularly the president's supporters, listen to his words and some then choose to act on what he has said. He pointed to past instances when Trump loyalists turned to violence after the president demonized a particular group or political opponents.
"The Jewish community, among other communities, is one of those communities that's been under attack," the former congressman explained. "The Jewish community is less safe than it was three years ago," he asserted, pointing to recent threats and previous attacks on synagogues.
On Tuesday, Trump accused Jewish Americans who vote for Democrats of being disloyal.
"Any Jewish people that vote for a Democrat — I think it shows either a total lack of knowledge or great disloyalty," Trump told reporters at the White House, as he discussed how Democratic Congresswomen Rashida Tlaib of Michigan and Ilhan Omar of Minnesota being banned by Israeli leaders from entering the Mediterranean nation.
Tlaib and Omar have been highly critical of the Israeli government and its policies towards Palestinians. They support the Boycott, Divestment and Sanctions (BDS) Movement, which calls for an economic and cultural boycott of Israel until it addresses human rights abuses and guarantees Palestinians equal rights. Trump has repeatedly equated the congresswomen's criticism of Israel with criticism of all Jewish people, which many analysts have previously argued is highly anti-Semitic.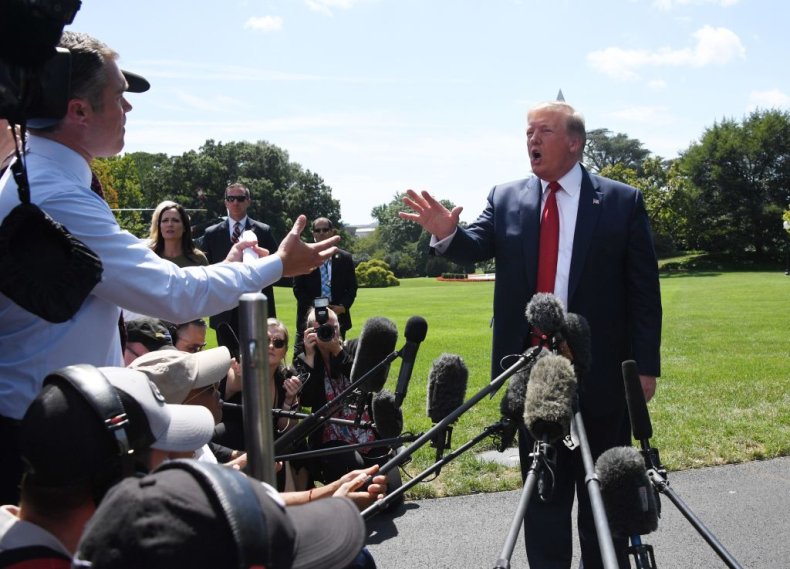 The president's remarks on Tuesday went further, as he suggested that Jewish Americans should inherently be loyal to Israel. Many Jewish leaders and Jewish groups were quick to call out the remark as blatantly anti-Semitic, pointing out that it used a common anti-Semitic trope suggesting that Jews have "dual loyalty."
"Not only does this play into the anti-Semitic trope of Jews holding 'dual-loyalty,' it's also just wildly disconnected from reality," Beth Miller, government affairs manager at Jewish Voice for Peace Action, told Newsweek in a Tuesday statement.
The vast majority of Jewish Americans do not support President Trump. A recent Gallup poll found that 71 percent of the community disapproves of Trump's performance as president. The majority (52 percent) also identify as Democrats, while just 16 percent identify as Republicans.