Trump Wears Safety Goggles But Not Face Mask to Mask-Making Factory Despite Facility's Guidelines
President Donald Trump and his aides failed to wear a mask during their visit to Honeywell plant in Phoenix, Arizona on Tuesday, despite the factory's policy that requires all employees wear a mask at all times. The president did, however, wear safety goggles.
"Please wear your mask at all times," read multiple signs around the facility that's currently manufacturing N95 respirations for the Trump administration. A White House official later claimed that the factory had given the president and officials permission to not wear a mask during their tour.
Hours before the trip, Trump told reporters that he would only wear a face mask or covering if he is required to do so by the factory. "I think it's a masked facility," the president said. "If it's a masked facility, I will. I don't know if it's a masked facility."
Trump has repeatedly refused to follow federal guidelines encouraging Americans to wear masks in public amid the pandemic. Faced with backlash, the president has claimed that wearing a mask could hinder his job performance.
"I'm supposed to make a speech. You'll tell me: Should I leave the mask on when I'm speaking?" Trump said on Tuesday.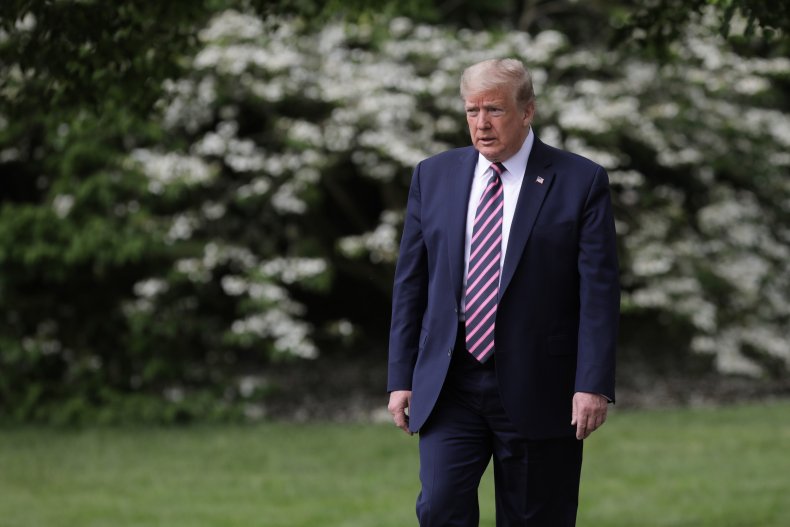 Vice President Mike Pence faced heavy backlash last week when he toured Minnesota's Mayo Clinic without wearing a mask, despite the facility's policy that requires masks for all people who enter. During a Fox News town hall on Sunday evening, Pence defended his decision but also expressed regret.
"I should have worn a mask at the Mayo Clinic," he said, before explaining that the Center for Disease Control and Prevention's (CDC) guidelines provides for mask use to limit asymptomatic spread. Pence asserted that he knew he didn't have the virus at the time because he is regularly tested so didn't believe wearing a mask was necessary.
After Pence's visit, the Mayo Clinic tweeted that the vice president had been informed about their mask policy before arriving. A spokesperson for the facility told Newsweek that they "shared the masking policy with the vice president's office."
"Part of our protocol for ensuring your safety is to require all patients, visitors and staff to wear a face covering or mask while at Mayo Clinic to guard against transmission of COVID-19," according to a description of the policy on the Mayo Clinic's website.
Newsweek reached out to the White House for comment. This story will be updated with any response.
As of May 5, more than 1,237,200 individuals had tested positive for coronavirus in the U.S., with roughly 72,200 deaths caused by the new disease and 199,800 recoveries.