Trump Welcomes Canadian COVID Protesters to His New Social Media Platform
Former President Donald Trump is welcoming Canadians protesting COVID-19 mandates to his new social media platform, Truth Social, which is set to launch later this month.
The new social network from the Trump Media and Technology Group is expected to launch on Apple's iOS on Presidents' Day and will be a conservative alternative to platforms like Facebook and Twitter, which Trump has repeatedly criticized for censorship.
Trump, who was flagged by Twitter and Facebook for misinformation, was permanently banned from the two platforms shortly after last January's U.S. Capitol riot. His new app will offer a similar service, with a "feed" featuring posts from users someone might follow.
"TruthSocial is announcing today that we are welcoming the Freedom Convoy with open arms to communicate freely on TruthSocial when we launch – coming very soon!" Trump said in a Friday statement. "TruthSocial will fight back against Big Tech so we can protect our rights to free expression."
The Freedom Convoy is an ongoing protest, currently stationed on Canada's Parliament Hill, that is demanding the federal and provincial governments reverse all pandemic-related measures.
The group was launched in response to the federal vaccine mandate for cross-border truck drivers, which went into effect January 15. Over a week, truckers and their supporters drove across the country from Vancouver to Ottawa, the nation's capital, where many protesters have remained even a week after the initial rally.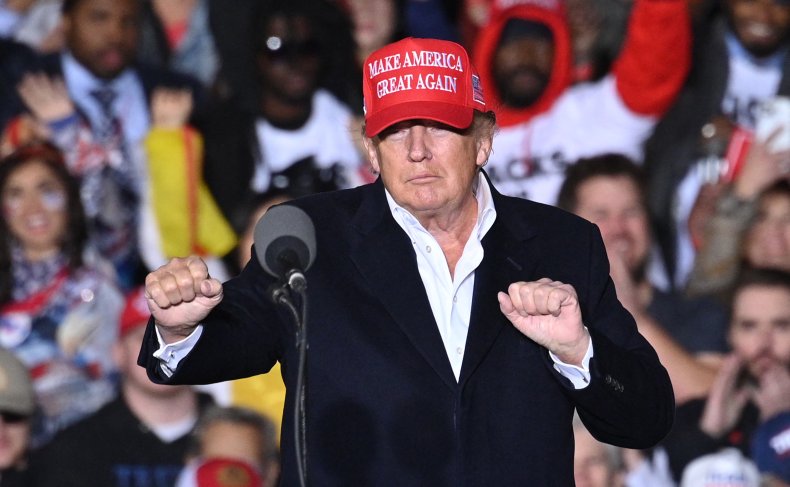 On Wednesday, a GoFundMe page set up for the convoy was halted by the platform after the fundraiser amassed more than 10 million Canadian dollars in crowdsourced donations.
GoFundMe said that the page was on pause and under review "to ensure it complies with our terms of service and applicable laws and regulations."
On Friday, Trump slammed the suspension and promised Canadian protesters that nothing of the sort would happen on his new platform.
"Facebook is canceling the accounts of Freedom Convoy USA, and GoFundMe is denying access to funds that belong to the Freedom Convoy. This is unacceptable and extremely dangerous in any country that values free expression," the former president said.
"Facebook and Big Tech are seeking to destroy the Freedom Convoy of Truckers," Trump continued. "The Freedom Convoy is peacefully protesting the harsh policies of far left lunatic Justin Trudeau who has destroyed Canada with insane Covid mandates. Now, thankfully, the Freedom Convoy could be coming to DC with American Truckers who want to protest Biden's ridiculous Covid policies."
Newsweek reached out to a Trudeau spokesperson for comment but did not hear back before publication.
This isn't the first time Trump has expressed support for the Freedom Convoy.
Speaking in front of a crowd in Conroe, Texas, last weekend, Trump called the Canadian protesters "brave" and "great" for standing up against federal vaccine mandates.
"Canadian Truckers—you've been reading about it—who are resisting, bravely, these lawless mandates and doing more to defend American freedom than our own leaders by far," he said. "We want those great Canadian truckers to know that we are with them all the way. They're really showing something."