Trump, in West Virginia, Taunts Democrats, Praises Coal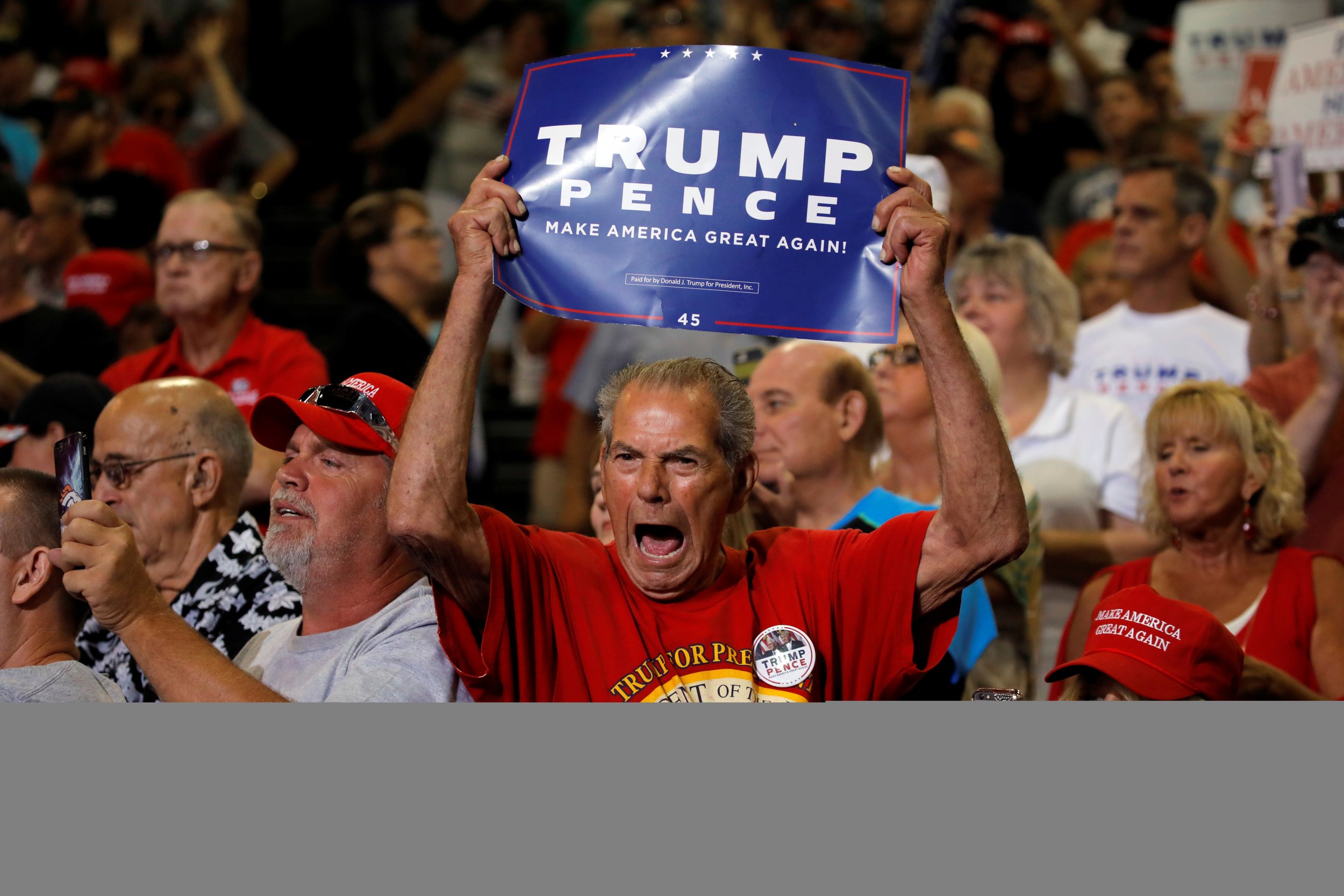 In case of a nuclear strike from the Soviet Union during the Cold War, surviving members of Congress would take refuge at a bunker in West Virginia. On Thursday evening, President Donald J. Trump fled to West Virginia, too, though not to escape into a subterranean lair. Instead, he took safety at the Big Sandy Superstore Arena, in Huntington, West Virginia, for a political rally to brighten another grueling week of an embattled presidency.
For while no Russian missiles threaten Washington, at least for now Trump's presidency is certainly in danger from a variety of factors. Earlier in the day, news broke that special counsel Robert S. Mueller III was impaneling a new grand jury in his probe into Russia's involvement with the Trump campaign. Trump's approval rating, meanwhile, is at an astonishing low of 33%. His legislative agenda, meanwhile, has the inauspicious prospects of his hometown New York Knicks.
Trump teased a "very big announcement" for the rally, hoping to build suspense. Reports from earlier in the day indicated that West Virginia governor Jim Justice, previously a Democrat, would switch his party affiliation while Trump looked on. The switch was not surprising, since Justice had not been a supporter of Hillary Clinton or an enthusiastic member of the party. He is, like Trump, a billionaire businessman. Coincidentally, he owns the Greenbrier resort where the congressional bunker was constructed during the Cold War.
But the true aim of the rally was to restore Trump's spirits, which are always lifted by a sea of "Make America Great Again Hats." True to form, he opened the rally by praising the size of the crowd and claiming, as he often does, that "thousands" more were waiting outside. Returning to another favorite theme, he basked in his November victory. This was, indeed, the place to do it: West Virginia handed Trump his largest margin over Clinton: 42%.
Trump thanked his supporters, telling them that he had "ended the war on beautiful, clean coal" and "stopped the EPA intrusion." Without delving into specifics, he touted the return of American manufacturing and heavy industry.
"And the good news keeps pouring in," Trump said, mentioning several economic indicators for both West Virginia, which can boast of an impressively high 3% gross domestic product growth, and the nation at large.
But there was bad news too, and it involved a certain country that likes to hack emails and spread fake news — or so claim American intelligence agencies.
Trump claims otherwise. "We didn't win because of Russia. We won because of you," Trump said, asking if there were any Russians in the arena. There were none, which shouldn't be surprising, as West Virginia is not known as a popular redoubt of Russian nationals.
Mirroring the nightly monologues of Sean Hannity, the Fox News anchor, Trump suggested that it is Clinton, not he, who is deserving of investigative attention. He referenced Clinton's use of a private email server, which had already been the subject of extensive inquiry. He also discussed the Uranium One energy deal, which apparently involved questionable contributions to the Clinton Foundation. But that, too, has been widely covered.
No matter. Trump wanted to cover it again in front of a crowd that clearly relished his digs at Democrats, especially Clinton. "Try winning at the voting booth," taunted Trump, who clearly remains irritated that some perceive his win in the presidential contest as illegitimate.
Justice spoke briefly in the middle of the rally, announcing the switch of party allegiance that everyone expected. He knew he wasn't the main ticket and made sure to echo Trump's own themes.
"Have we not heard enough about the Russians?" Justice wondered.
The crowd erupted. Later, a camera panned to Trump, standing to the side of the stage as Justice spoke. In what has come to be a rare sight, the president looked pleased.