On Wednesday, the man who helped expose the phone call between former President Donald Trump and Ukrainian President Volodymyr Zelensky, which led to Trump's first impeachment trial, will retire from the U.S. Army — at a rank that his supporters believe is unbefitting the level of service he has provided his country.
Yevgeny "Eugene" Vindman currently holds the rank of colonel, but will retire as a lieutenant colonel, having not served the minimum requirement of three years to retire under his current rank.
Yevgeny, along with his twin brother, Alexander, a key witness during Trump's first impeachment trial, both served on the National Security Council (NSC). Alexander was party to Trump's call with Zelensky when the ex-president asked the Ukrainian leader to investigate then-Vice President Joe Biden. Alexander shared his concerns over the call with Yevgeny, who was then serving as an attorney on the ethics council of the NSC, and together they reported the incident.
In the aftermath, Alexander retired from the Army, but Yevgeny stayed on. He was subsequently removed from his position with the NSC, and filed a whistleblower complaint upon his return to the Army after facing poor performance reviews and seeing an expected promotion to colonel delayed. An investigation by the Pentagon's Inspector General concluded he was "the subject of unfavorable personnel action."
Vindman's lawyer, Mark Zaid, who founded the nonprofit Whistleblower Aid to offer legal services to others like him, told Newsweek that retiring Vindman at the rank of colonel would be merely "honorific," and would not affect his retirement compensation. Zaid told Newsweek this honor would acknowledge Vindman's commitment to upholding the Constitution and the sacrifice he made.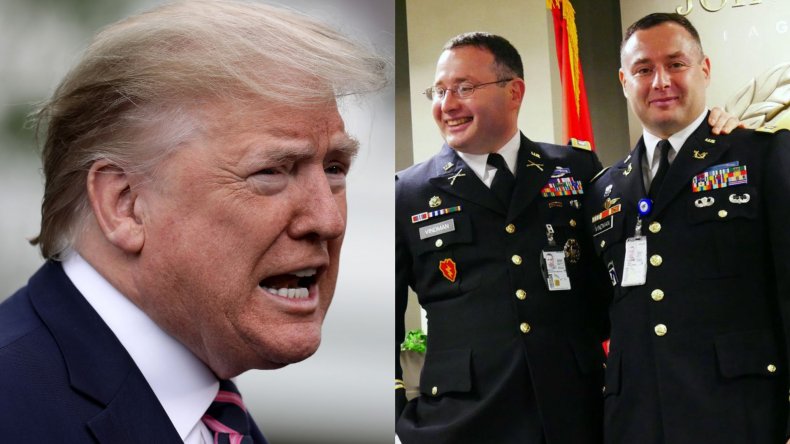 Vindman said it's also about recognizing the Army's core values.
"The thunderous silence from the Army and the military supporting me, and Alex, undercuts the values that the military is based on," he told Newsweek. "This abrogation of values will have a larger impact on the military than adhering to some misguided notion of remaining apolitical."
"Retiring as a colonel sends a message to military personnel and civil servants that taking a principled stand, whistleblowing, if necessary, will be an action that is lauded rather than reviled," he added.
The U.S. Army, which declined to submit Vindman's request to President Joe Biden, the only individual who can alter a military retirement title, declined to address the situation directly, but did provide Newsweek with insight into the process.
"It is extremely rare for this type of time-in-grade waiver to be granted," Matt Leonard, an Army spokesperson, told Newsweek in a statement. "There have been only three such waivers for Army officers since 1997."
"Due to the extreme rarity of these actions, and the fact that these are individual personnel actions, we are not able to comment on when such waivers are 'generally approved,'" he added. "The statute requires that the waivers be for 'extreme hardship or unusual circumstances.' Examples of situations that might be illustrative of an 'unusual circumstance' include an officer whose rank is upgraded by statute mid-way through a four-year tour, or an officer who is appointed to a civilian position in a Presidential administration."
Newsweek contacted the White House multiple times over the previous week for comment on this issue but did not receive a response.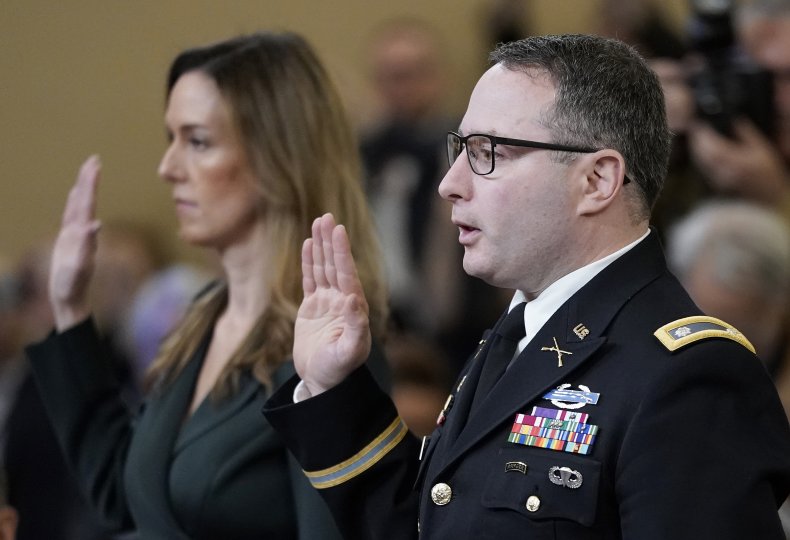 Vindman told Newsweek that he did not hear from the White House regarding his request until this past weekend, after his wife "wrote directly to senior leadership." He said a White House lawyer acknowledged her letter and an attorney thanked her for her "family's service to our nation."
Vindman said that was the first time anyone in senior leadership at the Department of Defense (DOD) or the White House had thanked him for his role in alerting authorities to Trump's call.
"That statement alone means a lot," he told Newsweek. "Ultimately, that's what this whole waiver is about. An acknowledgement that my actions were in keeping with my oath to the Constitution, rather than loyalty to one man, and were in accordance with my obligations as a lawyer and a soldier."
The waiver is just," he added, "given the impact on my career and retaliation I experienced from the Trump White House."
Zaid told Newsweek that the White House's failure to address Vindman's request may deter officials from speaking about potential government wrongdoing in the future. In the time that followed his posting at the NSC, Zaid said Vindman became "convinced that he had no real prospects for continued meaningful service in the Army," and would be relegated to "dead end" jobs over the two remaining years he would have to serve in order to retire as a colonel.
Despite his legal background and prior role with the NSC, Vindman was stationed as a staff judge advocate at the U.S. Army Communications-Electronics Command in Aberdeen Proving Ground, Maryland. In an opinion published in The Hill on August 20, Dennis Aftergut of Lawyers Defending Democracy described this posting as "a national security expert's Siberia," where his experience was of "no use."
Vindman told Newsweek that while he respected the "cutting edge" research and development work being carried out at Aberdeen, he felt the work he was assigned was not commensurate with his experience. He said he was assigned three positions in two years upon leaving the White House. In the second position he said he replaced a junior officer, and when he left this summer a junior officer replaced him.
"The job I held there was simply designed to keep me out of the public eye, the D.C. bubble, and to protect the Army," Vindman told Newsweek, "not to keep me on an upward career trajectory."
"In the military," he added, "if you are not moving forward, you are moving out."
Had he not reported Trump's call, Vindman expects his career trajectory would have been quite different. Before leaving the White House, he was being considered for a promotion to "a more senior position." He believes that promotion would have put him on a path toward the Army's "most prestigious assignments," such as a role with the DOD's Office of the General Counsel.
If Vindman does not ultimately receives the retirement rank acknowledgement he seeks, Zaid worries it will send a message to whistleblowers that their sacrifices will inherently come with professional consequences.
"By not retiring Colonel Vindman in his current grade, the president would be sending a message to military officers and all federal employees that whistleblower protections are hollow and meaningless," Zaid told Newsweek. "If that is the message, why would anyone going forward risk retribution by displaying moral courage and reporting misconduct and wrongdoing?"
Correction 8/31/22, 11:00 a.m. ET: This story has been corrected to state that the opinion published by The Hill on August 20 was written by Dennis Aftergut. We regret the error.