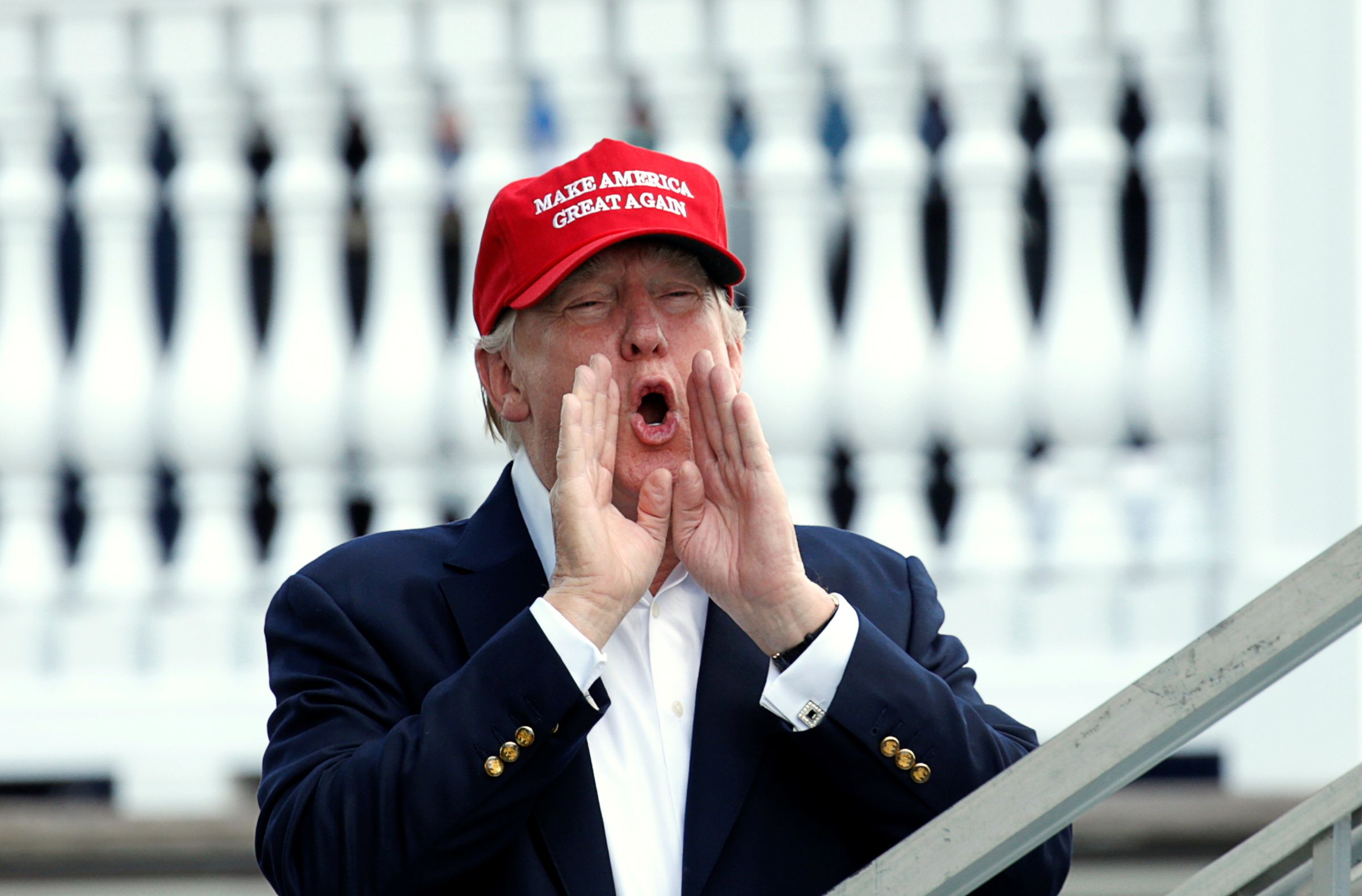 Liberals used to grouse about President George W. Bush's less-than-rigorous work schedule: the long work-outs, the frequent brush-clearing forays at his ranch in Crawford, Texas. He went to bed at 9. What kind of statesman goes to bed at such a grade-school hour?
Those were the days.
On the eve of his presidential inauguration, Donald J. Trump told an audience, "I promise you that I will work so hard." He'd spent both the primary campaign and the general election comparing his work ethic to that of his opponents, including "low energy" Jeb Bush and stamina-deficient Hillary Clinton.
"I would rarely leave the White House because there's so much work to be done," Trump said in the political prehistory that was the summer of 2015. "I would not be a president who took vacations. I would not be a president that takes time off."
Evidence of that work ethic, however, is lacking, as the six-month mark of his term in office approaches. Presidents customarily use their initial months in office to enact their most ambitious proposals, especially if they have a friendly Congress disposed to hand them victories. Trump has such a Congress, and he has promised his supporters so much winning, they'd be pleading for a winless streak.
Yet many reports show him disengaged from the daily business of governing, uninterested in policy details and strikingly, disturbingly incurious about the enormous federal apparatus he now commands.
"I'm not going to have time to go play golf," Trump said last summer.
He has, in fact, found plenty of time to do just that. He has spent 50 days of his presidency at a Trump-branded property, leaving Washington on the weekends for either his Florida estate, Mar-a-Lago, or his golf club in Bedminster, New Jersey.
He has also found time to tweet. During the presidential campaign, Dr. Ben Carson, a former primary challenger who had become a Trump surrogate, said Trump was "not gonna have time, you know, to be tweeting."
Wrong again. But it's not the tweeting that's problematic, but what that activity shows about Trump's priorities. Most of his tweets have not been to promote Republican policy goals. When he does tweet about healthcare, for example, his missives are frequently at odds with Republican messaging. Most of his tweets have nothing to do with policy. Instead, they attack the media, nurse grudges (with the media) and show an obsessive occupation with self-image.
One could excuse both the tweeting and the golfing, perhaps, if these were but steam valves for a president otherwise furiously engaged in the greatness-restoring project he promised his supporters. That is not, however, the portrait that emerges from well-sourced White House reports.
Most of those have Trump watching a grotesque five hours of television per day, most of it involving cable networks like Fox News and CNN. In late April, The Washington Post described his daily television habit:
Trump turns on the television almost as soon as he wakes, then checks in periodically throughout the day in the small dining room off the Oval Office, and continues late into the evening when he's back in his private residence. "Once he goes upstairs, there's no managing him," said one adviser.

Sometimes, at night, he hate-watches cable shows critical of him, while chatting on the phone with friends…

In the morning, the president typically flips between "Fox & Friends," Maria Bartiromo's show on Fox Business and CNBC's "Squawk Box."
In a recent story for The New York Times Magazine, political reporter Mark Leibovich describes visiting close Trump aide Hope Hicks at the White House. He was surprised to receive an invitation from Hicks to drop in on Trump in the Oval Office.
"Huh. It's usually not this easy to infringe on the president's schedule," Leibovich muses. It turns out the president's schedule that afternoon involved watching Fox & Friends. The "forgotten Americans" who had supported Trump had been forgotten.
"He gets bored and likes to watch TV," one White House insider told Politico —just days into the beginning of his term. It takes a rare mind indeed to be bored by the most powerful office in the history of human civilization.
It takes an even rarer mind to persist in that fundamental know-nothingness. In May, as Trump was about to depart on his first trip abroad as president, The New York Times described his unwillingness to prepare:
[E]ven as he sat with briefing books and stacks of news clippings about global events, Mr. Trump has generally just skimmed through, according to several people familiar with his preparations. Instead, he has focused on the chaos swirling around his White House.

In an attempt to capture his interest, aides threaded Mr. Trump's own name through the paragraphs of one of the two-page memos they wrote for him.
Boredom often leads to laziness, and charges of laziness have hounded this White House from the start. That's because those who know Trump were always skeptical about his claims about the diligence with which he would supposedly toil on behalf of the American people.
Right after the election, Trump biographer Tim O'Brien made what has turned out to be a prescient prediction, telling Politico that Trump would leave the actual work of governing to Congress. "He says he's a hard worker, but he really prefers to watch a lot of TV and eat hamburgers," O'Brien said. Several months later, as that prediction was being realized, O'Brien told Maureen Dowd, the New York Times columnist, that the pinnacle of Trump's career was the erection of Trump Tower. That was in 1983.
"But the success of that went to his head and he never cared again. He's fundamentally lazy. He free-rides so many processes he doesn't know anything about. He used to do it in the business world, and now he does it in the political world," O'Brien told Dowd. "He's not a student of anything other than protecting his image."
Trump was never a master builder, entrepreneur or deal-maker. He is good at branding, and at selling that brand: Make America Great Again, Build the Wall, Lock Her Up. Liddle Marco, Lyin' Ted, Crooked Hillary. But the branding that worked so well during the campaign works a lot less well when your customers are legislators who not only have to have a grasp of policy but to explain their votes to constituents back home.
It's also fairly difficult to brand high-risk insurance pools and six-party talks on North Korea. Not everything can be reduced to a ballcap slogan, Trump has discovered. And that discovery has dispirited him, as he confessed to Reuters this spring: "I loved my previous life. I had so many things going. This is more work than in my previous life. I thought it would be easier." That may be the most astonishing admission ever made by a sitting president, a concession of intellectual incuriosity and outright laziness that simply has no rival in the history of the office.
Little surprise, then, that Trump's time in the White House has been marked by the creation of crises and obsession over them. The presidency may be more about the appearance of power than power itself, but it's not supposed to be quite this powerless. The grand infrastructure plan remains the stuff of bipartisan fantasy. Healthcare bored him, so Trump did little of the deal-making that is his supposed genius. When he tweeted on the issue, it was nonsensical, sophomoric or counterproductive. Frequently, it was all three.
Sometimes, a zealous cabinet member brings him an executive order, allowing carcinogens to be spewed into the air or maligning people with brown skin. Trump signs it in an ornate Oval Office affair, Republicans standing over him as over a child just learning to write his name. They told him to nominate Neil Gorsuch to the Supreme Court, and Trump did. That, too, he has treated as a testament to his toils, though he appears to have as little understanding of the judicial branch as he does of the legislative one.
Republicans on the Hill plainly hope Trump sticks around long enough to rubber-stamp whatever legislation comes his way. "White House officials privately concede that it is actually better for Republicans when the president disengages more from being a policy negotiator," the Daily Beast reported in June. The article was about healthcare, but it could have been about anything.
Trump is a public official, meaning he is employed by the American people. We pay his salary, regardless of whether he donates it or not. Republicans have long loved to crow about lazy Washington bureaucrats who waste taxpayer dollars while working little and achieve less. Their desire to expunge government waste seems acutely commendable these days. It should begin in the Oval Office.