Trump White House Doctor's CPAC Rant Draws Mockery and Criticism
Social media users on Saturday mocked and criticized Representative Ronny Jackson, a former White House doctor who served during the Obama and Trump administration, for his rant in which he accused the Biden administration of spreading misinformation.
Jackson, a Texas Republican, was part of a panel that discussed the role of the media and misinformation, and the way the Biden administration responded to the COVID-19 pandemic. The panel was held in Maryland on Saturday as part of the Conservative Political Action Conference (CPAC) where Republicans and conservatives gathered for the four-day event.
In addition to his CPAC remarks on Saturday, Jackson criticized the Biden administration's response to the pandemic, which included nationwide vaccine mandates, recommended social distancing, and temporary lockdowns, on Twitter.
"This White House has been COVERING UP vaccine injuries. They've LIED about it stopping transmission. Biden has DESTROYED all confidence in our public health sector!!" he tweeted Saturday morning.
"The web of misinformation, the deceit that they [the Biden administration] have been sewing for a long time, it's unraveling right now before our eyes," Jackson said at the convention, adding that the press will make that obvious as it becomes one of the "entities that's probably going to get us out of this."
Jackson was then trolled for his remarks and the way he delivered his brief speech by a number of Twitter users.
"Does Ronny Jackson get paid based on how many words he can cram into 60 seconds?? Holy S***! Someone might want to check his speedy stash for purity??" asked Twitter user @Papi_B_Dubs.
Meanwhile, political commentator Ron Filipkowski wrote on Twitter: "This is what a steady diet of adderall, Jack Daniels and Alex Jones produces."
"@RonnyJacksonTX is always completely deranged—a world champion level Trump sycophant—but he's so hyped up here that it is hard to believe. He is a known abuser of pills so this is not all that shocking, but...yikes," alleged Twitter user @SpiroAgnewGhost.
Independent journalist and social media personality Aaron Rupar, commented on Jackson's criticism of President Joe Biden, saying, "The irony is that Ronny Jackson's only purpose in Congress is going on right-wing TV and accusing Biden of being addled."
Jackson also said on Saturday that congressional hearings and whistleblowers coming forward will reveal that the "left" and the Biden administration "did lie to us" and spread misinformation.
"That's gonna become obvious and then the press is going to slowly start reporting some of that. Your friends and neighbors who have not been like-minded with you are going to start seeing things your way," he said. "The main thing is [to] get out and get the vote out. We got to get...the Senate, we got to keep the House. Just keep giving us momentum and we'll make a difference. I promise."
Jackson's comments may have been in reference to the GOP-controlled House's Select Subcommittee on the Weaponization of Federal Government, which recently held hearings looking into the alleged roles of federal agencies such as the FBI in censoring conservative voices.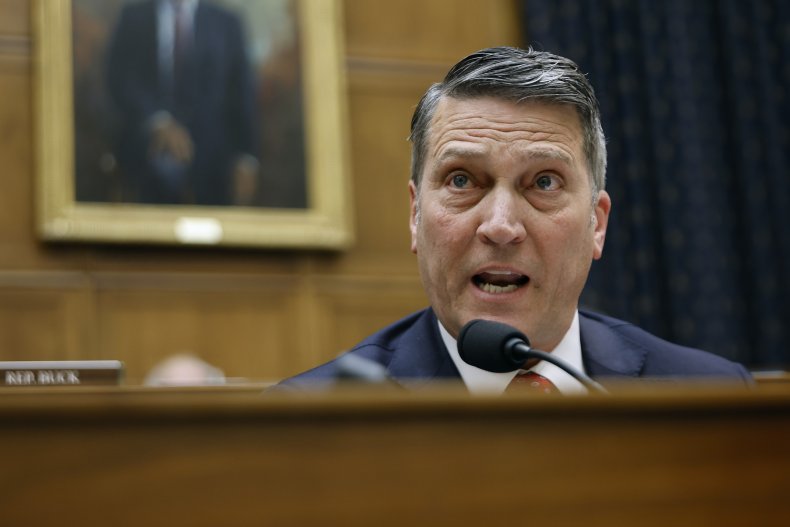 Twitter user @Tinos__Table__ defended Jackson's CPAC speech, saying, "Well he's not wrong. Biden is demented." Additionally, some conservatives supported Jackson for his remarks about Biden's health in the past.
Brigitte Gabriel, the founder and chairwoman of the grassroot movement Act for America, shared Jackson's recent interview with Fox News about Biden's recent cognitive health report and asked Wednesday: "Why is Joe Biden not taking a mental health test?!"
"Dr Ronny Jackson EXPOSES deficiencies in Biden medical report," said Fox News contributor Leo Terrell about the Texas Republican's comments about the president.
Newsweek reached out to the White House for comment.