Updated | The White House invited a representative of a conservative Christian organization described by LGBT rights advocates as a "hate group" to speak at a youth outreach event.
Tyson Langhofer, a senior counsel and director of legal advocacy and training at the Alliance Defending Freedom, spoke on a panel on free speech at Generation Next: A White House Forum on March 22. The ADF website details its opposition to same-sex marriage and access to abortions, and has earned "designated hate-group" status by the Southern Poverty Law Center.
President Donald Trump was interviewed by Charlie Kirk at the event. Kirk is founder of the conservative nonprofit Turning Point USA and has been described by LGBT advocacy group GLAAD as an "anti-LGBTQ activist." He recently described forcing a baker to make a cake for a gay couple, despite the baker's religious objection to homosexuality, as "fascism."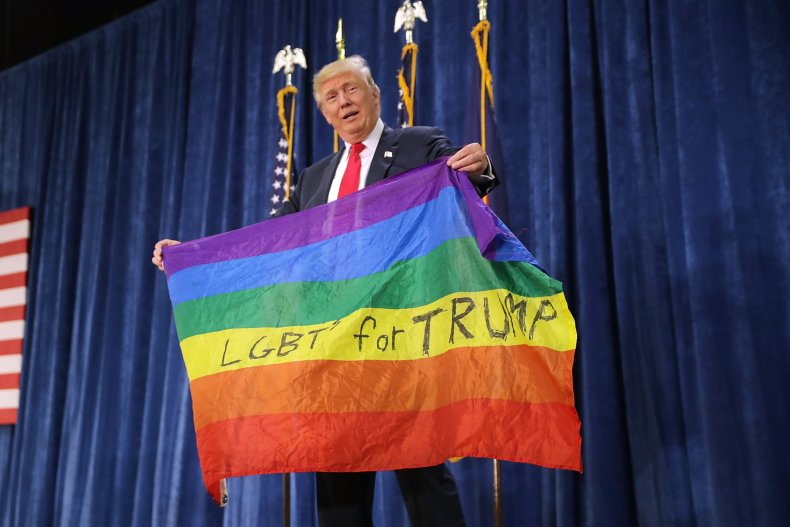 On March 19, Matt Sharp, an attorney for ADF, spoke out against a bill proposed in California to outlaw gay conversion therapy, which studies have shown has no scientific basis. In a piece for the Baptist Priest, Sharp suggested that same-sex attraction and gender dysphoria were "sexual issues" that could be addressed using church materials or the Bible.
In 2003, the ADF was among the organizations to file court documents against a landmark decision by the U.S. Supreme Court to strike down laws criminalizing sex between men in Texas, according to its website.
"The Alliance Defending Freedom is an openly anti-LGBT hate group, waging a war against the LGBTIQ community worldwide," Rashima Kwatra, communications officer at OutRight Action International, told Newsweek.
"They support the criminalization of our lives, perpetuate prejudice and intervene in litigation to institutionalize discrimination against LGBTQ people. It is appalling that the White House is providing them with a platform to spread their hate even to youth, promoting the undermining of the dignity of LGBTIQ people."
An ADF spokesman disagreed with the characterization of the group.
"ADF is the world's largest legal organization advocating for the right of all people to freely and peacefully live and work according to their convictions without fear of government censorship or coercion," ADF interim vice president of communications Bob Trent told Newsweek in an email.
Sarah Kate Ellis, president and CEO of GLAAD, added in a statement: "Trump has surrounded himself with anti-LGBTQ activists who have systematically targeted the transgender community and openly defended the vile and discredited practice of conversion therapy.
"From delivering countless speeches to fringe groups united around hatred towards LGBTQ Americans to bringing them through the White House gates, President Trump continues to lead a culture war against the LGBTQ community at every turn."
This article has been updated to include an ADF statement.