While the president is away, Stephen Colbert will play.
President Donald Trump is back in the White House after a 12-day visit to Asia, where he met foreign leaders including China's Xi Jinping and South Korea's Moon Jae-in. And as Trump settles back in, Colbert has a few ideas on how to make the presidential abode a little more comfortable.
In a skit on Wednesday's episode of The Late Show on CBS, Colbert gave the White House an extreme makeover.
Colbert replaced the president's highly classified briefing documents with a Long John Silver's children's activity sheet, which should appeal to the president's short attention span.
The comedian also took the precaution of removing the sharp adult scissors from the drawers of his big oak desk in the Oval Office and replaced them with much safer, kid-friendly scissors. (And some Cheetos.)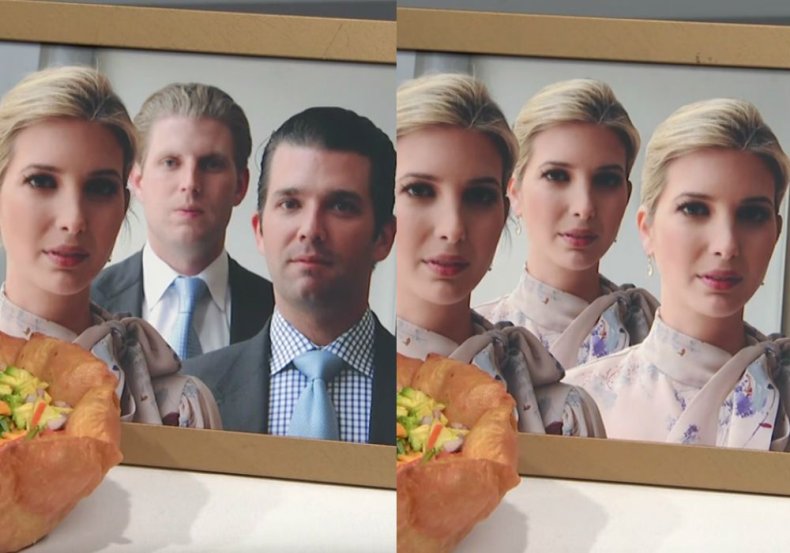 The famous presidential red phone is replaced by a much-easier-to-use children's toy phone (it even has a smiley face).
And one change that Trump would probably greatly enjoy: A framed photograph of his three eldest children, Donald Jr., Eric and golden child Ivanka (sorry, Tiffany—no room for you), is replaced by a framed photograph of three Ivankas.
Colbert also mocked Trump's apparent inability to drink a bottle of water with one hand on Wednesday's The Late Show.
At a press conference Wednesday, Trump bizarrely took a pause to sip a bottle of water with both hands, and Colbert gleefully emulated him to applause from the crowd.
"That's not fair," Colbert then cracked. "Everybody gets dry mouth. I can't stand here on national television making fun of a politician just for drinking water—that is childish. And Trump already did it way better with Rubio."
Echoing Trump's own words about former GOP presidential candidate Marco Rubio—"Unbelievable," Trump said at a February 2016 rally—Colbert quipped: "Unbelievable… that you are the president."