Trump White House Is Full of Tabloid Rumors and Accusations About Russia, Mistresses and Money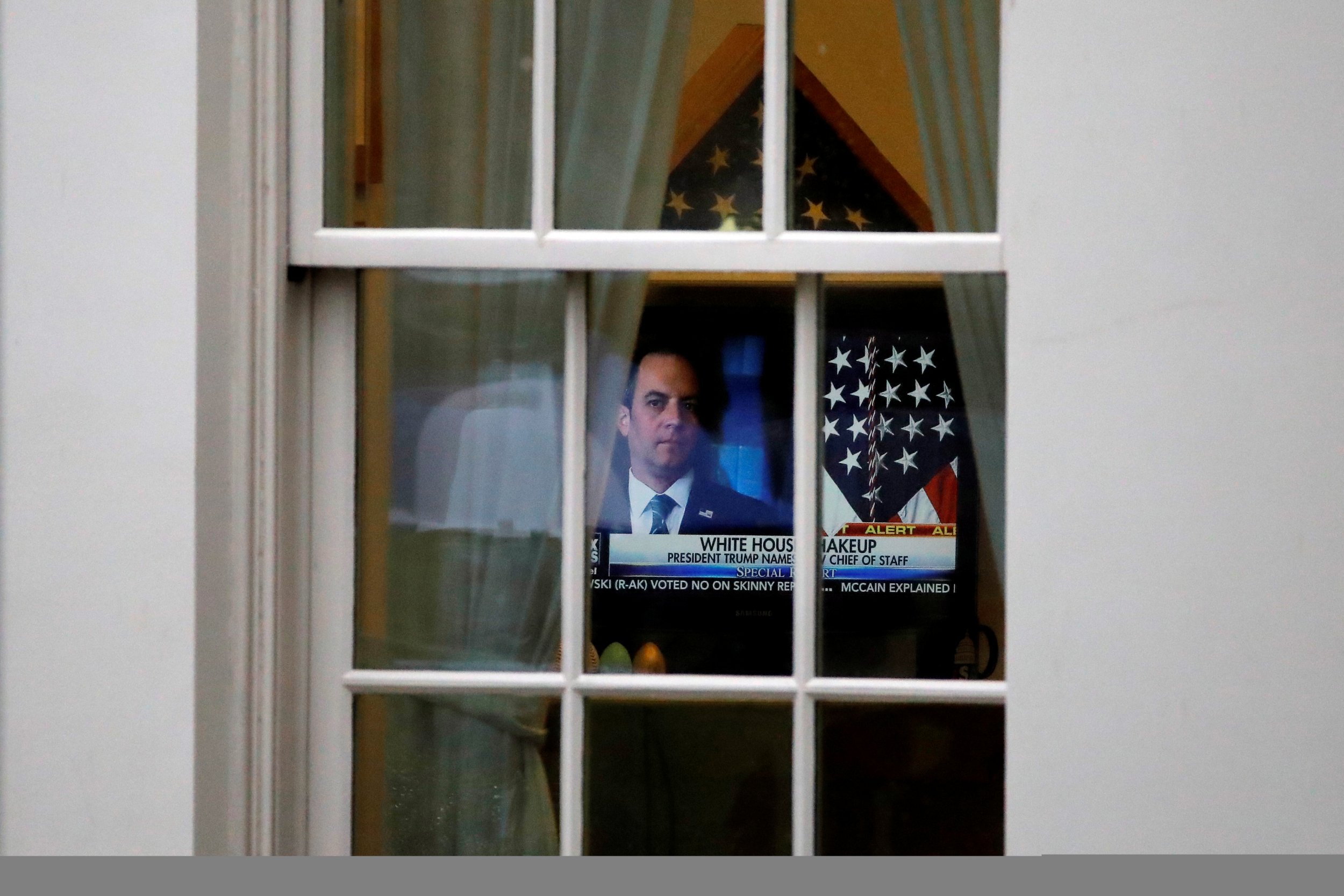 The White House has devolved over the past six months into a hotbed of intrigue, innuendo and boulder-sized rumors seemingly more appropriate for tabloid newspapers than the annals of history. With various administration officials publicly attacking each other, President Donald Trump and his team have seen their dirty laundry thrown around Washington and the world, with few policy accomplishments to show for all their drama.
From alleged divorces and mistresses to backroom and overt backstabbing in the newspapers, here are just some of the scandals that have plagued the White House and made their way to the headlines in recent months.
In and Out
The most recent feud involves former White House Chief of Staff Reince Priebus and new White House Communications Director Anthony Scaramucci. Priebus, who was replaced by Homeland Security chief John Kelly on July 28, had been blocking Scaramucci from joining the staff for months. But with the administration struggling to form a cohesive message and failing to spin any of the president's tweets, former press secretary Sean Spicer, who came over from the Republican National Committee and is close with Priebus, resigned after Trump decided Scaramucci is what the press office needed.
In one week, Scaramucci went from claiming he and Priebus were like "brothers" to outright bludgeoning him in the press. The former hedge fund manager told The New Yorker last week that Priebus was a paranoid schizophrenic and a "paranoiac." He added, in different words, that Trump's chief political strategist, Steve Bannon, liked to perform fellatio on himself. A report later surfaced in The Huffington Post that alleged Priebus had warned Trump not to bring on Scaramucci because of his financial links to China.
That led to a friend of Scaramucci's, Arthur Schwartz, accusing Priebus of leaking the story to the Huff Post and threatening to reveal information about Priebus's alleged mistress. He later walked back his threat and apologized.
Also, an unverified story surfaced in the New York Post's Page Six last week that Scaramucci's wife had filed for divorce, citing her frustrations over his "naked ambition" to get close to Trump's White House.
The Son-in-Law
Jared Kushner, the White House senior adviser and presidential son-in-law, has perhaps had too much of the spotlight on him for months. Last week, he appeared before the House and Senate intelligence committees to discuss his links to Russia during the campaign. Before that, it was revealed that Kushner had secured a $285 million loan a month before Election Day from Deutsche Bank, which Trump has outstanding loans with. The bank also has paid hefty fines for participating in a scheme that laundered Russian money.
Kushner is also at the heart of an investigation into possible collusion between Trump and Russia for heading up the data analytics team that many credited for Trump's victory last November. According to a McClatchy DC report earlier this month, investigators doubt Russia could have had the sophistication and knowledge to so precisely target voting districts with a "fake news" campaign and allege that Kushner's team could have helped.
That Dossier
Then, of course, there's the 35-page dossier that helped stoke Trump's hatred of negative press coverage. Sometimes called the "Golden Shower Gate" dossier, the political opposition report details the president's allegedly close relationship with Russia. It was in the news again this month when the president told The New York Timesthat he believed former FBI Director James Comey made him aware of it as a means of leverage.
Trump White House Is Full of Tabloid Rumors and Accusations About Russia, Mistresses and Money | U.S.