Trump White House Staff Filled With Washington Insiders Despite 'Drain the Swamp' Pledge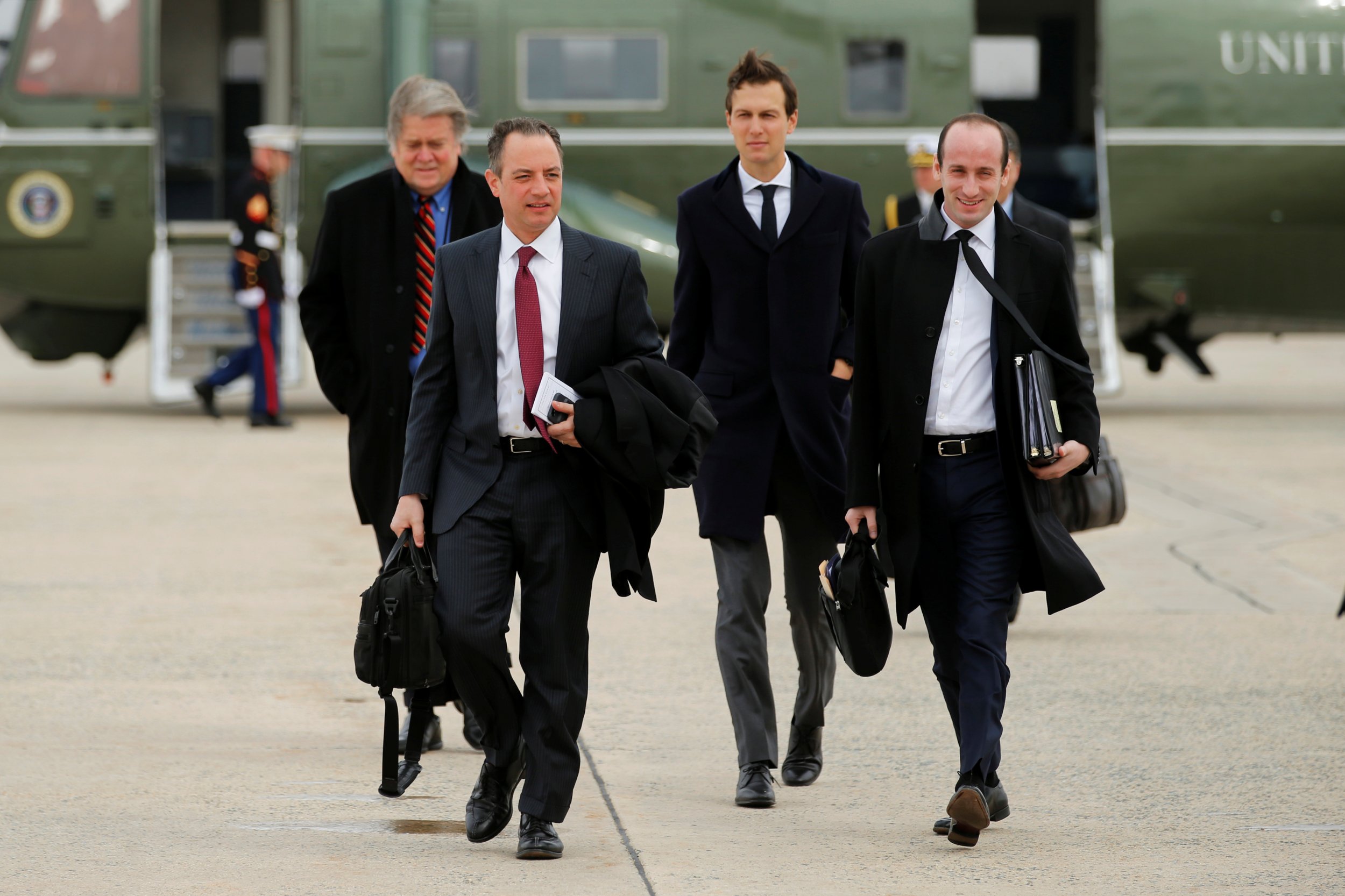 Despite his campaign promise to "drain the swamp" as president, Donald Trump's White House features the former Capitol Hill staffers, Republican National Committee staffers, elite D.C. lawyers and career employees one would expect from a typical GOP administration.
Approximately 70 percent of Trump's White House staff were working in D.C. before the start of the administration, according to a Newsweek analysis of White House employees and detailees, staff who are on loan from other federal agencies. Using LinkedIn, media reports, information released by the White House and other publicly available data, Newsweek was able to determine with near certainty the identities of 338 of the 377 employees listed in an annual report on White House personnel released last week to Congress.
With the exception of some longtime Trump aides and loyalists of top strategist Steve Bannon, the Trump administration looks similar to what a Ted Cruz, Marco Rubio or John Kasich administration might have. Ten of the top 23 highest-paid employees (including one detailee) listed in the report served in the George W. Bush administration.
A large portion of lower-level staff is made up of former RNC and Capitol Hill staffers, Republican political operatives and career officials who served under President Barack Obama. The administration is also composed of political operatives who have worked across the country, former lobbyists, former employees of prominent D.C. conservative think tanks, officials from other parts of the government and lawyers from elite D.C. law firms.
The makeup of the White House staff stands in contrast to Trump's aggressively anti-Washington campaign rhetoric, characterized by his "drain the swamp" slogan that became a campaign standard. White House deputy press secretary Sarah Huckabee Sanders did not immediately reply to a request for comment.
John Pudner, executive director of Take Back Our Republic, a conservative government reform group and a Bannon ally, says he has mixed feelings on the administration's use of Washington insiders in lower-level administrative positions.
"At some point, at the lower level, you have to have people who understand the process," Pudner says. "The rock and the hard place is you need to have people who get things done but you don't want people married to the system who take the job because it looks good on their résumé."
While the Trump administration may have some employees you wouldn't expect to see in the White House, Heath Brown, a professor at the City University of New York who has studied presidential transitions, says the administration has hired from a similar pool that would have been considered by another Republican president.
"There's a pool of experts within each party that move in and out of the White House," he says. "Even if another Republican candidate had won, you would have seen a lot of the same experts in the White House."
Evaluating the senior staff is more important than lower-level staff in judging Trump's use of outsiders in his administration, Sam Skinner, the former chief of staff to George H.W. Bush, says.
"It's very hard to staff the White House at the lower levels from people who are outside Washington," he says. "It's very unusual for people to move into the White House staff from outside Washington unless you are senior staff."
Skinner says due to moving costs and the advantages of hiring White House staff who already have security clearance, lower-level White House staff tend to have worked for many years in D.C., no matter who the president is.
At least five former employees of the Trump Organization are in the administration: Trump's social media guru Dan Scavino, communications aide Hope Hicks, longtime bodyguard Keith Schiller, former Trump Organization Executive Vice President Jason Greenblatt and Ivanka Trump. Bannon is one of at least four current administration members who have worked in some capacity for conservative news website Breitbart, along with national security aide Sebastian Gorka, Julia Hahn and Caroline Magyarits, who was a producer for Breitbart Radio.
Other outside-the-box characters in the Trump administration include top Trump aide and former reality TV star Omarosa Manigault. Trump's body man, John McEntee, is a former quarterback at the University of Connecticut who became a YouTube trickshot sensation. Steven Cheung, now the special assistant to the president and director of special communications projects, joined the Trump campaign from the Ultimate Fighting Championship, where he was the director of communications.
But otherwise the White House staff isn't that different from previous administrations. At least 65 members of the administration were recently Capitol Hill employees. At least five former staffers in the Trump administration, for example, previously worked for Attorney General Jeff Sessions when he was an Alabama senator, including policy adviser Stephen Miller. Trump has hired two former staffers of congressional leader Kevin McCarthy, as well as two staffers from North Carolina Senator Thom Tillis's office and two former Cruz Senate staffers.
"Congressional staff are part of the swamp, quote unquote, but they know how to get stuff done," James Pfiffner, a professor at George Mason University in Virginia and expert on the American presidency, says. "The White House is no place for amateurs, as we're finding out."
Chief of Staff Reince Priebus brought at least 46 recent Republican National Committee employees to the White House, many of them serving in lower administrative roles. White House press secretary Sean Spicer and John DeStefano, the director of presidential personnel, both also came for the RNC.
The plethora of former RNC hands working in the White House is likely due to Priebus hiring people he is familiar with, says Ted Kaufman, a former Democratic senator from Delaware who worked on Obama's White House transition in 2008. Many former Hill staffers now in the administration likely worked with Vice President Mike Pence and his team when he was in Congress, he adds.
Kaufman says the biggest problem with the White House staff is the lack of federal government experience at the top ranks, as neither Trump nor many of his senior aides have federal government experience.
"One of the great myths is vote or hire X, he or she may not know much about the particulars of the job, but he or she will hire good people," Kaufman says. "That rarely turns out well. How does X know the required qualifications of who he or she needs to hire?"
Kaufman says when he and others from the Partnership for Public Service, a good-government bipartisan nonprofit that worked with both transition teams, met with the Trump transition team, all had similar advice on the need to have senior staff with federal government experience.
"The one point, we made to the campaign were the key people you had to have when you started picking the White House were people with extensive federal government experience," he says. "Even if you decided you were going to change Washington, you needed people who understood how Washington works."
Workers connected to some other Trump surrogates landed roles in the administration. Andrew Giuliani, the son of former New York City mayor and key Trump surrogate Rudy Giuliani, landed a spot in the administration. As did Huckabee Sanders, deputy press secretary and daughter of Trump surrogate Mike Huckabee. A handful of former aides to Newt Gingrich also landed in the administration, as did at least four former aides to New Jersey Governor Chris Christie.
A tally from a Democratic group found 100 lobbyists in the Trump administration, a handful of whom are working in the White House. For example, Michael Catanzaro, who is a special assistant to the president for economic policy, worked as an oil lobbyist for companies including Koch Industries and Halliburton. Amy Swonger, who is working on legislative affairs such as health care reform for the White House, joined from Heather Podesta and Partners, owned by Clinton fundraiser Heather Podesta.
Of the at least 94 administration members coming from the private sector, many come from elite D.C. law firms. Jones Day, one of the most prominent firms in Washington, has at least eight former employees working in the White House.
D.C.'s think tank infrastructure is also represented in the administration. The Heritage Foundation has at least seven former employees now in the administration. At least one employee came to the White House from the American Legislative Exchange Council, the conservative organization that pushes conservative policies by writing model bills for states across the country.
And there's still room for Trump to hire more Washington insiders. While the Obama White House listed 472 employees on their 2016 disclosure, the Trump administration only has 377. Forty four current White House employees served in the White House under Barack Obama, and many of them also under George W. Bush. These employees tend to work in non-political operational jobs, such as document management, correspondence, calligraphy, stenography and information management. Skinner says the discrepancy in numbers will likely decrease at the Trump administration continues, as administrations generally balloon over time.
The White House hiring process so far during the Trump administration has been "neither streamlined or quick," says Max Stier, the president and CEO of the Partnership for Public Service. While Trump and a small group of advisers were able to make Cabinet-level selections relatively quickly, they were unable to keep up the pace in selecting lower-level positions.
Despite the many familiar-to-D.C. faces working in the Trump administration, Stier says the White House is operating differently than it would be if another Republican candidate had won the election. For example, a controversial travel ban against residents from some Muslim-majority nations may not have been enacted under a different GOP administration.
"While you might have the same kind of person at the general staff level, I think the fact you have people like Steve Bannon, Jared Kushner and even Reince Priebus in the top leadership positions is really setting the tone at the White House," he says.