There are 'Too Many Deaths' and Trump Must 'Condemn' White Supremacy 'Very Loud and Very Clearly,' Rep. Rashida Tlaib Says
Democratic Congresswoman Rashida Tlaib has called on President Donald Trump to "do better" and strongly "condemn" white supremacy in the wake of the attacks on two New Zealand mosques.
In Friday comments to reporters about the massacre, Trump said he didn't see white nationalism as a growing threat around the world.
"I think it's a small group of people that have very, very serious problems, I guess," the president said. "If you look at what happened in New Zealand, perhaps that's the case, I don't know enough about it yet. They're just learning about the person and the people involved. But it's certainly a terrible thing."
Tlaib, who represents Michigan and is one of two Muslim women currently serving in Congress, called on the president to take a closer look at the facts.
"I think he needs to pick up the phone and call the Department of Justice," Tlaib said in a Sunday interview with CNN host Jake Tapper on State of the Union . "There is real data and information currently, right now on the rise of white supremacy right here in this United States of America. He needs to look at the data, and the information and the facts, and actually listen," the representative continued.
"He cannot just say it's a small group of people," she added. "There's too many deaths."
"He needs to do better by us and the country. He needs to speak up and condemn this very loud and very clearly," Tlaib said firmly.
Despite Trump's assessment, numerous reports and a slew of recent attacks suggest that violent white nationalism is a growing threat in the U.S. as well as around the world. Brenton Tarrant, the 28-year-old Australian suspect who allegedly carried out the attacks in New Zealand, published a manifesto on social media that reportedly referenced Trump specifically, according to NBC News. In the document, Tarrant claimed he was a supporter of the president as "a symbol of renewed white identity and common purpose."
A report from last year by the Anti-Defamation League (ADL), which tracks extremist activity, found that far-right extremist organizations and white supremacists were "responsible for 59 percent of all extremist-related fatalities in the U.S. in 2017," according to CNN. In the previous year, that number was significantly lower, at just 20 percent.
"This attack (in New Zealand) underscores a trend that ADL has been tracking: that modern white supremacy is an international threat that knows no borders, being exported and globalized like never before," ADL CEO Jonathan Greenblatt said in a press release following the Friday attack, which left 50 people dead and 50 others wounded.
The Center for Strategic and International Studies, a think-tank based in Washington, DC, had a similar assessment to that of ADL. "The number of terrorist attacks (in the U.S.) by far-right perpetrators rose over the past decade, more than quadrupling between 2016 and 2017," it reported.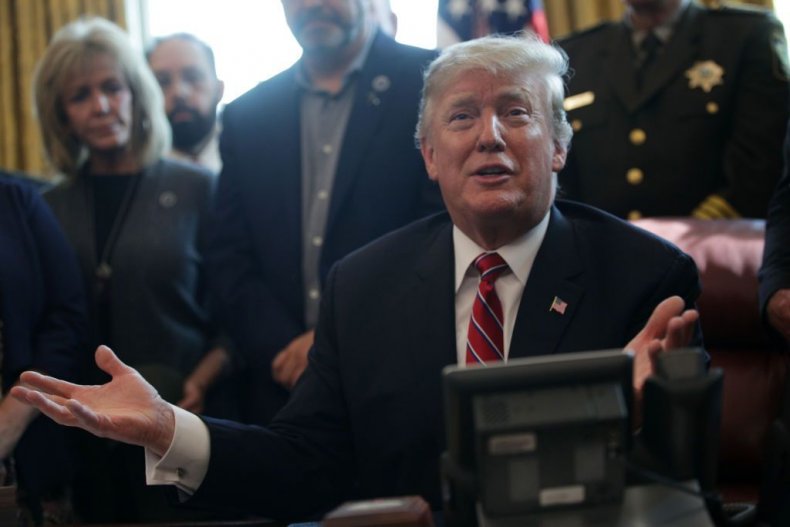 Trump himself has repeatedly been accused of being a "racist" and turning a blind eye to white supremacy among his loyal base of supporters. Following a protest by white nationalist in Charlottesville, Virginia in 2017, the president said the demonstrators included "some very fine people." His comments came despite the fact that a counter anti-racism demonstrator was killed. The white nationalist protesters also marched holding torches, chanting : "Jews will not replace us. The blacks will not replace us! Immigrants will not replace us!"
But Trump's Chief of Staff Mick Mulvaney insisted to Fox News Sunday that the president is "not a white supremacist," while refusing to commit to the suggestion that Trump should give a speech condemning anti-Muslim bigotry.
"To simply ask the question every time something like this happens overseas, or even domestically, to say 'Oh my goodness, it must somehow be the president's fault,' speaks to a politicization of everything that I think is undermining, sort of, the institutions that we have in the country today," he said.