New Poll Shows Donald Trump Is In Trouble With Women Voters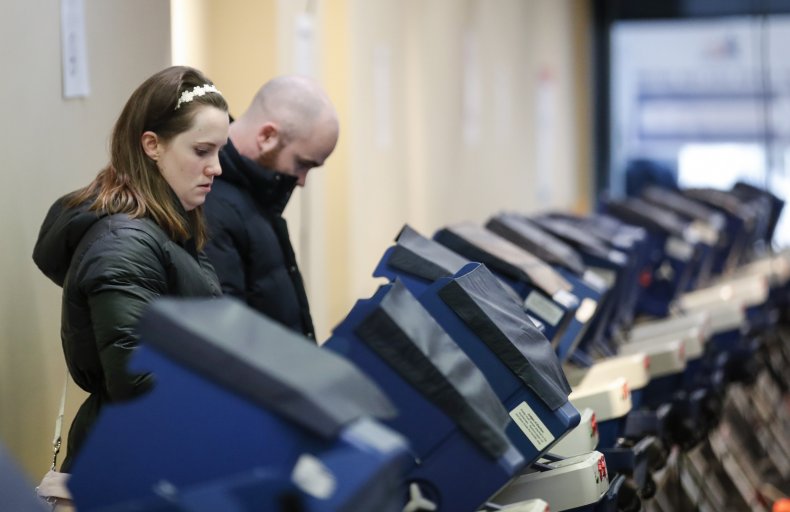 Heading into the 2020 campaign season, President Donald Trump is underwater with a key constituency he carried during the 2016 presidential election: white women.
Though a Pew Research Center post-2016 analysis of voter preferences found that Trump eked out a narrow victory among white women—47 percent to Clinton's 45 percent—a new poll has reiterated recent trends among more ambivalent members of the Trump coalition.
In a new NBC News/Wall Street Journal survey, 63 percent of college-educated white women and 49 percent of non-college-educated white women will definitely or probably vote for the Democratic nominee over Trump in 2020.
Among all women registered to vote, 62 percent in the survey opted for the Democratic candidate while just 30 percent selected Trump.
Since the 2018 midterm elections demonstrated that many conservative districts were willing to place their trust in the hands of moderate Democrats, ultimately delivering to the party the House of Representatives, Trump's ability to retain women voters has become a central question of the 2020 campaign.
Considering education and gender among white voters, white men lacking a college degree were the only subgroup who broke for Trump, and by large margins, in the NBC News poll. Sixty-seven percent indicated that they would definitely or probably vote for him over the Democratic nominee. Though their college-educated male counterparts preferred the eventual Democratic candidate, they only did so marginally, 49 percent to 44 percent.
Overall, 52 percent of registered voters said they would likely vote for the Democrat in 2020 and 40 percent said they would vote for Trump.
In a further testament to Trump's flagging support among white women, the president's job approval numbers in this latest survey rank among the lowest he has received during his presidency. At 55 percent disapproval and 43 percent approval, NBC News has not measured a similarly unfavorable response for Trump since April 2018.
White voters, whom Trump relied on for his victory, are forming an ever-shrinking part of the eligible voting class. Pew projected ahead of the 2016 election that 69 percent of eligible voters would be white. Now, ahead of 2020, their same projections indicate that 66.7 percent of eligible voters will be white. While this does not necessarily have a direct correlation with the actual composition of the electorate, these demographic headwinds are no doubt harmful to Trump's re-election prospects.
The share of Black and Hispanic voters, meanwhile, is growing, and these voters, as affirmed by the NBC News poll, break for Democrats by overwhelming margins.
"We project that the 2020 election will mark the first time that Hispanics will be the largest racial or ethnic minority group in the electorate, accounting for just over 13% of eligible voters – slightly more than blacks," Pew writes. "The changing racial and ethnic composition of the electorate likely has political implications in part because nonwhites have long been significantly more likely than whites to back Democratic candidates. For instance, in the 2016 election, white voters favored Donald Trump by a 15 percentage point margin, while large majorities of blacks and Hispanics voted for Hillary Clinton."