Trump, Who Doesn't Have the Best Record on Giving, Hasn't Said Where His Latest Salary Donation Is Going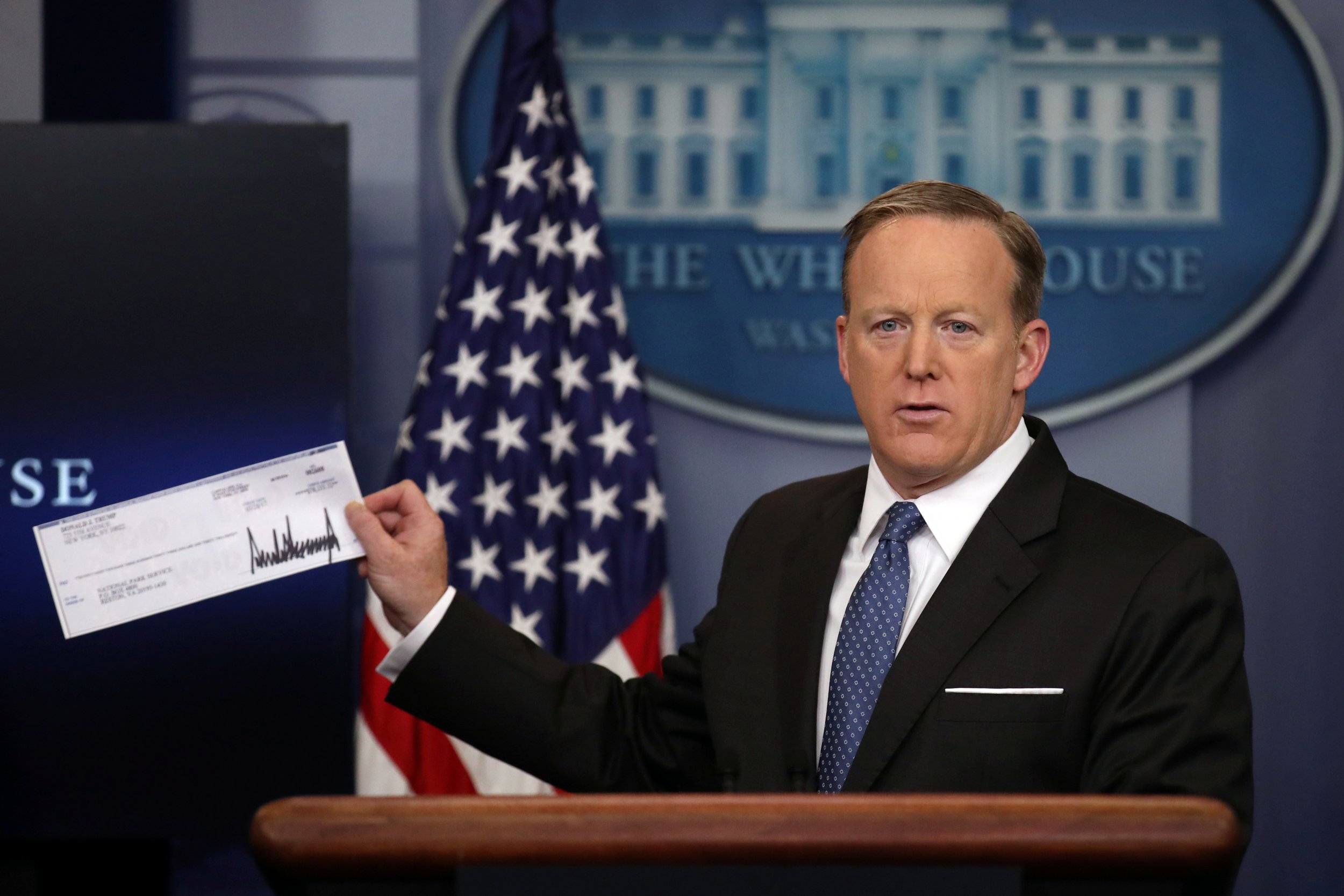 Although President Donald Trump has pledged to donate his salary quarterly to charity, the Trump administration is yet to announce the recipient of his second-quarter paycheck. The quarter ended June 30.
Trump followed through, at least in the first quarter, with his campaign promise not to take a salary by donating his first-quarter earnings to the National Park Service. But Trump has talked a big game about donating to charity in the past and fallen short of his promises.
The administration announced Trump's donation of $78,333.32 to the National Park Service for upkeep of the nation's battlefields on April 3, the first business day after the close of the first quarter March 31.
White House Deputy Press Secretary Sarah Huckabee Sanders did not immediately answer questions about the president's second-quarter donation. "Will keep you posted," she wrote in an email responding to Newsweek's request for comment. She added that she doubted the administration would announce on Monday where the money was going. Trump is spending the holiday break in Bedminster, New Jersey.
Trump is the third president to not take a salary. John F. Kennedy and Herbert Hoover, who, like Trump, were independently wealthy upon taking office, donated their salaries to charity.
"The first thing I'm going to do is tell you that if I'm elected president, I'm accepting no salary, OK?" Trump said to cheers at a September 2015 rally. "That's not a big deal for me."
Ivanka Trump and her husband, Jared Kushner, both key aides, have joined the president in not taking salaries, as has real estate investor Reed Cordish, assistant to the president for intergovernmental and technology initiatives.
As a businessman, Trump often bragged about his charitable giving. But reporting by The Washington Post's David Fahrenthold found that Trump's actual giving fell way short of his public statements. The Post was able to name only one personal gift from Trump between 2008 and spring 2016, less than $10,000 to the Police Athletic League of New York City in 2009. As a candidate, Trump promised to donate to veterans groups but did so only under intense media scrutiny.
Secretary of the Interior Ryan Zinke praised Trump's first-quarter salary donation and said it would be used to help cover part of the $299 million in deferred maintenance on the nation's 25 national battlefields. But Trump's donation was met with skepticism by some, as his proposed budget cuts the Department of the Interior, the National Park Service's parent agency, by $1.5 billion.
The donation pales in comparison to the proposed cuts and can pay for only 86 feet of trail maintenance at Chickamauga and Chattanooga National Military Park, according to documents acquired under the Freedom of Information Act. The trail maintenance at Chickamauga and Chattanooga was just one of a handful of ideas floated for how to use the donation.