Jamal Khashoggi: Trump Will Likely Bow to Mohammed bin Salman's Denials of Involvement in Journalist's Death, Lawmaker Says
President Donald Trump will likely accept Saudi Crown Prince Mohammed bin Salman's claims he did not have any involvement in the murder of Washington Post journalist Jamal Khashoggi, Representative Adam Schiff said on Sunday.
Speaking on ABC's This Week, Schiff, a ranking member of the House Intelligence Committee, said, "I think we can see where this is headed. Ultimately the president is going to accept the crown prince's denials, but it's hard for me to imagine that these orders would have been carried out without the knowledge of [the crown prince]."
Khashoggi was killed in the Saudi consulate in Istanbul. Riyadh initially denied any involvement in the journalist's death and said Khashoggi had left the consulate safely. On Friday, the Saudi government said Khashoggi was killed during a fight inside the building.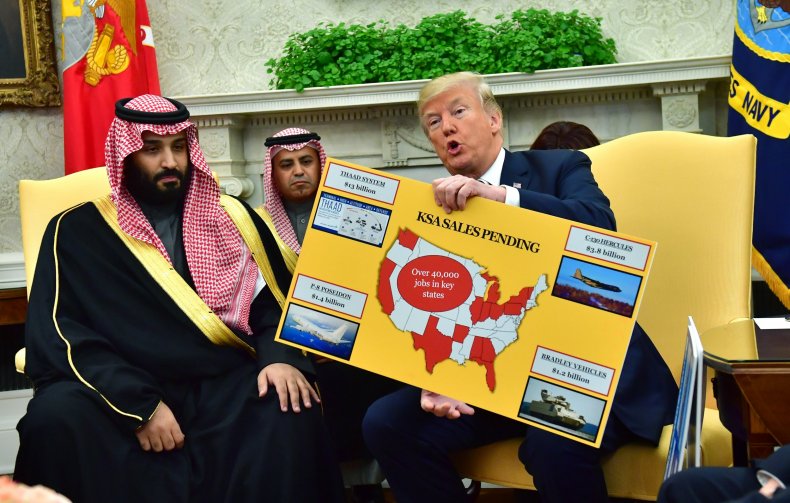 Kentucky Senator Rand Paul said the Saudi explanation of Khashoggi's death "stretches credulity," while former House Speaker Newt Gingrich decried it as "insultingly stupid."
Turkish security officials leaked the names of 15 individuals who allegedly comprised the hit squad that killed Khashoggi. "Many of the men have ties to the Saudi military and security services," according to The New York Times.
Trump has issued statements alternately supporting and criticizing the Saudi narrative. "Obviously there's been deception and there's been lies," he said on Saturday night.
Earlier in the week, the president seemed to promote a talking point that would absolve Saudi Arabia of responsibility. "I don't want to get into his mind, but it sounded to me like maybe these could have been rogue killers," he said on Monday.
Schiff pointed to the president's tendency to believe authoritarian figures he admired. Trump previously ignored intelligence assessments to back claims by Russian President Vladimir Putin, who said his country didn't meddle in the 2016 U.S. elections.
"We're never going to know exactly what took place in terms of the crown prince's marching orders for this group unless we get a confession from the crown prince, which is not going to happen," Schiff said. "It's for that reason, I think, that the president is going to accept the crown prince's denials much as he has accepted [Russian President Vladimir] Putin's denials and [North Korean leader] Kim's denials, so I think that's the reality."
Schiff's statements echoed those of Democratic Senator Christopher Coons, who on Wednesday said that Trump was "enamored" with absolute rulers.
"President Trump seems to want to believe and listen to folks like Kim Jong Un in North Korea or Vladimir Putin in Russia—or, in this case, the king of Saudi Arabia and the crown prince—rather than our own allies," the senator said.