Trump To Record Robocall for Alabama's Roy Moore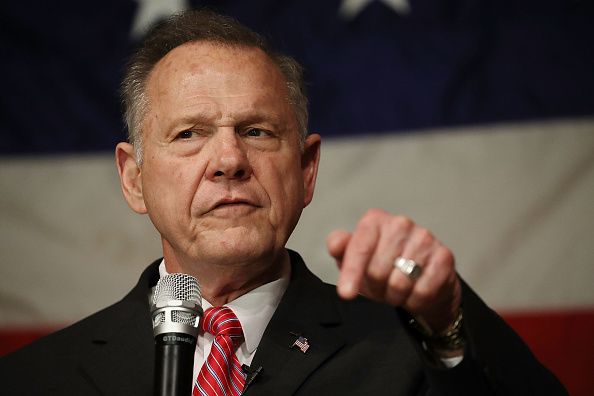 President Donald Trump will record a robocall for Republican Senate candidate Roy Moore before the Alabama elections.
Voters can expect a call on Monday, only a few days after Trump officially endorsed Moore, Politico reported.
Trump endorsed Moore on Monday and the Republican National Committee reinstated its support for him after severing ties with his campaign last month when multiple women came forward accusing Moore of sexual assault.
But, Trump still has not campaigned for Moore in Alabama. Instead of going to Alabama, he voiced support for him during a rally on Friday in Pensacola, Florida, which is only 20 miles away from the Alabama-Florida border. At the rally, he argued that the Trump movement could not "afford" to see Moore lose.
"A big contingent of very enthusiastic Roy Moore fans at the rally last night. We can't have a Pelosi/Schumer Liberal Democrat, Jones, in that important Alabama Senate seat. Need your vote to Make America Great Again! Jones will always vote against what we must do for our Country," Trump tweeted.
The former Alabama Supreme Court justice has been accused of pursuing sexual and romantic relations with them when they were teenagers and he was in his 30s. It was recently discovered that Moore signed the yearbook of a woman who accused him of sexually assaulting her when she was a teenager.
After the allegations surfaced, Moore received numerous calls from GOP officials and lawmakers to withdraw from the Senate race but declined to do so. He has repeatedly denied the allegations against him.
The allegations narrowed his lead in the polls, which greatly helped the campaign of Democrat candidate Doug Jones.
This is not the first time Trump has recorded a robocall for a Republican candidate. Two months ago, Trump recorded a call for Republican Ed Gillespie in Virginia's gubernatorial race last month. Gillespie lost the race to Democrat Ralph Northam.
The elections will take place on December 12.