Trump Will Fuel War Across World by Increasing U.S. Global Arms Sales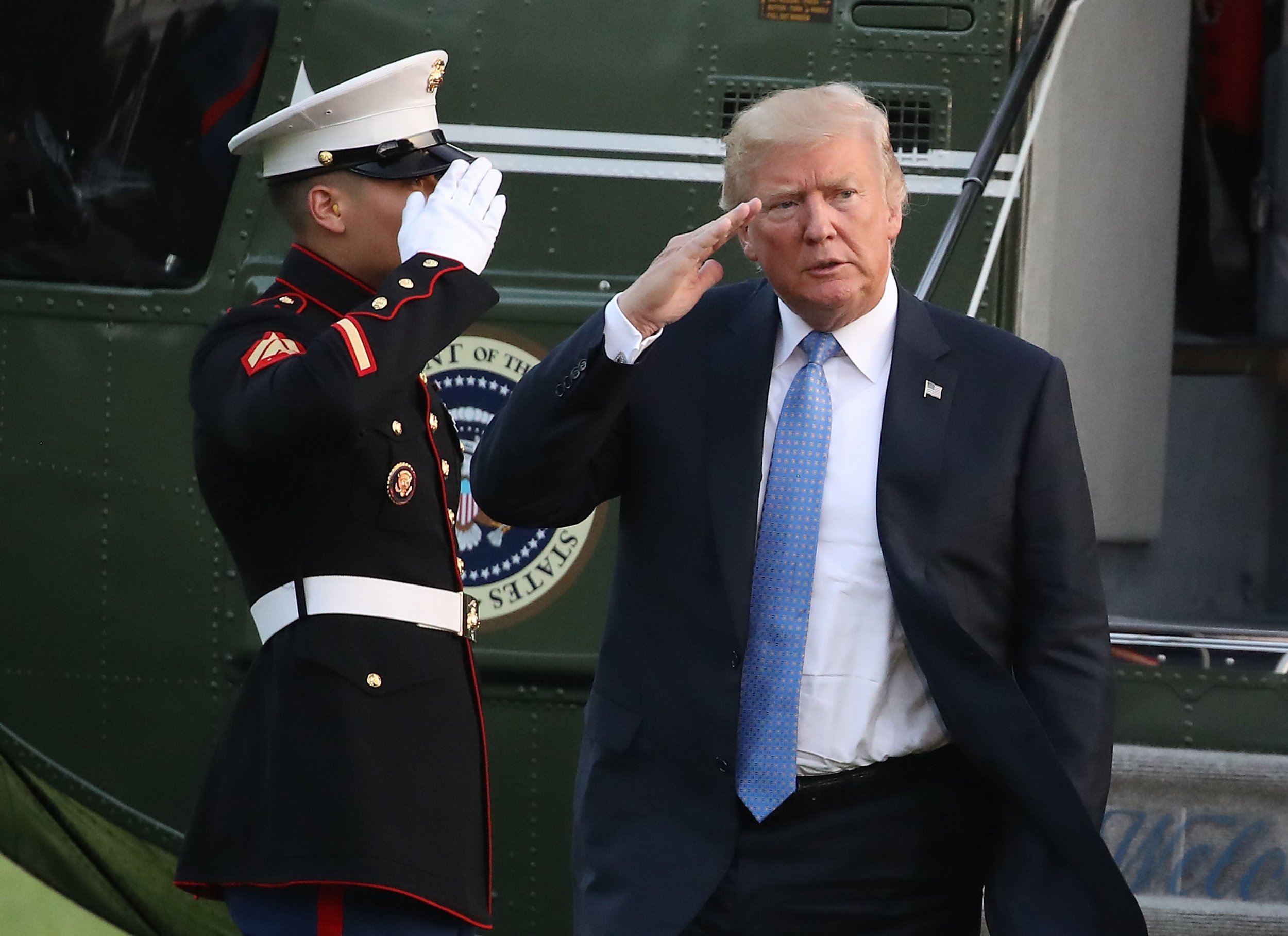 President Donald Trump is reportedly planning to roll back restrictions on U.S. arms sales abroad, despite the fact he's already selling record numbers of weapons to other countries. Trump is planning to make these changes via an executive order or memorandum at some point this fall, Politico reports. In doing so, experts worry the Trump administration will both intensify existing conflicts and spark new ones across the globe.
"The transfer of arms and the process of arms racing has been a long-standing reason that conflicts begin, spread, and escalate," Dr. Brandon Valeriano, Donald Bren Chair of Armed Politics at Marine Corps University, tells Newsweek.
"New weapons give states the confidence they might not otherwise have to launch or exacerbate ongoing antagonisms and hatreds. This new expansion of our effort to promote the transfer of arms will have devastating effects on the international community and will be the root of the evil that will spread throughout the system," Valeriano adds.
But the Trump administration is seemingly more concerned with the economic benefits of increasing arms sales than the overall impact it might have on the wider world.
"The presence of weapons almost always exacerbates conflict, particularly in places of existing conflict or rising tension... The Trump administration is sending a clear signal that profit, not people, is what matters most to this government," says Allison Pytlak, a program manager in the disarmament program of the Women's International League for Peace and Freedom. "The implications will be felt by the people living in countries and cities that are already drowning in weapons."
The National Security Council confirmed to Politico Trump has "undertaken a review of our policy on arms sales and wherever possible is working to remove unreasonable constraints on the ability of our companies to compete."
Generally, the president wants to make it easier for American arms manufacturers to sell to international buyers and is also looking at revamping export regulations on drone technology. On the latter point, some experts say Trump might be onto something.
"An increased willingness by the United States to export drones to responsible countries can help advance US security goals of building the capacity of allies and partners, and in a way that enhances interoperability with the United States military," says Dr. Michael C. Horowitz, professor of political science at the University of Pennsylvania. "U.S. exports also make it more likely that countries will use their drones in a way that complies with the law of war, due to the training and support that goes along with U.S. drone exports."
Thus, there is arguably at least some merit in increasing drone exports. From a broader standpoint, however, reducing restrictions on arms exports overseas is a slippery slope.
The U.S. has long been the world's number one exporter of arms and Trump has built on this precedent in a massive way since entering the White House.
The Obama administration was hardly reserved when it came to international arms deals, but Trump is poised to outsell his predecessor on a historic scale, according to recent data on weapons sales. In the first eight months of 2017, Trump almost doubled the total value of U.S. arms sales (to $48 billion) than under Obama during the same period in 2016.
Moreover, Trump could be complicit in war crimes due to some of the arms sales he's already made. In Yemen, for example, it was recently discovered a U.S.-made bomb was used by the Saudi-led coalition in a strike last month that killed civilians, including children. It's possible this bomb was sold via deals made under Obama, but the larger point is Trump's apparent determination to sell more and more arms arguably increases the probability he'll be linked to atrocities committed by other countries.
"In the context of horrific human rights abuses in the Middle East region, we're very concerned about the possibility of easing restrictions on U.S. weapons sales overseas," Raed Jarrar, Amnesty International's advocacy director for the Middle East and North Africa, tells Newsweek. "There is damning evidence that many recipients of U.S. weapons in the Middle East -- such as Saudi Arabia, Egypt and Israel -- are already involved in serious violations of human rights and international law.
A decision to reduce restrictions on global arms sales by the U.S. will be "perceived by foreign governments as a green light to continue, if not increase, their disregard to human rights," Jarrar adds.
This is precisely why there are restrictions on arms sales in the first place -- to avoid inflaming conflicts, limit the potential for human rights violations and keep weapons out of the hands of dictators.
"Arms should only be given to those states that are responsible, careful, and judicious in their use of weapons. Are we convinced that we can trust those that will receive these weapons to be as precise and careful?" says Valeriano.
In the past, arms the U.S. has sold to foreign governments have also ended up in the hands of terrorists -- including ISIS -- because America didn't have stricter regulations and safeguards in place. In this sense, rolling back restrictions is arguably very dangerous.
Trump's plan to ease restrictions could certainly create more jobs domestically, but is it worth the chaos it could potentially induce abroad?
The concerns surrounding this move are compounded by the fact the Trump administration is also dropping record numbers of bombs on targets in the Middle East, which has led to a marked increase in civilian casualties compared to during Obama's tenure.