Trump Will 'Kneecap' GOP Presidential Nominee if He Doesn't Run, Says Ex-Republican Lawmaker
Former Republican lawmaker David Jolly argued Sunday that Donald Trump would end up hurting the GOP presidential nominee in 2024 if he doesn't seek the office himself.
"There's no off-ramp for Donald Trump that is gracious and empowers other Republicans behind him," Jolly, who previously represented Florida in the House of Representatives, said in an interview on MSNBC.
"He will say he's not running because the system is rigged and nobody should participate in, and he'll actually kneecap whoever might be the potential Republican nominee behind him," he added.
Jolly was one of several prominent Republicans who left the party after Trump took office.
During his appearance on MSNBC Sunday, host Alex Witt brought up a poll conducted by Grinnell College showing President Joe Biden and Trump were tied in a hypothetical 2024 matchup.
The poll, published by Grinnell and Seltzer & Company on Wednesday, found that Biden and Trump each had the support of 40 percent of likely voters. The survey found 14 percent of voters said they would vote for "someone else," while 4 percent said they were undecided and 1 percent said they wouldn't cast a ballot. Witt also noted that Biden's support among independents has fallen.
Witt asked Jolly what he thinks of the recent polling and "the fact that these are Trump's numbers after January 6," the date when supporters of the former president stormed the U.S. Capitol.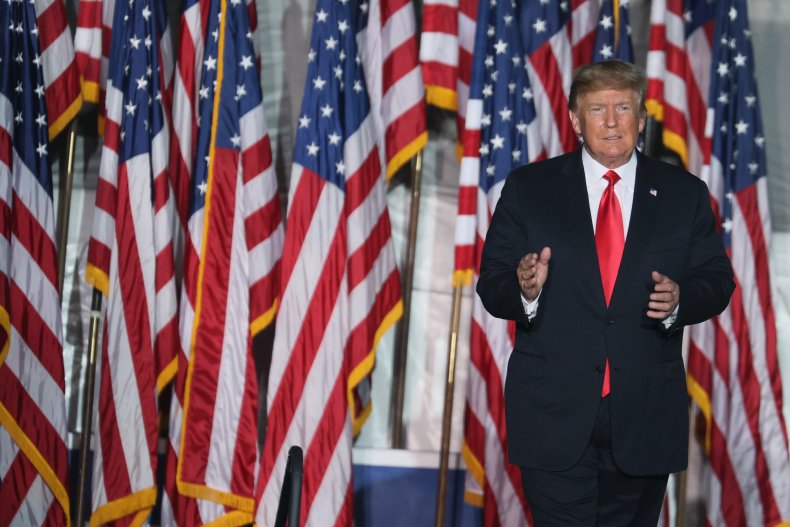 "I think there's clearly opportunity for Democrats to improve their messaging, their policymaking, and I think you'll see a stronger Joe Biden a couple years from now if he's facing re-election."
"But what it does say is Donald Trump very likely could be the nominee of the Republican Party and he very well might win, but it's a slim chance. This is a person who lost the popular vote twice, and so the Catch-22 for Republicans is, if he decides to run and gets the nomination, you're going into '24 with a losing candidate," he added.
Another poll released by Redfield & Wilton Strategies Thursday found Biden with a slim margin over Trump in a hypothetical matchup. Of those surveyed, 42 percent said they would vote for Biden, and 40 percent said they would vote for Trump if they were candidates in the 2024 presidential election.
Trump hasn't formally announced that he is running in the next presidential election, but has suggested he is strongly considering a second bid for the White House.
Newsweek has reached out to Trump's press office for comment.