Trump Claims Wind Power 'Kills All Birds,' But This Chart Shows That's Not True
Donald Trump and Joe Biden sparred over the issue of renewable energy at the final debate of the 2020 election on Thursday, with the president falsely claiming wind power "kills all the birds."
Trump told Biden at the debate held at the Curb Event Center in Nashville: "I know more about wind than you do. It's extremely expensive. Kills all the birds."
This isn't the first time the president has cited bird deaths as an argument against wind power. Last year, he told the Turning Point USA Student Action Summit held in Florida that turbines are "noisy" and "kill the birds."
He told he audience: "You want to see a bird graveyard? Go under a windmill someday. You'll see more birds than you've ever seen in your life."
The president is right in claiming that wind turbines are a threat to birds, as it is estimated they kill hundreds of thousands of the animals each year. However, according to the latest figures from the U.S. Fish and Wildlife Service published in 2017, bird deaths linked to these structures are eclipsed by a range of other causes, most notably cats, as well electrical lines, another source of energy. Newsweek has contacted the White House for comment.
As the graphic by Statista below shows, cats kill an estimated 2.4 billion birds each year. The next biggest killers are collisions with building glass or vehicles, at 599 million and 214.5 million, respectively. Each year an estimated 72 million birds are fatally poisoned, 25 million die after hitting electrical lines, and 5.6 million are electrocuted. Collisions with land-based wind turbines make up 234,012 deaths.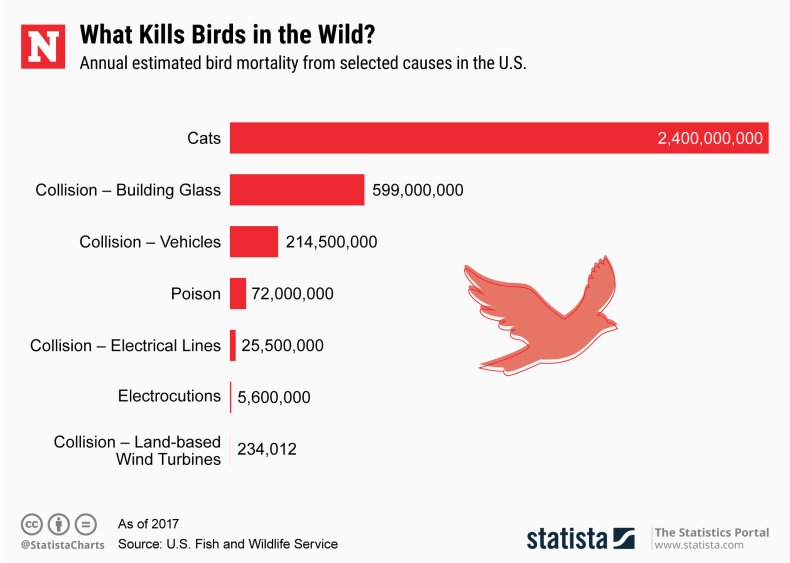 There are a variety of reasons why birds may collide with turbines, the U.S. Fish and Wildlife Service states, including the location and design of the towers. The animals are more likely to have a dangerous encounter with a wind turbine if it sits in their migratory route, or near rivers, coastlines, or ridgelines. The way a bird flies, including the height, can also put it at risk of being hurt by a turbine.
The American Bird Conservancy states on its website that wind energy and birds can "co-exist" only if turbines are in the erected in the right location. In Hawaii, for instance, officials require energy companies to take measures including estimating the risk to birds and bats before projects are approved, and the technology is prohibited in some areas.
As for problems with their design, a study published earlier this year in the journal Ecology and Evolution found painting a single wind turbine blade black at the wind‐power plant in Norway reduced bird deaths by 70 percent compared with those that were unpainted.