Is Trump Winning in 2020 Swing States? He Says Yes—Forecasts Say No
President Donald Trump is forecast to lose to the presumptive Democratic nominee Joe Biden in several swing states, despite him claiming a lead over his rival in key battlegrounds with less than three months to go until election day.
Posting on social media Wednesday morning, the president said: "96% Approval Rating in the Republican Party. Thank you! Also, leading in most swing states!"
Trump's claimed to be ahead in "most swing states" as new forecasts revealed he was trailing Biden in six of the most important races of the 2020 presidential election campaign.
The FiveThirtyEight forecast published on Wednesday found Biden's odds of winning in Florida, Michigan, Minnesota, Pennsylvania, and Wisconsin were notably better than Trump's. The former VP was also modeled to have a slim lead over the president in Arizona.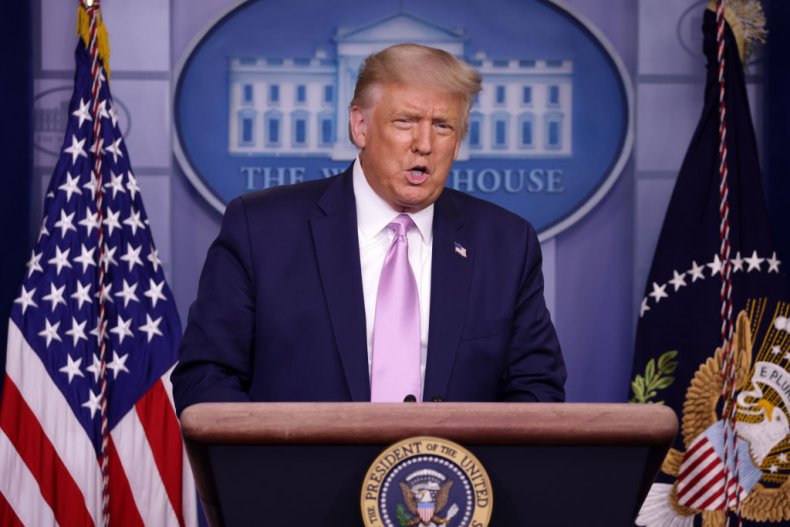 After simulating the presidential election 40,000 times, FiveThirtyEight modelers found Biden winning Florida in 64 percent of contests and picking up 51 percent of the popular vote on average.
Trump was found to win 48 percent of the popular vote and just 36 percent of simulated races in Florida, despite his victory in the Sunshine State four years ago.
FiveThirtyEight also found Biden was more likely to win Michigan, beating the president in more than 80 percent of simulated races in the state while picking up 53 percent of the popular vote.
In the nearby state of Wisconsin, Trump fared slightly better, with modelers giving the Democratic candidate a "slightly" favored chance of taking the seat.
However, the former vice president was still found to lead Trump in 70 percent of the 40,000 simulated elections in the state.
Pennsylvania and Minnesota produced similar results. Biden won a little under three-quarters of all races in the states as the president bagged a little more than quarter, along with just under half of the popular vote on average.
Trump took Pennsylvania from Clinton by a margin of 0.7 points and 48.2 percent of the popular vote at the 2016 presidential election. He lost Minnesota by a narrow 1.5 percentage points.
According to the FiveThirtyEight forecast, Trump's best performance from the six states was in Arizona, where modelers deemed the presidential race a "toss-up" contest.
Fifty-five percent of simulated races in the state went Biden's way, while the remaining 45 percent backed Trump. Their popular vote averages were neck-and-neck, with Biden winning 50 percent on average and Trump picking up 49 percent.