Donald Trump Claims U.S. 'Always Wins' Trade Wars. IMF's Chief Economist Disagrees
The International Monetary Fund's (IMF) chief economist has said the "everyone" stands to lose from the U.S. trade war with China, but accepted that America was "losing less than China" in the ongoing dispute between the two countries.
In a wide-ranging interview, Gita Gopinath told Spanish daily newspaper El Pais that there was "clearly a need to solve problems with the global trading system" in a "cooperative way."
She also said the U.S. tax system could be "more progressive" and encouraged authorities to improve access to healthcare and high-quality education.
Asked whether President Donald Trump's claim that America could "win" its ongoing trade war with China was plausible, Gopinath said: "In the short term, the United States is losing less than China, but everyone loses."
The IMF chief economist added that there was "clearly a need to solve problems with the global trading system" when asked whether the country who lost the least would be the win the trade war.
"There must be improvements and we ask for them," Gopinath told El Pais. "It should be done in a cooperative way."
Her comments came after Trump told reporters in May that the country was "having a little squabble" with China, and claimed the U.S. was in a "very strong position" and "winning" the trade war.
Speaking to Newsweek, Adam Slater, lead economist at the global forecasting firm Oxford Economics, said there was "little doubt that US complaints about aspects of Chinese trade and development policies are based on real concerns."
But he said whether it was the right decision to enter a trade war with China to combat those complaints was another question.
Asked whether he believed there could be a "winner" in the U.S.-China trade war, Slater said: "In simple economic welfare terms, trade wars like this are unlikely to have 'winners' as welfare is likely to decline among all participants and in the wider world also.
"But the underlying causes of the trade war are in my view more about power politics and long-term strategic issues than economic welfare. So judging whether there is a 'winner' or not needs to take this into account."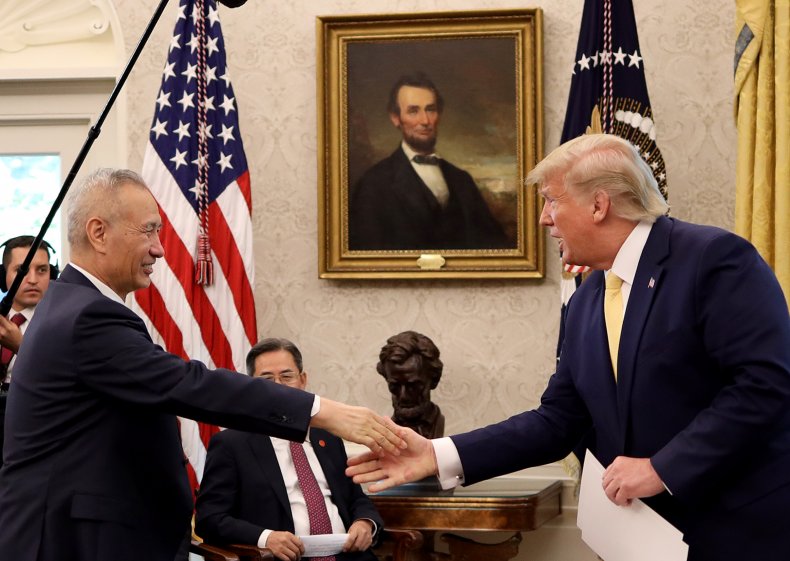 He went on to say that judging whether or not the U.S. had been successful in its trade war with China would involve looking at whether or not it had achieved its aims of tackling "unfair and damaging practices," such as forced technology transfers.
Asked to explain why "everyone loses" from the U.S. trade war with China, Dr Robert Basedow, an assistant professor for international political economy at the London School of Economics, told Newsweek: "In the short run, US and Chinese measures impose extra costs on businesses and consumers and—in addition to that—weaken the World Trade Organisation, which is the bedrock of the open world economy.
"Chinese producers and employees primarily suffer from the trade downturn and reduced demand, whereas U.S. businesses and consumers face higher costs for imported goods from China and can buy less with their money.
"The world, in turn, is affected in that the two powerhouses of the world economy see a reduction in growth and consumption."
IMF chief economist Gopinath's warning about the threat posed by Trump's trade war with China follows words of caution from her colleague Kristalina Georgieva, who said the dispute could lead to global losses of "around $700 billion."
The IMF managing director said the global economy faced a "synchronized" slowdown this year and estimated "slower growth in nearly 90 percent of the world" during an October 8 speech.
In a summary of its latest World Economic Outlook report, published this month, the IMF forecast global growth of 3 percent, translating to a 0.3 percentage point downgrade on its April forecast.
The global body also forecasts international growth of 3.4 percent in 2020—a 0.2 percentage point decline on its April forecast that was partly pinned on trade tensions between the U.S. and China.
IMF economist says U.S. tax could be 'more progressive'
Speaking to El Pais about tax systems around the world, the IMF's Gita Gopinath said they "could be more progressive" in some countries, adding that equal opportunity in health and education was absent "even in the most developed economies in the world."
Asked if this applied to the U.S., she told the Spanish newspaper: "Yes, it is applicable to this country. You must do more to make sure that more people have access to health and that schools provide good education regardless of where you live in the United States."
While the U.S. stock market has experienced something of a boom and unemployment rates have fallen under Trump, the number of Americans not protected by health insurance rose for the first time in ten years in September.
The Census Bureau found that 27.5 million Americans did not have health insurance in 2018, compared to 25.6 million uninsured the year before.
Trump is also seeking to cut school funding, with The Washington Post reporting earlier this year that Trump wanted to slash the Education Department's budget by $8.5 billion.