Trump Wins Back Independents to Take 7-Point Lead in Battleground Iowa, Biden Loses Ground With Women: Poll
With only a few days before the 2020 Election, President Donald Trump is winning back independents to take a 7-point lead in battleground Iowa, while his Democratic opponent Joe Biden loses ground with women in the state.
A new Des Moines Register/ Mediacom Iowa poll showed Trump leading with support from 48 percent of Iowa voters, while Biden trails with 41 percent. The president's lead is approximately 3.6 points outside the poll's margin of error of 3.4 percentage points.
In Iowa's September poll, the candidates were tied at 47 percent.
Both candidates have held onto voters within their own parties, according to the poll. About 93 percent of Democrats reported supporting Biden, along with 4 percent of Republicans. Approximately 89% of Republicans continued to support Trump, along with 2 percent of Democrats.
However, Trump has regained a chunk of independent voters since September.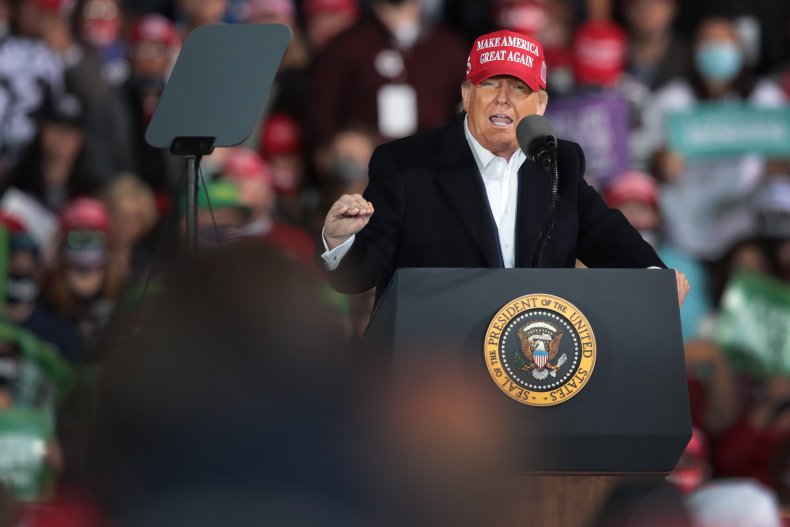 "I think that the key to what's happening with President Trump is that he is leading with independents," said J. Ann Selzer, president of Selzer & Co, the firm that conducted the poll, in an interview with the Des Moines Register published Saturday. "That is a group that in Iowa in our September poll looked like it was swinging to Joe Biden, and it's come back to be a Trump asset."
Biden led Iowa's independent votes in September by 12 points. About 50 percent of independents favored Biden, while 38 percent supported Trump, according to the register's September poll. Trump now leads with 14 points among independents with 49 percent support compared to 35 percent for Biden, according to the register's October poll.
The register's recent poll also showed Biden lost some momentum with women voters.
In September, Biden had a 20-point lead among Iowan women, which balanced Trump's 21-point lead among men. But now the Democratic presidential candidate's lead has shrunk to 9 points, which no longer balances Trump's now 24-point lead among men.
"We saw a huge gender gap that benefited Biden in September," Selzer told the Des Moines Register. "And while there is still a big gap among men— they're going for Trump by a 24 point margin — it's just a 9-point margin for Biden with women. And so there's just an imbalance there."
The register's October poll showed Biden leading in two groups of Iowan voters that leaned toward Trump in 2016, those with a college degree and women without a college degree. Biden is also leading in the Iowan suburbs.
Trump has maintained the support of four demographic groups he had in 2016, those without a college degree, whites, men and white evangelicals, according to the poll.
Still, with two days remaining until the election, Iowa remains a toss-up, according to another survey. The final Emerson College poll published on Sunday found that Trump narrowly leads Biden in Iowa. 47 percent were reported to support Trump, while 46% favor Biden.
Both campaigns don't appear to stop fighting for the state's support.
Biden held a drive-in rally in Des Moines on Friday where he told voters: "I'll work as hard for those who don't support me as those who do. In my administration, there will be no red states or blue states, just the United States of America."
Trump was in Iowa earlier this month and has another rally in Dubuque scheduled on Sunday.
Both Trump and Biden's campaigns didn't respond to Newsweek's request for comment before publication.