Trump Sweeps Mid Atlantic Primaries and Has a Shot at Piercing the Blue Wall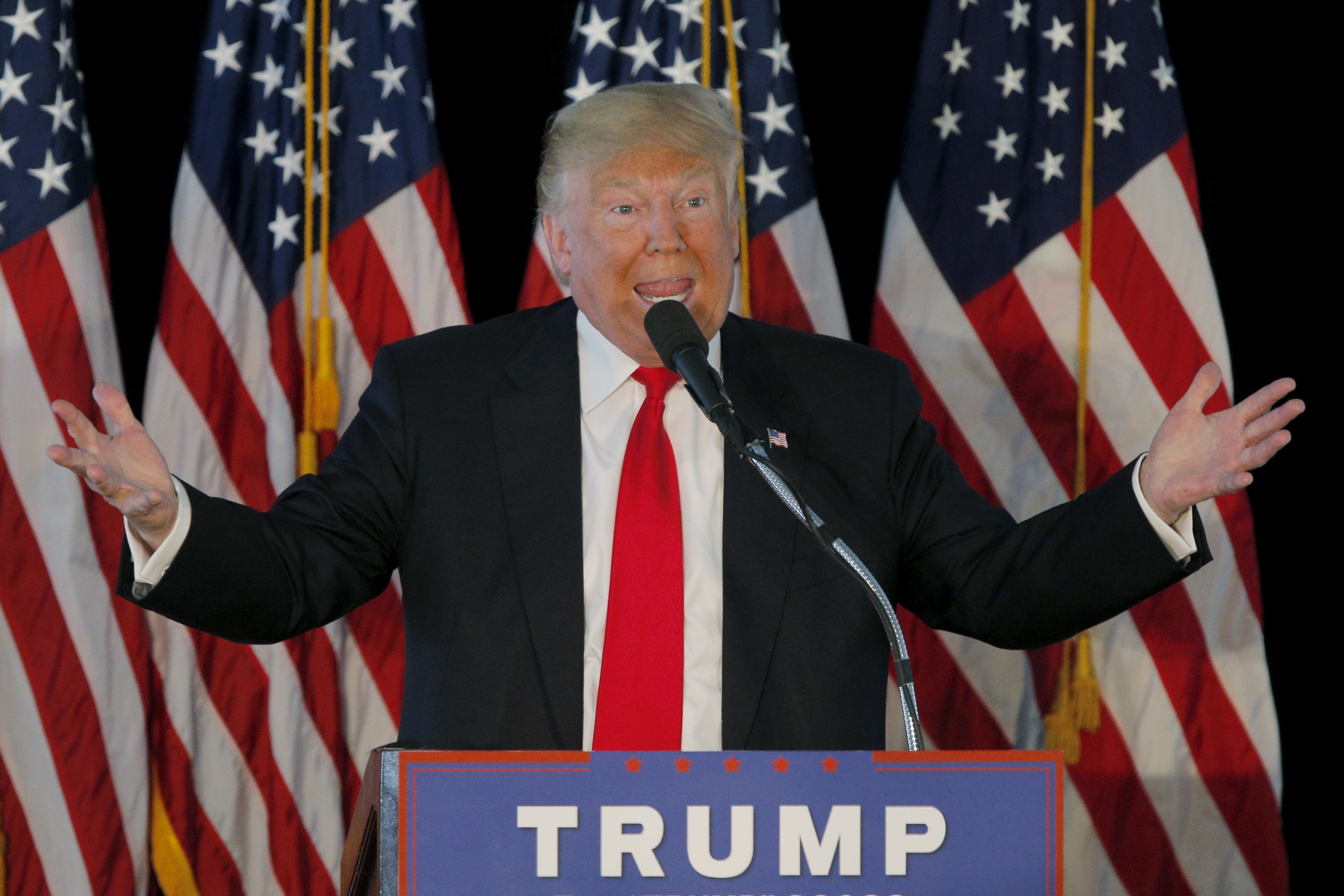 Donald Trump's sweeping victories in all five of Tuesday's "Mid Atlantic" primaries makes it more and more likely that he'll be the Republican nominee and it raises the faint but tantalizing possibility for Republicans that by winning so solidly in these Democratic-leaning states, Trump may be able to redraw the electoral map come November.
Trump's victory was impressive. He won all five of tonight's Republican primaries by double digits—Pennsylvania, Maryland, Delaware, Connecticut, and Rhode Island—shutting out his rivals Ted Cruz and John Kasich, leaving them and their fraying alliances with only the faint hope of stopping Trump in Indiana, site of next week's winner-take-all contest.
Tuesday's contests along with Trump's bone-crushing win in New York state last week raise the question of whether the lifelong New Yorker can bring down the so-called Blue Wall of states that have voted consistently for Democratic presidential nominees beginning with Bill Clinton in 1992. Eighteen states voted for the Democratic presidential ticket in every election since 1992, including states that had been largely Republican, such as New Jersey, which voted for Republicans from 1948 to 1988 with only one Democratic timeout for Lyndon Johnson's triumph over Barry Goldwater. Other states that form the Blue Wall since 1992 include California, Illinois, Delaware, Connecticut and Maryland.
Tuesday's results are not an indication that Trump can win the Blue Wall states in the fall. All it shows definitely is that he beat other Republicans in the rarified world of Republican primaries. After all, in 2008, Barack Obama won the Democratic primary in Mississippi only to lose in the fall. In 2012, Mitt Romney did well in northeastern suburbs but then got clobbered in those same precincts in the fall. So it'd be a mistake to assume that because Trump won Connecticut Republicans and independents Tuesday with more than 60 percent of the vote and Kasich trailing him by 25 percent, he could beat Hillary Clinton there come November. In a poll from earlier this Spring, Trump loses to Clinton in New Jersey by 16 percent.
And yet Trump would seem to have advantages in the Northeast and Midwest that George W. Bush, Mitt Romney and John McCain did not. He's from the northeast. His brash manner, which seems out of place in Iowa or Utah, doesn't seem so odd in Chris Christie's New Jersey. Trump's secular message of jobs and being tough on terrorism fits well in this corner of the world where 9/11 brought deaths not only to New York but also Pennsylvania and Virginia. Trump was born rich, but he's connecting with working class voters in a way that Bush (the heir to a presidency), McCain (son of an admiral) and Romney (son of a governor and auto company CEO) have not.
Indeed, Trump's strength with white working-class voters gives him a path to victory in states like Wisconsin, Michigan, Ohio and Iowa, notes author Ronald Brownstein, who coined the term Blue Wall, and noted earlier this spring where this group accounts for a larger proportion of the voting age population than in the rest of the country. In these states, Trump might seem to have a shot. It also helps that their Hispanic population is fairly low—something that would be crucial if, as the nominee, Trump got smoked in states with an above average percentage of Hispanics such as Arizona and Nevada.
It's rare in American life we get two presidential candidates from the same state. The 2016 race is almost certain to have the interesting twist of seeing two New Yorkers oppose each other for the election for the first time since 1944, when Franklin D. Roosevelt beat Thomas Dewey for what would be FDR's last election. No New Yorker has held the presidency since Richard Nixon, who barely counts. (He took up New York residency in the mid-'60s, having been a vice president, U.S. senator and congressman from California and migrated to New Jersey at the end of his presidency.)
In a battle between two Northeasterners, can Trump emerge as a regional favorite? That might be a stretch. But if you start with Romney's 206 electoral votes and add a few states from the Democratic wall such as Ohio, Iowa and Wisconsin, Trump would be very close to be the next New Yorker in the White House.