Trump Wins Highest Percent of Nonwhite Voters of Any Republican in 60 Years, Doubles LGBTQ Support From 2016: Exit Poll
President Donald Trump has garnered the highest percent of nonwhite voters of any Republican presidential candidate in 60 years, while also doubling his support from voters in the LGBTQ community from 2016.
According to preliminary data from exit polls, conducted by Edison Research for the National Election Pool, Trump has received 26 percent of votes from nonwhite voters during his election fight against Democratic challenger Joe Biden.
On Wednesday, political strategist Adrian Gray shared a tweet showing Republican presidential candidates' share of nonwhite voting since 1952. The tweet shows Trump receiving the most support from this group since 1960, when President Richard Nixon received 32 percent of support.
Dating back to 1952, the only Republican presidential candidate who received more support from nonwhite voters than Nixon was President Dwight D. Eisenhower in 1956.
Additionally, Trump increased his share of nonwhite voters from 2016, where he received 21 percent of votes, according to another exit poll from Edison Research.
Since first running for office in 2016, many of Trump's political rivals have continued to say he is racist. Following the death of George Floyd in May, Biden's press secretary T.J. Ducklo said that the president was "openly embracing the causes of white supremacists" in regard to his comments that opposed removing Confederate statues across the country.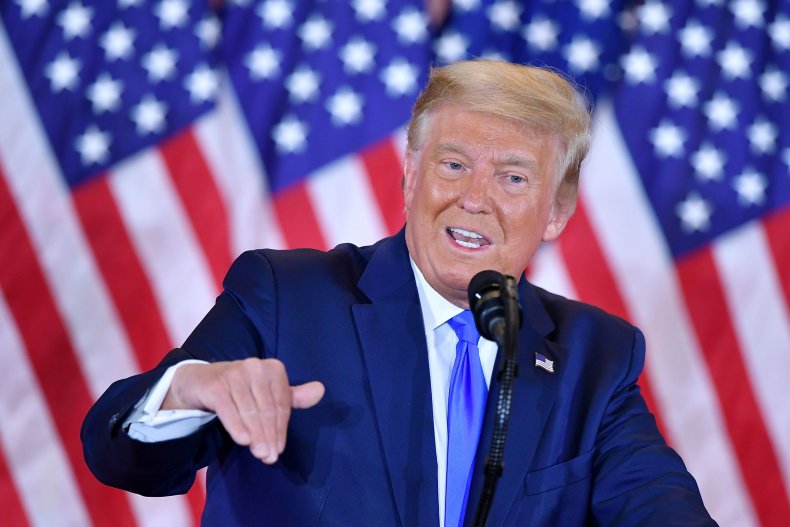 Despite the criticism Trump has faced throughout his first term in office, exit polling data shows Trump improving across all races and genders, except for white men, when compared to 2016.
According to the exit poll, when compared to the 2016 election, Trump saw his support increase by five points among Black men, four points among Black women, four points among Latino men and three points among Latino women.
In addition to an increase in support among different nonwhite voters, the incumbent Republican president also saw his support from those in the LGBTQ community double, when compared to the 2016 elections.
According to the exit poll, 28 percent of Americans who identify as gay, lesbian, bisexual or transgender said they voted for Trump. The 2016 exit poll from Edison Research found Trump receiving just 14 percent of votes from members of the LGBTQ community.
Despite an increase in support from both nonwhite and LGBTQ voters, Trump still trailed the former vice president in both categories. According to the exit poll, 72 percent of nonwhite voters and 61 percent of LGBTQ voters said they chose Biden in the 2020 election.
Trump is currently trailing Biden in both electoral votes and the popular vote, with a victory looking unlikely.
Newsweek reached out to Trump's campaign for comment but did not receive a response in time for publication.