Trump Wishes Rob Porter Could Come Back After Aide Ousted on Domestic Violence Accusations: Report
President Donald Trump wishes he could bring top aide Rob Porter back to the White House after he resigned last month amid allegations of domestic violence from his two ex-wives, according to a report.
Trump has called Porter and asked his advice, three people familiar with the conversations told The New York Times Monday. He has told close advisers he hopes Porter will return to the West Wing.
The president, however, has also told advisers that he knows it's unlikely he could bring Porter back. A White House official said Trump misses the structure Porter brought as White House staff secretary and the team that he helped build.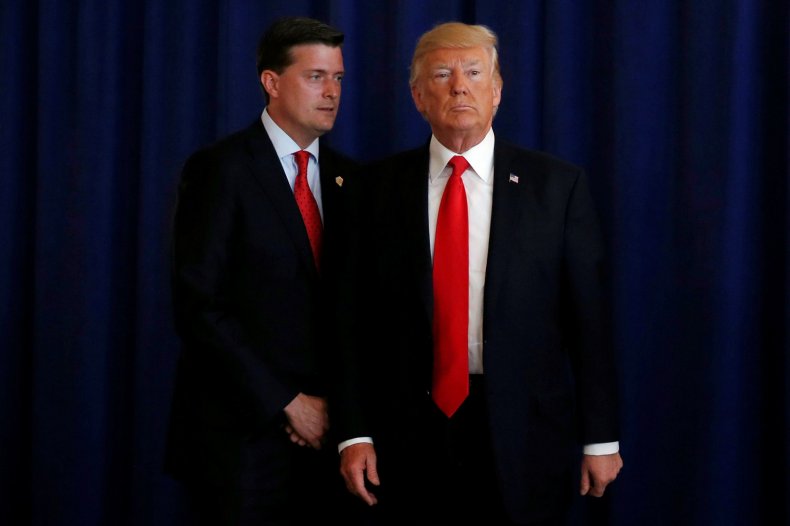 There has been a large shakeup at the highest levels of the Trump administration and the White House since Porter's resignation on February 7. White House Communications Director Hope Hicks, who was romantically involved with Porter, resigned in late February.
Trump's chief economic advisor Gary Cohn resigned in early March. Secretary of State Rex Tillerson has also been ousted, along with National Security Advisor General H.R. McMaster.
With the resignations and firings, the president's calls to Porter have increased, and he has sought advice about how best to proceed with his decision to impose steep tariffs on steel and aluminum imports and how to grant exemptions to those rules for some countries. Cohn opposed the tariffs and resigned soon after Trump decided to impose them.
Read more: More lawyers refuse to work for Donald Trump on Russia investigation
Porter left the White House after The Daily Mail published a story in which his two ex-wives accused him of physical and emotional abuse.
At a Senate hearing in February, FBI Director Chris Wray indicated their accounts of abuse were standing in the way of Porter obtaining a security clearance. He said that chief of staff John Kelly and Trump had ignored warnings and a final report about Porter's vulnerability to blackmail.
Trump continued to defend Porter after the allegations emerged.
It also emerged that as many as 100 White House staff and officials were serving with interim clearances more than a year after Trump's inauguration. By the end of February, more than 30 Trump aides had their security clearances downgraded from top-secret to secret.