Trump Says Withdrawal From TPP a 'Great Thing for the American Worker'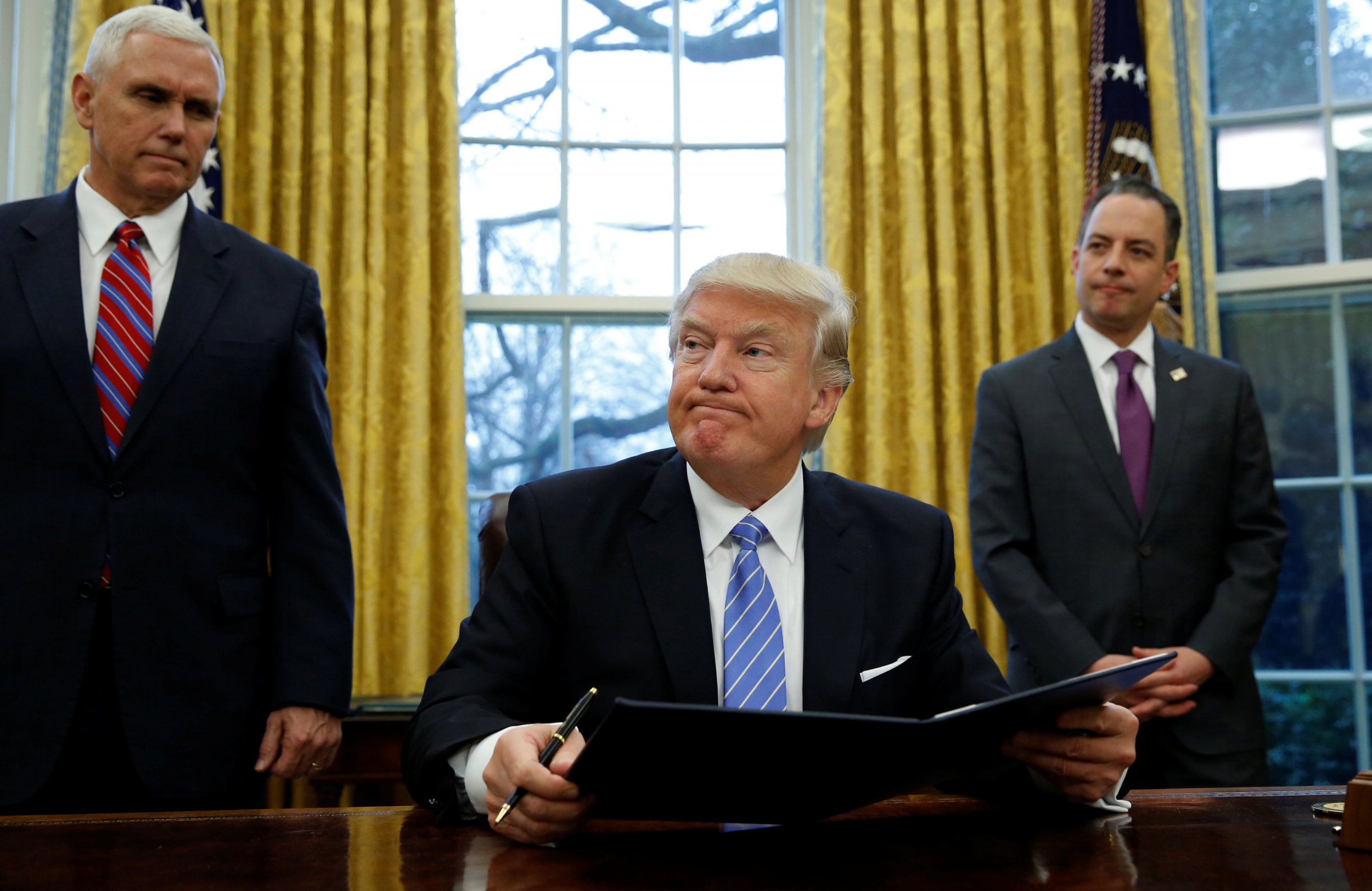 President Donald Trump has acted on a key campaign promise and formally withdrawn the United States from the Trans-Pacific Partnership (TPP) trade pact.
Trump, in his first full workday as president, signed an executive order in the Oval Office Monday that pulls the U.S. from the 12-nation agreement. "We've been talking about this for a long time," Trump said, according to the New York Times. Leaving the TPP will be a "great thing for the American worker."
The president also signed orders imposing a federal hiring freeze, with the exception of the military, and banned U.S. non-governmental organizations (NGOs) that receive federal funding from performing abortions abroad, Reuters reports.
The TPP brought together the U.S. along with Canada, Mexico, Australia, Japan, Malaysia, Vietnam, Peru, Chile, New Zealand, Brunei and Singapore for a free-trade zone that encompasses roughly 40 percent of the world economy, the Times reports. It was intended to soften trade barriers among the affected countries, enable a mechanism for settling trade disputes, lower tariffs on goods and required nations to adopt stronger environmental and workforce protections. The agreement was completed in the fall of 2015 after years of negotiation on the part of the Obama administration.
During the presidential campaign, Trump was harshly critical of the TPP and used it as a cudgel against opponent Hillary Clinton, who helped negotiate its terms and once used the phrase "gold standard" while discussing its provisions. However, facing pushback from the left, Clinton came out against the TPP as negotiated, saying it "didn't meet my standards" after she reviewed the final product. The accord was pitched as a boon to American business and attracted Republican support but many Democrats, including former presidential candidate Bernie Sanders, argued that it would help business at the expense of workers.
Sanders celebrated the news Monday. "I am glad the Trans-Pacific Partnership is dead and gone," he said, according to The Hill. "Now is the time to develop a new trade policy that helps working families, not just multi-national corporations. If President Trump is serious about a new policy to help American workers then I would be delighted to work with him."
However, some Republicans, including Senator John McCain, said withdrawing from the TPP is a mistake. "It will create an opening for China to rewrite the economic rules of the road at the expense of American workers," McCain said in a statement. "And it will send a troubling signal of American disengagement in the Asia-Pacific region at a time we can least afford it."
Although Obama had completed negotiations on the TPP, he never submitted it to Congress for approval.
Trump's trade stance and "America first" credo has alarmed allies in the Pacific who worry he'll distance the U.S. economically. Harry Kazianis, director of Defense Studies at the Center for the National Interest think tank in Washington, said Trump must now find an alternative way to reassure allies in Asia. "This could include multiple bilateral trade agreements. Japan, Taiwan and Vietnam should be approached first as they are key to any new Asia strategy that President Trump will enact," he said, according to Reuters.
The president's decision Monday to halt federal hiring drew criticism from the Federation of Government Employees.
"President Trump's action will disrupt government programs and services that benefit everyone and actually increase taxpayer costs by forcing agencies to hire more expensive contractors to do work that civilian government employees are already doing for far less," said Federation President J. David Cox Sr., according to The Washington Post. "This hiring freeze will mean longer lines at Social Security offices, fewer workplace safety inspections, less oversight of environmental polluters, and greater risk to our nation's food supply and clean water systems."