Trump Is Within the Margin of Error in Seven Swing States
With the election just weeks away, voters and polling officials have seen Democratic presidential nominee Joe Biden's lead over President Donald Trump narrow in the past few days. Now, the most recent state polls show that Trump is within the margin of error to win in seven major swing states: Arizona, Georgia, North Carolina, New Hampshire, Nevada, Texas and Iowa.
While national polls show Biden ahead of Trump by 7 percentage points, as of Wednesday, most polls in major swing states show no clear or definitive winner. In Georgia, a state that hasn't voted Democratic since the '90s but is now considered a toss-up, Biden is projected to win 47 percent of votes compared with Trump's 46 percent, well within the 3.6 percent margin of error, according to an AARP poll released September 10.
Arizona, New Hampshire and North Carolina all show Biden leading by only 3 percentage points in recent polls, while a September 12 New York Times/Siena College poll shows Biden with a 4 percentage point lead in Nevada, which is within the 5.3 percent margin of error.
In a University of Texas at Tyler poll earlier this month, Trump led Biden by just 2 percentage points (48 percent to 46 percent) among likely voters in Texas, a state that hasn't voted Democratic since 1976. Similarly, Trump is ahead of Biden by 47 percent to 45 percent in Iowa. Both polls have a margin of error of slightly over 3 percent.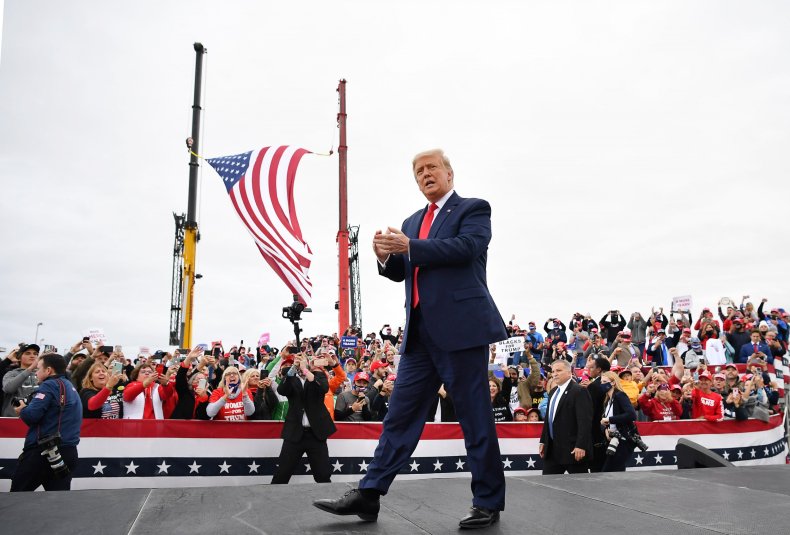 Near the presidential election in 2016, Trump was ahead of Hillary Clinton by a similar number of percentage points within the margin of error in swing state polls. In Michigan, Trump was favored to win by 49 percent to 47 percent but ended up getting just 0.3 percent of the votes. Although November polls for North Carolina showed 44 percent for both presidential nominees, Trump won the state by nearly 50 percent to Clinton's 42 percent.
Other states in which Trump polled within the margin of error in 2016 were Nevada, New Hampshire and Pennsylvania. Clinton won all but Pennsylvania, which Trump ultimately took with under 1 percentage point. He needed 270 Electoral College votes to win and obtained 306.
In the 2016 race, polling data shows Biden has a significantly superior lead over Trump, compared with Clinton's numbers four years ago, with less undecided voters this time. In all possible scenarios, Trump will need to win some of the battleground states that are now leaning toward Biden in order to reach a winning number of electoral votes.
Currently, the toss-up states that could vote either Democratic or Republican in November are Florida, Georgia, Arizona, Maine and North Carolina. (According to recent polls, all of these states are favoring Biden. Even if Trump were to win all of these states but not any Democratic-leaning battleground states like Pennsylvania, Michigan and Wisconsin, Biden would win the election by just 20 electoral votes.