Trump Won These States in 2016—Here's Where the Polls Show Him Now
The presidential election is still five months away but the spread of the new coronavirus, near-record unemployment and massive violent protests demanding an end to police brutality have many questioning if President Donald Trump can win a second term in the White House.
Several recent polls suggest a Trump victory could still happen in November, despite the social and political issues in America.
According to an RMG Research poll, which surveyed 500 registered voters in Kentucky from May 21 to 25, 53 percent of the state's registered voters would vote for Trump if the election were held today, while 36 percent would vote for former Vice President Joe Biden.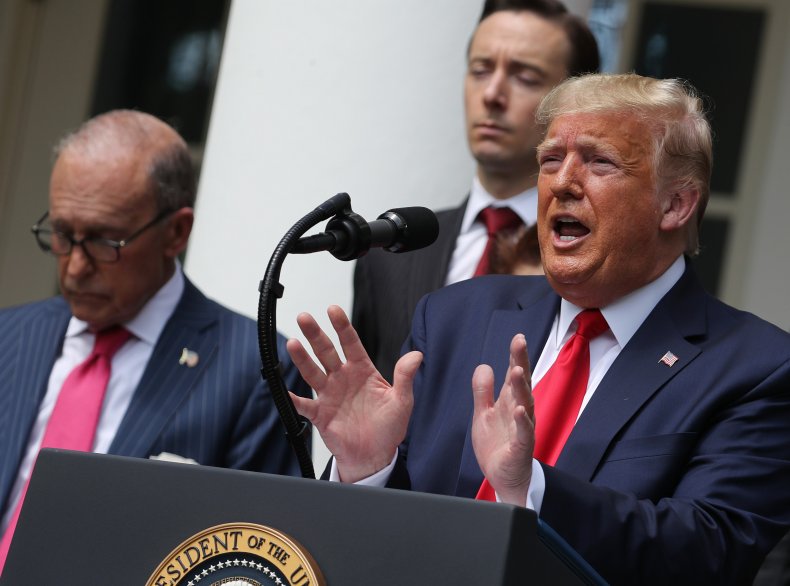 Among those same voters surveyed, 55 percent had a favorable view of Trump, while 43 percent of those surveyed had an unfavorable view.
Meanwhile, a similar survey conducted June 3 to 4 in Oklahoma by Amber Integrated revealed Trump would carry that state with 55 percent of the votes, while Biden would win only 36 percent of the votes.
Both Oklahoma and Kentucky, however, typically lean Republican when it comes to electing a president.
Trump's election in 2016, in which he won 306 electoral votes and defeated Hilary Clinton, not only hinged on victories in red states but in swing states such as New Hampshire, Maine and Florida where he won slim victories. According to RealClearPolitics, Biden has slim leads on Trump in those states: in Maine, between 8 and 10 percent in New Hampshire about 4.5 percent. In 2016, Trump edged Clinton taking 49 percent of the ballots in Florida. The 2020 election could be just as close there with numerous polls showing voters in Florida favoring Biden over Trump, according to RealClearPolitics.
If the election were held today, Trump would lose Michigan, Pennsylvania and Arizona—all swing states that Trump won in 2016—Biden is leading in most polls by more than 3 percentage points in each of these states.
In Wisconsin, which in 2016 Trump won by 47.22 percent to 46.45 percent over Clinton , Biden holds a 49 to 40 percent advantage of Trump.
In 2016, Trump garnered 52 percent of the votes in Ohio, but if the election were held today Trump would narrowly lose with Biden leading 45 percent to Trump's 43 percent, according to a Fox News Poll.
Trump's handling of the new coronavirus pandemic and the recent wave of civil unrest, has some saying that his chances of a second term could be dwindling.
National polls are pointing to a Trump defeat in November, with Biden holding a large lead over Trump in most polls according to RealClearPolitics.
A Hill/Harris poll conducted June 8 had 47 percent of the voters favoring Biden, and just 37 percent saying they'd vote for Trump, while a CNN poll conducted the same day have 55 percent of likely voters favoring Biden and 41 percent favoring Trump.
Trump's approval rating has also taken a hit, with 53.6 percent disapproving of his performance, leading to comparisons to former presidents who lost their bids for a second term.
In a June 8 report, Political Wire reported that Trump's approval and disapproval numbers closely resemble those of Jimmy Carter and George H.W. Bush, the last two presidents to be defeated for a second term. Trump's approval numbers are also far behind Barack Obama and George W. Bush, who won re-election in contested efforts, and far behind Richard Nixon, Ronald Reagan and Bill Clinton, who all won landslide victories.
Newsweek reached out to the Biden and Trump campaigns for comment but did not receive responses in time for publication.