President Donald Trump indicated Saturday that he is not conceding the election to Democratic challenger Joe Biden and is threatening "unspecified legal challenges," according to the Associated Press. The election was called for Biden by the AP and networks on Saturday after he won Pennsylvania's 20 Electoral College votes, bringing him over the necessary 270 to win.
Trump's refusal to concede comes after a tumultuous week of lawsuits that allege widespread voter fraud in key battleground states without evidence. Earlier this morning in a conference call, the Trump campaign reiterated baseless claims that illegally cast ballots were counted in states like Georgia, Pennsylvania and Nevada. Judges in all three states have dismissed lawsuits that would halt the ballot-counting process, citing that there is no evidence to back up these claims.
There is no law stating that a candidate must concede once a winner is announced, but it is a tradition in the U.S. to do so. Trump has told allies he has no intention of conceding to Biden. It is unclear whether he would do so following legal battle over the election. He would be the first presidential candidate in modern history to not concede after all the votes have been counted. Trump has also previously declined to endorse a peaceful transfer of power.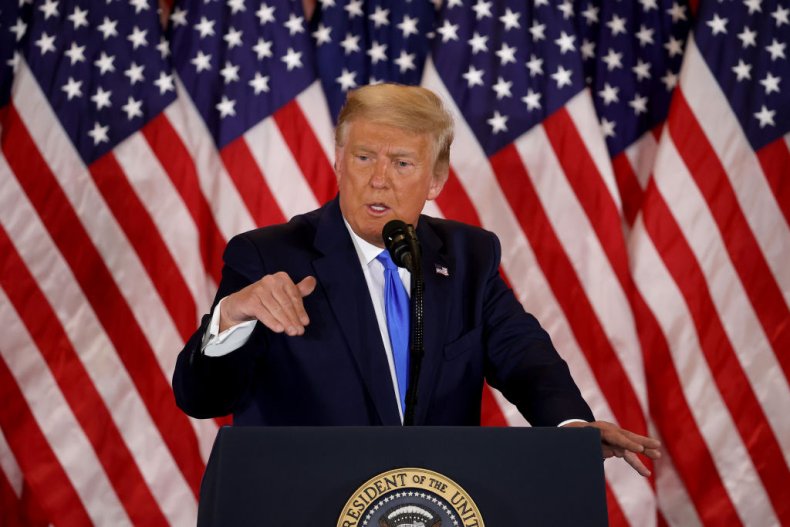 Following the announcement of a Biden win on Saturday, Trump released a statement refusing to accept the election result and stating that it is "far from over."
"We all know why Joe Biden is rushing to falsely pose as the winner, and why his media allies are trying so hard to help him: they don't want the truth to be exposed," Trump said. "The simple fact is this election is far from over."
"Joe Biden has not been certified as the winner of any states, let alone any of the highly contested states headed for mandatory recounts, or states where our campaign has valid and legitimate legal challenges that could determine the ultimate victor," he said.
Trump went on to emphasize the legal challenges in various states and baselessly claimed that Biden wants to count "fraudulent" and "manufactured" ballots, despite a lack of evidence that illegal ballots were counted in the election. He also said that his campaign will begin "prosecuting our case in court" on Monday.
He added, "I will not rest until the American People have the honest vote count they deserve and that Democracy demands."
Just an hour before Biden's victory announcement, Trump tweeted that he had won the election "by a lot," an addition to the string of flagged tweets and premature claims that he had won the presidency before all votes had been counted. He has alleged that his leads in "key locations" were "getting whittled away in secret," and accused counties of "magically" finding ballots.
On Thursday, Trump falsely announced he had specifically won Pennsylvania—the state that led Biden to victory on Saturday—"by a lot." Biden won the state by more than 34,000 votes.
Trump has vowed to bring his grievances about the ballot-counting process to the Supreme Court, including Pennsylvania's ability to accept ballots after Election Day. The state was able to accept ballots postmarked by Election Day until Friday at 5 p.m., which Republicans have continuously objected to. Before November 3, the Supreme Court declined to intercede on that issue but left the possibility open to revisiting it. Pennsylvania officials have been instructed to segregate ballots that have come in after Election Day, which was reinforced by the Supreme Court on Friday.
Trump's multiple lawsuits across Nevada, Pennsylvania, Michigan and Georgia have all been unsuccessful so far, but he has emphasized that the legal battles will not stop any time soon.