Trump Won't Draw Red Lines on North Korea, but South Korea Just Did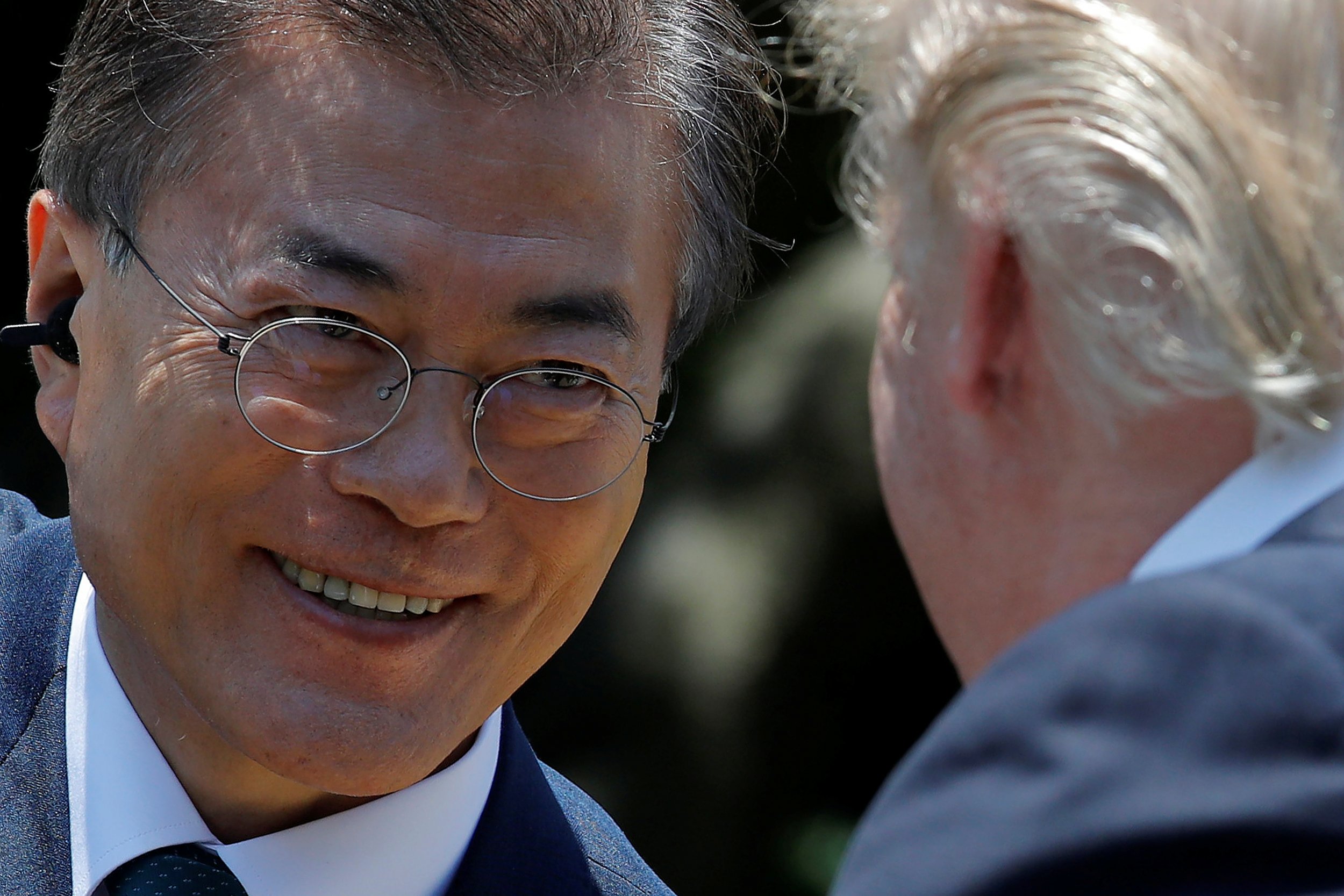 South Korean President Moon Jae-In has for the first time defined what he would consider a "red line" in dealing with provocations from North Korea, in contrast with U.S. President Donald Trump's reticence on the matter.
The recently-elected president Moon said Pyongyang would be crossing a red line if it launched an intercontinental ballistic missile (ICBM) and weaponized it by fitting a nuclear warhead on top of the rocket.
"North Korea is getting closer to the threshold of the red line," Moon warned at a press conference in Seoul on Thursday marking his 100 days in office, as reported in the local Yonhap news agency.
Unlike Moon, President Trump has repeatedly refused to define what level of provocation from North Korea he considers a "red line" to activate the military solutions that, as he tweeted to the world last week, were "locked and loaded."
"We don't talk about that, we never do," Trump told the press last Thursday, taking the opportunity to criticize the previous Obama administration for being more blunt about their plans. "I'm not like the other administration that would say we're going into Mosul in four months. I don't talk about it."
Even the president's national security adviser General H. R. McMaster repeated that Trump "doesn't draw red lines" in an interview to NBC on Sunday.
"The president doesn't draw red lines. He asks us to make sure we have viable options for him," he said.
But President Moon's statements did not appear to diverge from his American counterpart, as he explained that South Korea and the U.S. agreed to discuss any options they may take against North Korea.
Whichever option they take, it is unlikely to involve military confrontation, as Moon stated: "I say this with confidence that there will be no war on the Korean Peninsula ever again."
Moon's remarks came ahead of the country's two-week long military exercises with the U.S.—conducted annually in accordance with the allies' mutual defense treaty—opposed by both North Korea and China. China has repeatedly called for "all relevant parties" to "exercise restraint" on the Korean Peninsula, asking the U.S. to scrap the drills in exchange for Pyongyang stopping its weapons development program.
Meanwhile, the U.S. says the military drills are not up for negotiation. "As long as the threat in North Korea exists, we need to maintain a high state of readiness to respond to that threat," Joseph Dunford, Chairman of the U.S. Joint Chiefs of Staff told reporters during his visit to Beijing, as quoted in Reuters.
Despite reaching an armistice in 1953, North Korea and South Korea technically remain at war as no peace agreement was forthcoming.
Recent belligerent statements from both Pyongyang and Washington have been rolled back this week, after North Korean ruler Kim Jong Un stated he won't be ordering a strike on the U.S. territory of Guam and President Trump commended the decision as "wise."