Donald Trump's New Focus: Wooing African-Americans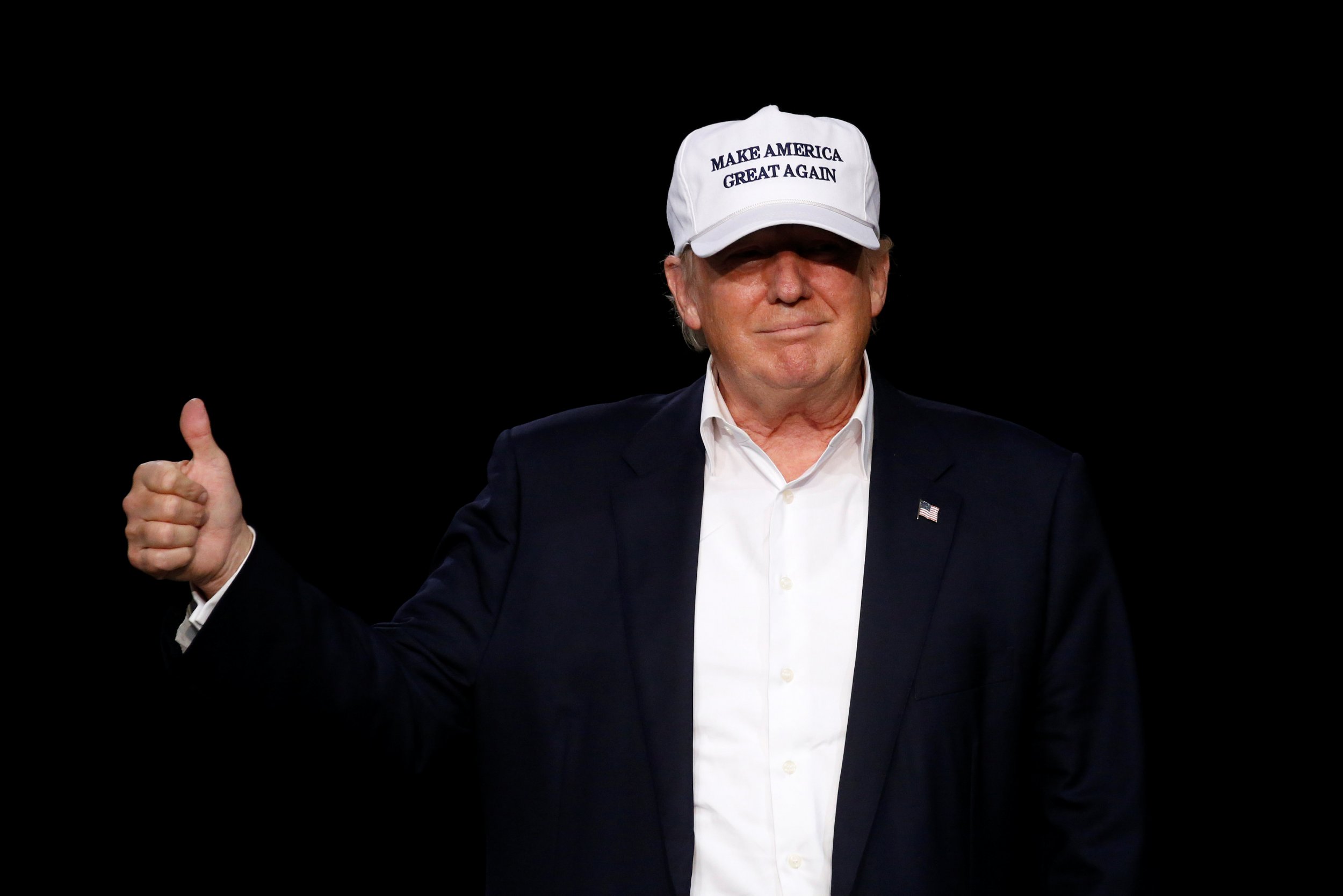 Donald Trump is undergoing a campaign pivot, but it doesn't have anything to do with his remarks Thursday night that he regretted some of his statements (he left unspecified which) over the course of his raucous year-long campaign. Trump's semi-apology set political pundits abuzz, but the most notable change in Trump's rhetoric in recent weeks has really been his direct and repeated appeals towards African-Americans. It's a shift that began before the Republican presidential nominee's latest campaign shakeup—bringing in Breitbart News executive Steve Bannon Wednesday and parting ways with Paul Manafort—but Trump put a particularly fine point on it Thursday and Friday at rallies in states with significant black populations.
"No group in America has been more harmed by Hillary Clinton's policies than African-Americans," Trump said Friday afternoon in Dimondale, Michigan, just outside of Lansing. "To those hurting, I say: what do you have to lose by trying something new? One thing we know for sure is that if you keep voting for the same people you will keep getting the same result."
That echoed appeals Trump made in Charlotte the night before, promising that "if African-American voters give Donald Trump a chance by giving me their vote, the result for them will be amazing." And in a twist for a candidate regularly accused of racism, Trump also argued it's his opponent who's bigoted, claiming Clinton and fellow Democrats see "communities of color only as votes and not as human beings worthy of a better future." Trump also condemned "the bigotry of Hillary Clinton," in a speech on law-and-order in Wisconsin on Wednesday, saying she "panders to and talks down to communities of color."
The real estate tycoon first began emphasizing many of these themes in an economic policy speech August 8 in the predominantly black city of Detroit. He did not appeal to African-Americans explicitly in those remarks, but it was clear he was talking about the plight of the city's poor black community. "Detroit tops the list of most dangerous cities in terms of violent crime—these are the silenced victims whose stories are never told by Hillary Clinton, but victims whose suffering is no less real or permanent," Trump said as he opened his speech. "Every policy that has failed this city, and so many others, is a policy supported by Hillary Clinton."
If Trump is trying to win over black voters, he faces a steep uphill climb. A Washington Post-ABC News poll released August 7 found Trump winning just 2 percent of the African-American vote. And 91 percent of African-Americans held an unfavorable view of the Republican. There's little chance Trump will make deep inroads into the black vote this election—Democratic presidential nominees traditionally win it with around 90 percent or more. And it's not even clear how sincere he really is in his appeals. Trump's recent words do not match his actions on the campaign trail, where he has skipped events like the NAACP's annual convention in Cincinnati in July and a black and Hispanic journalists' convention at the beginning of August.
But the outreach could help in other ways. Black voters turned out in historic numbers in 2008 and 2012 to elect Barack Obama and return him to the White House. It will be tough for Clinton to replicate that sort of turnout in November, although alarm about Trump could motivate voters of color even if they are not inspired by Clinton. Soothing some of those fears, then, could help Trump keep the races in states with large black populations close. His pitch to African-Americans could also help him mend fences with white voters who don't like the way he talks about people of color. Sizable majorities of people told the Washington Post-ABC poll Trump is biased against women and minorities and said they trusted Clinton more on race relations.
One minority group Trump is not attempting to turn over a new leaf with: Hispanics. On Friday the campaign released its first ad of the general election, a spot that plays heavily on Americans fears' about undocumented immigrants, most of whom are Latino.