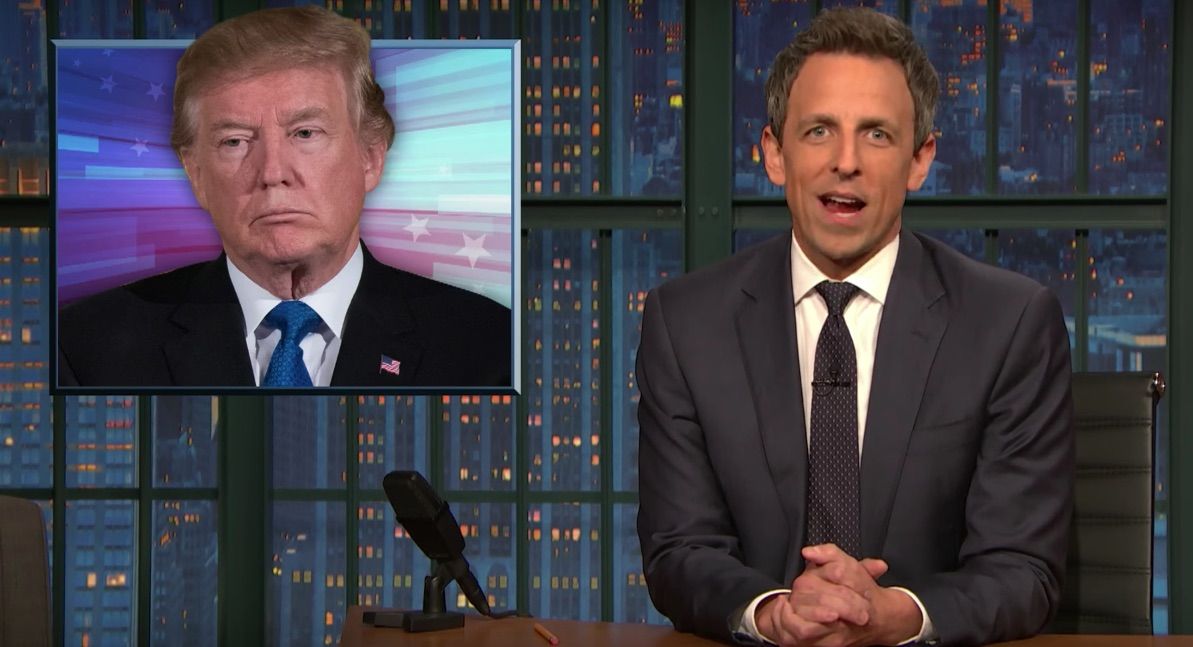 When it rains, it pours for President Donald Trump.
Not only is there an entire book painting him as an unstable, under-qualified president, Axios recently published what it says is his private daily schedule. And, well, it doesn't help him come across any better.
On Tuesday's episode of Late Night With Seth Meyers, the comedian opined on the Axios report, which claimed that Trump is working less hours each day than he did at the start of his presidency.
For example, Trump is reportedly "starting his official day much later" than previously at "around 11 a.m." and has numerous slots in his schedule for "Executive Time" which, reported Axios, "almost always means TV and Twitter time alone in the residence."
"He starts his day at 11 a.m.?" Meyers said incredulously. "Is he the president, or a lunch waiter at Olive Garden? All I do is make fun of him, and I still have to be here at 9 a.m."
The Axios report said that Thursdays are an especially light work day for Trump, prompting Meyers to say: "Oh, my God, Trump might be our first president who works so little he technically qualifies for unemployment."
The comedian continued to roast Trump, referring to him as "[Vice President] Mike Pence's out-of-work friend who has to crash with him for a while till he gets back on his feet."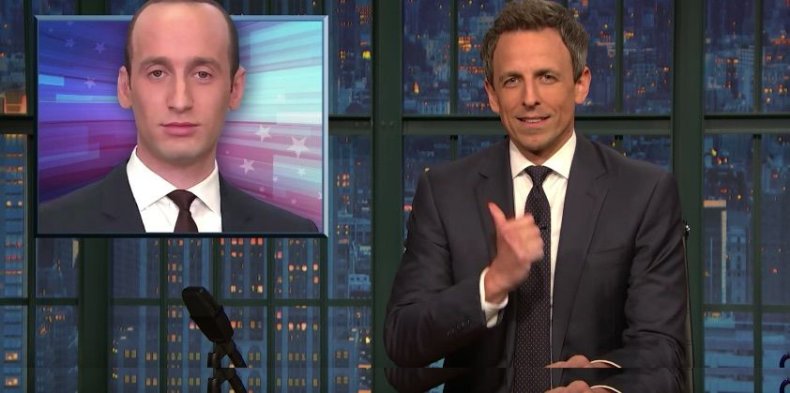 It wasn't just Trump whom Meyers aimed fire at: He also cracked jokes at the expense of Trump adviser Stephen Miller, who fawned over "genius" Trump in an interview with CNN's Jake Tapper Sunday.
"I'd say Stephen Miller has a boner, but he already is one," said Meyers. "Seriously, he looks like someone slapped a couple of googly-eyes on a penis." (Oh God, it can't be unseen once you see it.)