Trump Is Worshipped As a God by This Man—And He Is Not Even a Republican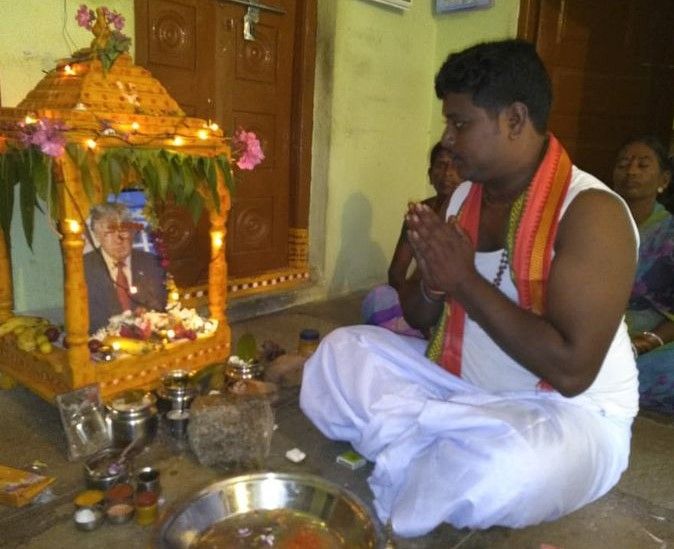 Well before Donald Trump became leader of the free world, Bussa Krishna felt that the U.S. president was something special.
For the last three years, the 31-year-old farmer from near Hyderabad, India, has been carrying around Trump's image and praying to him several times a day.
To aid his devotion, he set up a Facebook page where he posts videos and images of him making offerings, or puja in the Hindu faith, at a shrine in the village of Konne in Telengana.
First inspired by the president's 'Make America Great' election campaign, Krishna had no view as to whether Trump's addition to his pantheon helped him get elected.
However he has had to endure the sort of criticism—and advice—that many would like to see Trump himself taking.
"My family and village people call me mad. Once they suggested I should visit a psychologist. I told them 'I don't require any, maybe you should go' because he is my god and I am not bothered about stuff others say," he said, according to Australia's 9 News. The station broadcast footage of him making offerings and meditating under a tree clutching the image of the 45th U.S. president.
He offers vermilion, turmeric, flowers and at the end of his prayer does "aarti" to the photograph, in which light from candles are offered up to the 'deity'.
Whether he is going to the shop, or the fields, he always carries the image of Trump with him.
"I am doing all the pujas to Trump like how we do it for our gods," he added.
His devotion has annoyed some though. His parents have tired of his constant worship of the former reality star and left his house.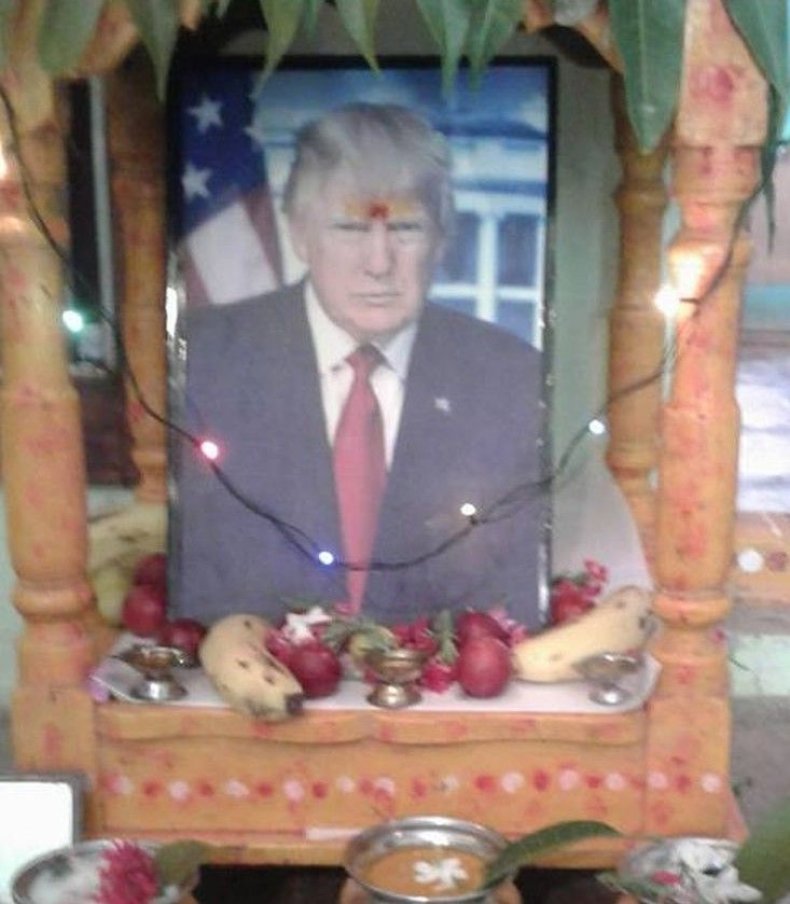 One neighbor, named as Sathayalkshimi told the channel: "He always says Trump is my God, he is in my heart, I like him very much so I keep worshipping him'
"Every day he does puja for Trump's photo. He's been doing this for the last three years."
The Hindustan Times reported that worshipping politicians and film stars is not unusual in India. Several temples devoted to the late chief minister M.G.Ramachandran were built in neighboring Tamil Nadu state.
Prime Minister Narendra Modi had a temple dedicated to him in Rajkot, in his home state of Gujarat, although he demanded it be removed.
On Krishna's Facebook page, which has over 4,500 friends, people from around the world have posted supportive comments. Matt Fitzgibbons wrote: "Many people wonder: Do you worship President Trump like a god or do you celebrate and admire him? Respectfully."
Another wrote: " I believe you. Keep it up. Continue your work for Trump".
Krishna's aim is to add to the real estate empire of the White House resident by a building a special holy place for him in the next six months.
There is no word so far as to whether it will be called 'Trump Temple'.