Trump Would Lose 2020 Election to Every Top Democrat Woman, Including Michelle Obama, Hillary Clinton and Elizabeth Warren, Poll Finds
If a presidential election were to take place today, President Donald Trump would likely lose against every high-profile woman floated as a potential 2020 candidate for the Democrats—including Michelle Obama, Hillary Clinton and Elizabeth Warren—a new poll shows.
Participants in the poll, which was released on Friday by Axios, gave Obama a 13-point favorability lead over the president, while media titan Oprah Winfrey enjoyed a 12-point lead.
Meanwhile, Kamala Harris, a Democratic California senator, was given a 10-point advantage over Trump, with Minnesota Senator Amy Klobuchar following with a 9-point lead.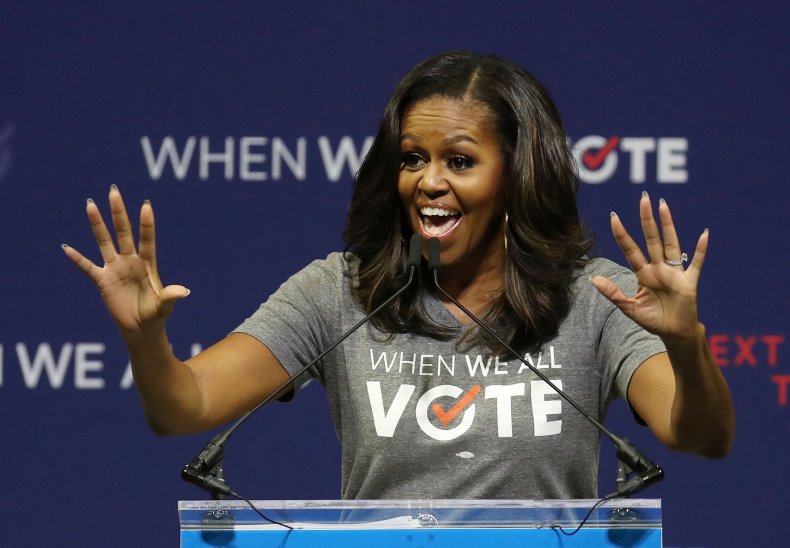 Both Harris and Klobuchar have been floated as potential 2020 contenders after coming under the national spotlight over their questioning of now-Supreme Court Justice Brett Kavanaugh, when he testified before the Senate Judiciary Committee over accusations of sexual misconduct.
New York Senator Kirsten Gillibrand was also given a lead over Trump, at six points. However, a near-majority of participants in the survey said they did not know enough about all three senators to rate them as either favorable or unfavorable.
Still, despite participants' lack of knowledge around the three senators, the poll still found that all three would beat Trump if a presidential election were to be held today.
Interestingly, both Clinton and Warren had the narrowest leads over Trump in the poll, with Clinton enjoying a five-point lead over the president and Warren earning just two points.
Of all the Democratic women matched up against Trump, Warren was the least popular with white suburban women, but polled well with millennials, according to Axios.
Read more: Washington Examiner Twitter Says 'Trump Is Going to Hell'
These findings were gleaned from two separate surveys, with the first conducted between October 24 and 28 among 3,411 adults and the second between October 28 and 30 among 6,497 adults.
As Axios notes, many of Trump's more controversial decisions, including his administration's widely-condemned child separation policy, as well as his efforts to see Kavanaugh appointed to the Supreme Court, appear to have gradually chipped away at the U.S. leader's support among women voters.
Tuesday's midterm elections could see a record number of women elected, with the most female candidates on record standing.