Trump Would've Already Made a Vaccine for Omicron Variant, Stephen Miller Claims
Stephen Miller, former White House senior advisor under Republican former President Donald Trump, has baselessly claimed that if Trump were still president, he would have already developed a vaccine for the new COVID-19 omicron variant.
"If President Trump was still in office, by the way, we'd already have modified vaccines to deal with the new variant," Miller said on Fox News' Hannity Friday night.
The variant was first reported to the World Health Organization (WHO) on Wednesday. WHO only designated it as a "variant of concern" on Friday.
It took the Trump Administration 11 months to develop its first COVID-19 vaccine after the first confirmed case emerged in the U.S. on January 20, 2020. Trump authorized the speedy development of the vaccine under Operation Warp Speed, but it wasn't available until December 17, 2020.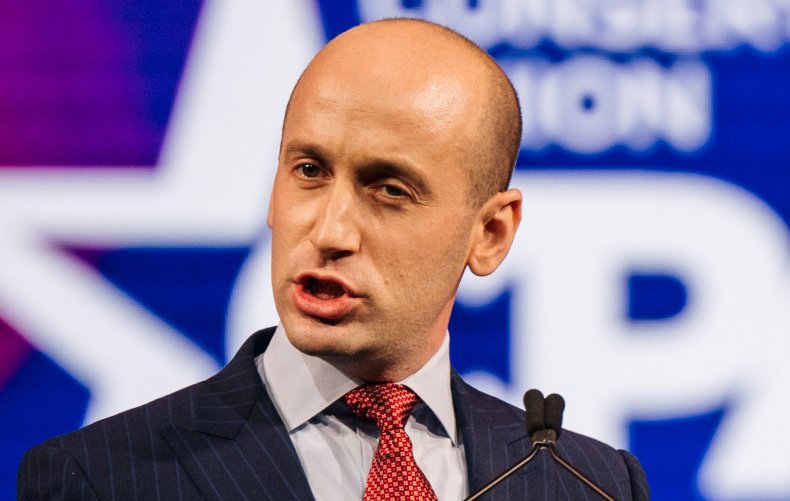 Miller also made several other questionable claims during his Fox News appearance.
Miller said that Trump "emphasized therapeutics and treatments" that are "completely off the table now" under the administration of Democratic President Joe Biden. Miller didn't specifically name what medical approaches he was referring to.
Later in the interview, Miller said that the Biden Administration needed to focus on combatting COVID-19 with "serious medications like antibodies, as well as more common over-the-counter medications that may be shown in clinical studies to have a positive, provable, statistically significant effect."
Monoclonal antibody treatments to fight severe COVID-19 symptoms have remained available under both the Trump and Biden Administrations.
Miller's comment about "common over-the-counter medications" may refer to Ivermectin.
The U.S. Food and Drug Administration (FDA) and the Centers for Disease Control and Prevention (CDC) have warned people against using Ivermectin as a COVID-19 treatment. Clinical data hasn't shown the drug to have a significant effect in preventing COVID-19 or reducing symptoms in patients suffering from the disease.
Merck, a pharmaceutical company that manufactures the drug, has said there's "no meaningful evidence for clinical activity or efficacy in patients with COVID-19."
During his presidency, Trump promoted hydroxychloroquine, an anti-malaria medication, as a possible treatment for COVID-19.
However, medical studies have shown that the drug has no discernible effect on the virus. The CDC has said the drug could exacerbate pre-existing conditions that could potentially harm COVID-19 patients.
Hydroxychloroquine as a possible coronavirus treatment has been rejected by Dr. Anthony Fauci, director of the National Institute of Allergy and Infectious Diseases and a top White House pandemic adviser.
Miller also said, "This administration is failing and that's why more people died under Biden than Trump."
Roughly 400,000 people died of COVID during the Trump presidency, the Associated Press reported. As of November 25, roughly 350,000 people have died of COVID-19 under the Biden presidency, the Wall Street Journal reported.
Newsweek contacted Trump's office for comment.