Donald Trump Wrongly Told Troops They Have 'All Brand New' Aircraft in Christmas Call
President Donald Trump wrongly told U.S. troops that they had an "all brand new" fleet of aircraft during a Christmas conference call, it has been reported.
The commander-in-chief made the error, first reported by CNN fact checker Daniel Dale, during a video call on December 24, in which he said the Air Force "didn't have brand new airplanes" three years ago.
After the call he also joked that North Korea's promised Christmas gift for America could be a "beautiful vase" when asked how he would respond to a missile threat by reporters.
Speaking to Air Force personnel during the Christmas video call, President Trump said: "I have to just ask you one question. We spent a lot of money on brand new airplanes, as you know. Three years ago you didn't have brand new airplanes, you were not doing well, and now you have all brand new. Are you seeing the big difference? They're already arriving."
Lt. Col. Daniel Wassmuth told the president that the Air Force was "thriving" and "extremely lethal," but did not speak directly of new planes.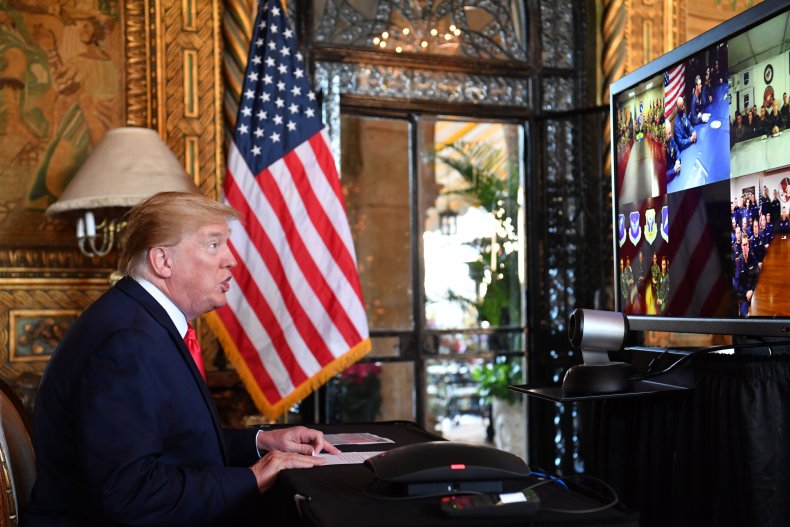 Dale tweeted: "Trump told the troops in his Christmas video conference call that they used to have old planes three years ago, but 'now you have all brand new.'"
"As of late 2018, the average age of an Air Force plane was 28 years -- 26 for fighters, 42 for bombers, 54 for tankers."
In July last year, the Air Force Times reported that the average age of the fleet used by the service was 28 years.
A Congressional Budget Office report from December 2018 said that the Air Force possessed around 5,600 aircraft ranging from "just-delivered to 60 years old" and claimed many were "nearing the end of their service life."
But President Trump has put in orders for new military aircraft, with Defense One reporting plans to purchase a new version of the F-15 jet for the Air Force in the commander-in-chief's 2020 budget plan.
Citing a Department of Defense spending document, the outlet noted further plans for 60 F/A-18 purchases between 2021 and 2024, and a requested $1.8 billion for 24 more jets this year.
"Trump's administration has ordered a bunch of new military planes," CNN fact checker Dale tweeted. "But even after these go into service, calling the fleet 'all brand new' will be wrong."
Newsweek has contacted the White House for comment and will update this article with any response.
During the call, President Trump also told members of the U.S. military that they were "the envy of the world," adding that America was "doing something that's never been done before."
"I want to thank everybody," Trump said at the end of the call. "I want you to have a great Christmas. I want you to have an incredible New Year."
Donald Trump Wrongly Told Troops They Have 'All Brand New' Aircraft in Christmas Call | U.S.