President Donald Trump has brandished his friendship with his Chinese counterpart as a possible solution to end the ongoing protests in Hong Kong.
Following weeks of pro-democracy protests in the Chinese territory, Trump has stepped into the fray in a series of tweets by calling for a meeting with Xi Jinping and linking the street actions with a U.S. trade deal with Beijing.
Trump tweeted on Wednesday night: "Millions of jobs are being lost in China to other non-tariffed countries. Thousands of companies are leaving. Of course China wants to make a deal. Let them work humanely with Hong Kong first!"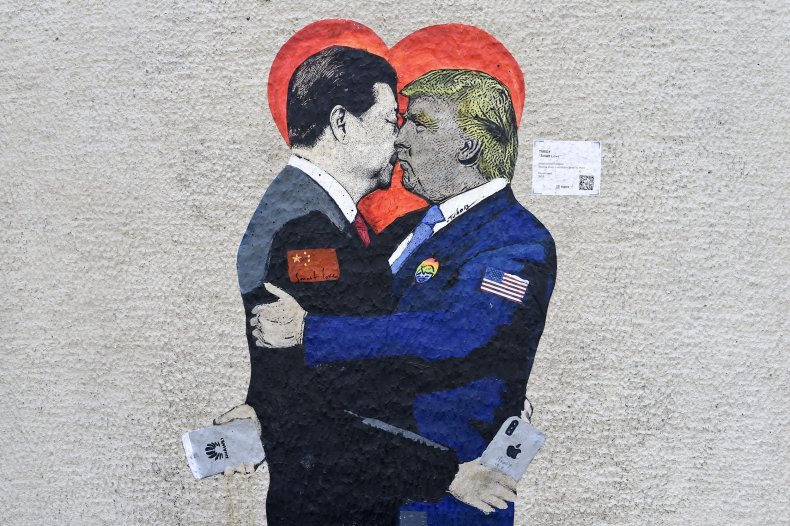 Tensions between China and the U.S. have been rising due to their ongoing trade war. Last week Trump said that he would impose 10 percent tariffs on an additional $300 billion of Chinese goods, which sparked a Chinese retaliation of halting U.S. agricultural imports.
On Tuesday, the U.S announced that it would postpone new tariffs on some Chinese-made consumer goods until December, instead of September as originally planned.
In a follow-up tweet on Wednesday, Trump cast himself as a peacemaker, saying: "I know President Xi of China very well. He is a great leader who very much has the respect of his people. He is also a good man in a 'tough business.' I have ZERO doubt that if President Xi wants to quickly and humanely solve the Hong Kong problem, he can do it. Personal meeting?"
Trump's message comes as China condemned the actions in its territory as "close to terrorism," after peaceful protests at Hong Kong's airport escalated to clashes with police in the streets, the BBC reported.
On Wednesday evening, police with riot shields fired tear gas at demonstrators who had been shining laser pointers at a police station in the Sham Shui Po neighborhood.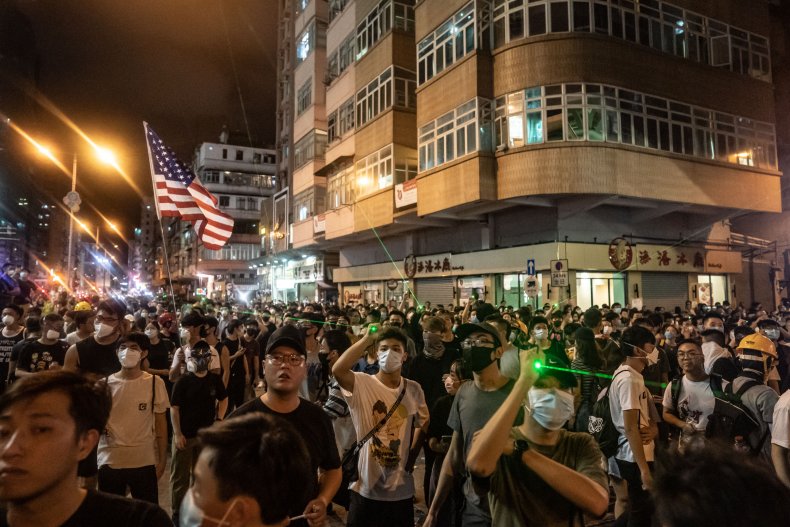 CNN reported that China has deployed large numbers of paramilitary personnel close to the Hong Kong border, in what observers say is intended to send a message to protesters. Analysts and U.S. officials doubt that China would give the go-ahead for a military intervention which would have a huge impact on the territory's economy.
Alexander Sehmer, director of geopolitical intelligence at Falanx Assynt, told Newsweek that the build-up of troops is more about posturing than a statement of genuine intent to deploy mainland forces in Hong Kong because "the economic and political risks associated with intervention are too great."
"If violence continues to escalate, Beijing may provide undercover mainland officers to help bolster the efforts of the Hong Kong police. This sort of intervention is more likely, as it could be plausibly denied," he said.
In an interview with Voice of America, U.S. National Security Advisor, John Bolton, warned China to tread "carefully" in Hong Kong "because people in America remember Tiananmen Square."
Hong Kong leader Carrie Lam has warned that the protests could see the city "pushed into an abyss." The graphic below, provided by Statista, illustrates how support for Lam is dwindling as the protests continue.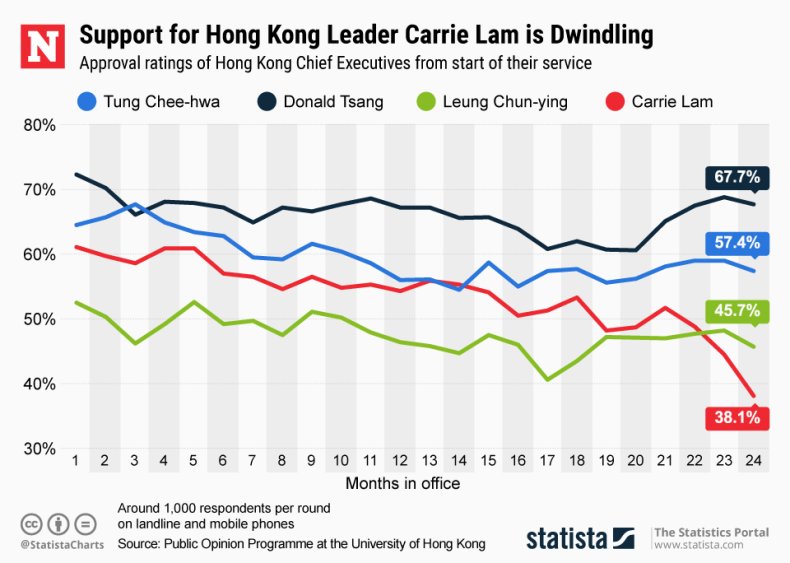 The protests were sparked by opposition to an extradition bill in Hong Kong which critics feared would bring the territory more under China's control. The bill has now been suspended, but the protests have evolved into a broader pro-democracy movement.
This story has been updated to include comment from Alexander Sehmer, director of geopolitical intelligence at Falanx Assynt.
This article was updated to include an infographic.