Donald Trump and Xi Jinping to Meet as Both Accused of Overseeing Concentration Camps
As the leaders of the world's two largest economies meet on Saturday at the G20 in Osaka, Japan, they will have more than just a trade war in common.
President Donald Trump and his Chinese counterpart Xi Jinping both face fierce criticism for overseeing the operation of what some have dubbed "concentration camps" in their respective countries.
In recent weeks, the holding of migrant children in overcrowded and under-resourced detention facilities along the U.S. Southern border led Democratic Representative Alexandria Ocasio-Cortez to label the centers as "concentration camps."
As activists and judges slammed the unsanitary and unsafe conditions — which former prisoners of pirates and even the Taliban said were worse, in some ways, than what they experienced— some academics and former camp detainees agreed that the facilities are, by definition, concentration camps.
While some in the U.S. and Israel protested the appropriateness of using a term so commonly associated with the atrocities of World War II, there seemed to be little complaint when the Department of Defense used this same phrase to describe detention camps in China earlier this year.
"The Communist Party is using the security forces for mass imprisonment of Chinese Muslims in concentration camps," Randall Schriver, assistant secretary of defense for Indo-Pacific security affairs, told reporters last month. When asked about the phrase, Schriver said it was an "appropriate description" given the "magnitude of the detention... what the goals are of the Chinese government and their own public comments."
For more than two years, China has slowly waged a silent cultural and religious war on mostly Muslim ethnic minorities, in particular the Uighurs, in the northwest region of Xinjiang. The region has essentially become a police state with the deployment of omnipresent surveillance and facial recognition systems. Local authorities have demanded abstinence from religious practices, which prohibits everything from growing beards to the passing on of cultural traditions to children.
For those who have fallen afoul of these arbitrary rules⁠—which also bans traveling or speaking to loved ones overseas⁠—re-education camps awaited. It has been estimated there are at least 800,000 to more than 2 million people being detained.
Last year, former U.S. Ambassador to the United Nations Nikki Haley said it is "the largest internment of civilians in the world today," and that "it may be the largest since World War II."
The Chinese government initially denied the existence of these facilities, before abruptly embracing them as tools for eradicating extremism.
The U.S. government was so concerned about the Xinjiang situation, the State Department devoted a special section of its annual Report on International Religious Freedom, released last week, to the issue.
"[Detainees are held] in specially built or converted detention facilities in Xinjiang and subjected them to forced disappearance, torture, physical abuse, and prolonged detention without trial because of their religion and ethnicity since April 2017. There were reports of deaths among detainees," the report read.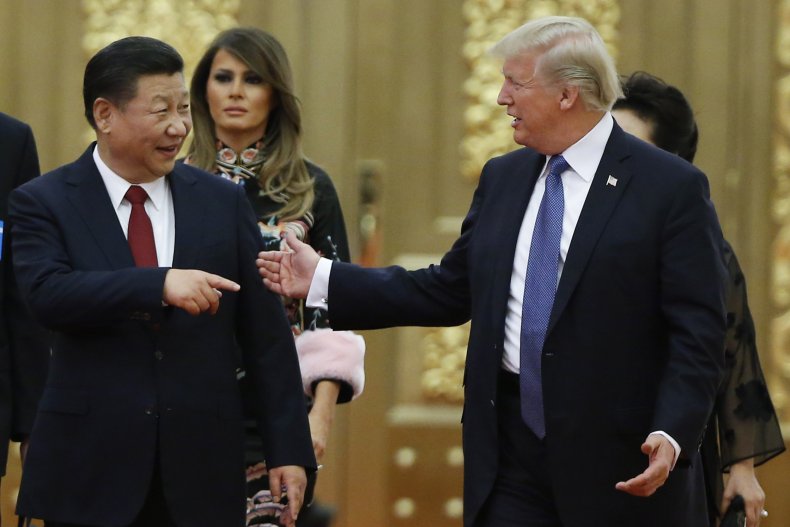 But whether the Trump administration, which has rejected the "concentration camp" descriptor when used domestically, will push China on the issue of Xinjiang at G20 remains to be seen.
The White House and the State Department did not immediately respond to requests for comment on the matter.
But James Millward, a leading expert on Xinjiang, wrote a pointed post on Medium this week imagining what a conversation between the two leaders on their detention facilities would be like: "Xi might argue that his camps are cleaner (at least the ones he lets the press see), and he doesn't put children in cages. But, Trump might counter, he's only thrown a few thousand Latin American asylum seekers in his prison-like facilities on the US southern border. And Xi holds 1–2 million Uyghurs and other Turkic peoples in his Xinjiang gulag."
"This conversation won't happen — I doubt either will bring up the camps in their discussion — but it is an astounding thing to have in common," Millward wrote.
Foreign Policy previously reported that activists believed sanctions against human rights abusers in Xinjiang would be forthcoming in December, but were left disappointed, with many experts believing trade talks have taken priority in the Trump administration.
Ferkat Jawdat, a Uighur and U.S. citizen who met with Secretary of State Mike Pompeo earlier this year, previously told Newsweek that he and other American Uyghurs are losing hope that the State Department can rescue their loved ones.
"As time is going, we are kind of losing hope. So again we ask the State Department and especially the White House to condemn China," he said.