Trump Yet to Answer One Press Question Since Election as GOP Pressure for His Concession to Biden Grows
Republican pressure for President Donald Trump to concede to President-elect Joe Biden grew this weekend as he continued his unprecedented run of staying silent with the press.
Since most major media outlets called the election for Biden 15 days ago, Trump has tweeted claims of widespread voter fraud and a stolen election on nearly a daily basis. But the president is yet to answer one question from reporters since Election Day.
"This is an unprecedented streak of silence for the President of the United States," CNN host Brian Stelter said on Sunday.
Trump isn't the only figure from his administration that has refrained from engaging with press questions in weeks. Despite the third wave of COVID-19 surging in most parts of the country, Vice President Mike Pence, head of the White House Coronavirus Task Force, also has not answered questions from the media.
Meanwhile, a growing number of Republicans this weekend are pressing Trump to concede, as a Pennsylvania judge rejected Saturday night the campaign's lawsuit to reverse his election defeat.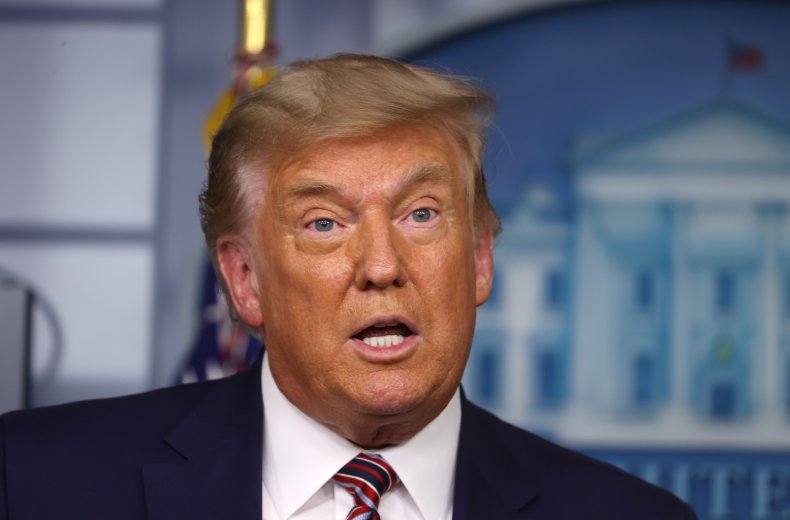 Maryland Governor Larry Hogan urged Trump to concede instead of golfing after Trump called him a RINO (Republican In Name Only) on Twitter Sunday.
"If you had done your job, America's governors wouldn't have been forced to fend for themselves to find tests in the middle of a pandemic, as we successfully did in Maryland," Hogan responded. "Stop golfing and concede."
Longtime Trump ally Chris Christie, a former Republican New Jersey governor, called Trump's legal team "a national embarrassment" on Sunday ABC News' This Week—after a federal judge granted Pennsylvania's request to dismiss his lawsuit alleging voter fraud in the state.
In a scathing 37-page opinion, District Judge Matthew Brann wrote that the Trump campaign tried to throw out millions of votes using "strained legal arguments without merit and speculative accusations."
"I've been a supporter of the president. I voted for him twice. But elections have consequences, and we cannot continue to act as if something happened here that didn't happen," Christie told host This Week George Stephanopoulous. "You have an obligation to present the evidence. The evidence has not been presented."
Senator Pat Toomey of Pennsylvania told Trump to "accept the outcome of the election" on Saturday night because he had already "exhausted all plausible legal options to challenge the result of the presidential race in Pennsylvania." After Brann's ruling, Toomey also acknowledged Biden's win.
Republican Congressman Fred Upton of Michigan told CNN's Inside Politics that "the voters have spoken" and it was time for Trump to "move forward."
"I mean, here in Michigan, it was a 154,000-vote margin by President-elect Biden, and no one has come up with any evidence of fraud or abuse," he said. "We expect that that process move forward and let the voters, not the politicians, speak."
Former National Security Adviser John Bolton called the president's behavior "inexcusable" during an appearance on CNN's State of the Union and urged top Republicans to put an end to the discourse. "We need all of our leaders to come out and say, 'The election is over,'" Bolton said. "We're not talking about an abstract right for Trump to use his legal remedies. We've passed that."
"The more who come out and say, 'He doesn't represent us. He is not following a Republican game plan here,' the safer they will be."
Senator Kevin Cramer of North Dakota urged Trump to "start a transition" to Biden's team. In an appearance on NBC News' Meet the Press, Cramer stopped short of saying that Trump definitely lost, but said: "I'd rather have a president that has more than one day to prepare should Joe Biden, you know, end up winning this."
Newsweek reached out to the White House for comment.