Trump Hasn't Publicly Acknowledged Kentucky School Shooting, but Canada's Prime Minister Has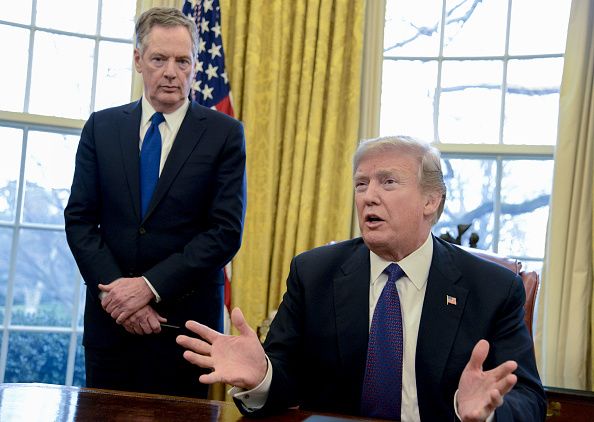 President Donald Trump as of Wednesday morning had not publicly commented on Tuesday's deadly high school shooting in Kentucky, while a number of politicians have expressed condolences.
Although White House press secretary Sarah Huckabee Sanders on Tuesday told reporters Trump had been informed of the incident and offered "thoughts and prayers...with the victims and families there," the commander in chief had not made his own statement as of 10 a.m. Wednesday. Tuesday's attack left two students dead and another 18 injured.
Since the attack, Trump has tweeted on matters such as "50,000 important text messages between FBI lovers Lisa Page and Peter Strzok" and a reminder that "if there is no Wall, there is no DACA." No mention of the attack was viewable on the White House's official Twitter account as of 10 a.m. on Wednesday.
Other politicians, however, were quick to voice their support and solidarity. Kentucky's governor, Matt Bevin, acknowledged tremendous "heartbreak" in the community and asked for everyone "to love on each other at this time," in a statement released soon after the incident.
Canadian Prime Minister Justin Trudeau tweeted Tuesday that he'd spoken directly with Bevin. "Our hearts go out to Kentuckians, and to all those affected by this tragedy," he said on Twitter.
Senate Majority Leader Mitch McConnell expressed gratitude to "the first responders who rushed into harm's way" on the Senate floor on Tuesday. Kentucky Senator Rand Paul and former U.S. Representative and shooting survivor Gabrielle Giffords were among a slew of others who responded. Paul similarly tipped his hat to first responders, while Giffords demanded gun reform.
Tuesday's attack began shortly before 8 a.m., when a 15-year-old boy armed with a handgun reportedly walked into Marshall County High School in Benton, Kentucky, and started shooting. Two 15-year-olds died, and five of the 18 injured remained in critical condition as of Tuesday night, according to The New York Times.
The teen faces murder and attempted murder charges, according to various reports.
The Kentucky shooting marks at least the 11th shooting reported on school property in this month alone. A day earlier, on Monday, a 16-year-old male student shot and injured a 15-year-old girl in a Texas high school cafeteria.