#TrumpMeltdown Trends as Americans Mock Trump's Combative Press Conference With Finnish President
The hashtag #TrumpMeltdown began trending on Twitter on Wednesday afternoon as tens of thousands of Americans ridiculed President Donald Trump over his combative White House press conference with Finnish President Sauli Niinistö.
Trump embarked on a roughly 16-minute rant against his enemies—including the Democrats, the whistleblower and the mainstream media—during an Oval Office joint press conference on Wednesday. The president's so-called meltdown appeared to have been exacerbated by provoking questions asked by reporters about matters related to the impeachment inquiry and his actions since it was launched by House Speaker Nancy Pelosi last week.
When asked by Reuters' Jeff Mason whether he considers "anyone who opposes you treasonous," Trump responded by saying liars are treasonous, before then attacking House Intelligence Chairman Adam Schiff.
"When they stand before our great body, in our great chamber, and they make up a story that's fiction, like Schiff did," the president said. "He took that perfect conversation I had with the Ukrainian president, and he made it into a total lie. It was a total fabrication."
Trump continued on to boast about his intelligence and assert that he watches his words very carefully. "There are those that think I'm a very stable genius, okay?" he said. "I watch my words very, very closely. And to have somebody get up, and to totally fabricate a conversation that I had with another leader, and make it sound so bad. It was so evil."
The president also attacked Pelosi for launching an impeachment inquiry into him when he claims she should be focussing on improving her district. "You see what is happening to her district?" he said. "We call it tent city, it is terrible. We just sent a violation to the city of San Francisco."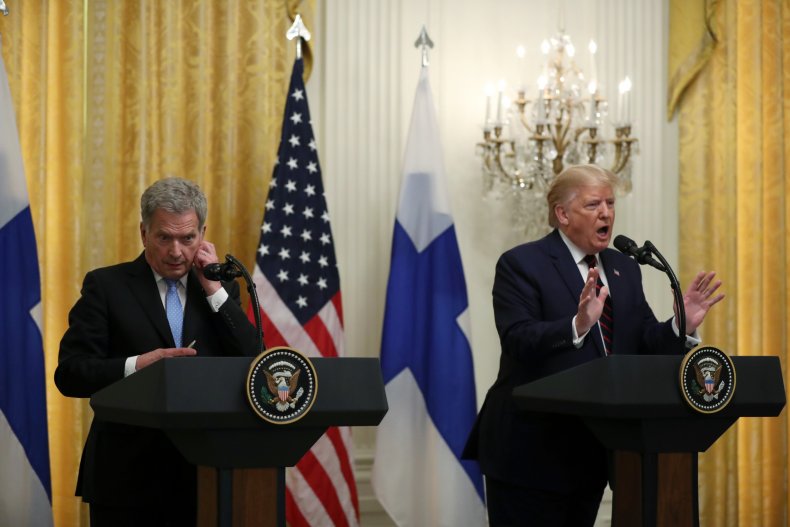 "Ninety-nine percent of Nancy Pelosi's time is spent on this," Trump added.
California governor Gavin Newsom fired back at Trump after his attacks on Pelosi and San Francisco by expressing sympathy for Niinistö. "Actually watched your press conference—mainly just feel bad for the poor President of Finland who had to endure that," he tweeted.
Tens of thousands of Americans also took to Twitter to mock the president's performance in the Oval Office. As of Wednesday afternoon, "Finland" and the hashtag #TrumpMeltdown rose to the first and second most-trending topic on the social media platform in the United States.
"#TrumpMeltdown is a top worldwide trend on Twitter now," Nick Barnets, a teaching assistant at Syracuse University, wrote. "Just catching up on what caused this to trend right now specifically and all I have to say is that I commend the President of Finland for handling well what had to have been the most akward public situation he's ever been in."
"We are all the president of Finland. #TrumpMeltdown," Twitter user @Diane_7A wrote, alongside a short GIF of Trump patting Niinistö's knee during the press conference.
"This press conference is dangerous and an embarrassment to our nation #TrumpMeltdown," NYC council candidate Marti Gould Cummings tweeted.
"I'm with usually chill Europeans tonight who are completely freaked out by the #TrumpMeltdown show with President Niinisto of Finland. I don't know why," author Nina Burleigh tweeted.
"Watching the President of Finland begging to be rescued from this insanity was a sight to behold. #TrumpMeltdown," Twitter user @BroadStBoss wrote, alongside images of Niinistö' looking uncomfortable during the incident.
"Can we please all agree that this experiment of having a dumb TV host and shady real estate developer with no government knowledge, 6 bankruptcies, 5 kids from 3 marriages, 23 charges of sexual assault, and 35,000 lawsuits as president is not going well at all? #TrumpMeltdown," Twitter user @Strandjunker wrote.
"We just witnessed the US president having a psychotic episode on live TV: The mental decline of Trump has been nothing short of stunning. At this point, it's absolutely gross negligence for White House staff, as well as Trump's family not to do an intervention. #TrumpMeltdown," Twitter user @maddenifico wrote.
"As I said a few days ago, we're dealing with a disturbed sociopath. We are going to see many more, and worse re: #TrumpMeltdown," SiriusXM host Michelangelo Signorile tweeted.
"I'm old enough to remember when Clinton was going through the impeachment process, he still conducted himself with dignity and continued to put America first! #TrumpMeltdown," Twitter user @CelticWynd13 wrote.
"We are watching Donald Trump melt down in real time because he cannot handle the fact that he got caught and is going to be impeached for soliciting Ukraine to interfere in the 2020 election. #TrumpMeltdown," Twitter user @ProudResister wrote.
"Stable people don't generally have to public state they are stable. Just saying. #TrumpMeltdown," MSNBC legal analyst Maya Wiley tweeted.