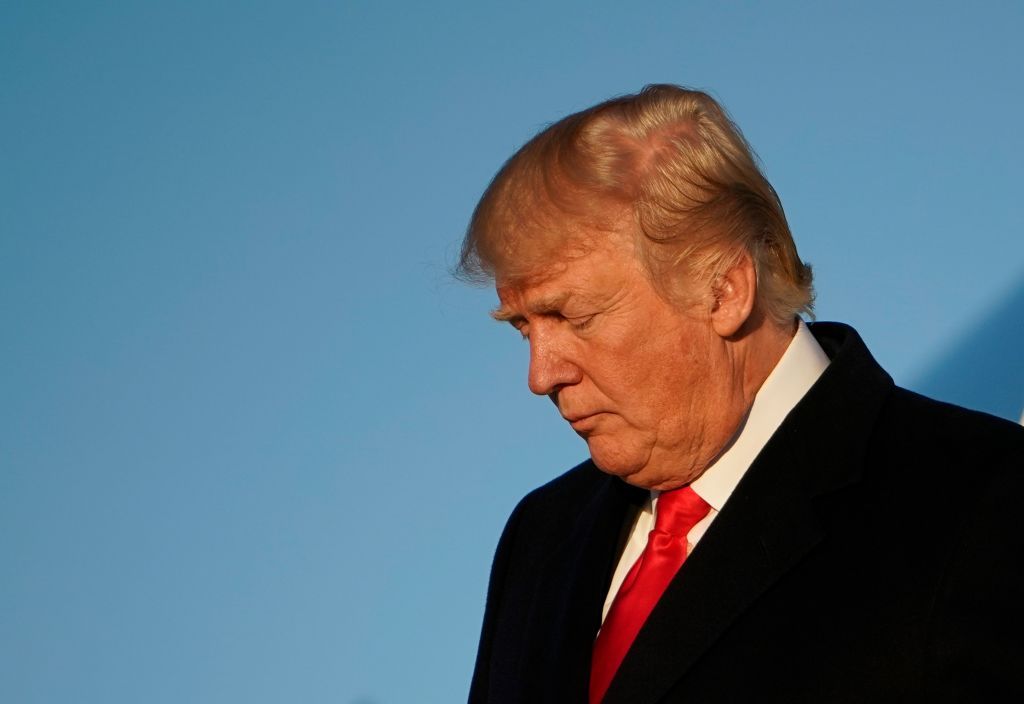 Real estate and reality television mogul Donald Trump took to the airwaves in 2013 to criticize President Barack Obama during the weekslong shutdown of the U.S. government.
However, what President Donald Trump said as a private citizen came back to haunt him this weekend as 1 million government workers and bureaucrats prepared not go into work or get paid Monday because he was unable to forge a deal in Congress to keep the government open.
Trump spent Saturday replaying clips of his criticism of Obama's leadership during the shutdown, according to a White House aide who spoke with The New York Times.
"Problems start from the top, and they have to get solved from the top, and the president's the leader, and he's got to get everybody in a room, and he's got to lead," said Trump during an appearance on one of his favorite talk shows, Fox & Friends, on January 20, 2013, 10 days before a shutdown began October 1.
Trump criticized Obama for not being a dealmaker or a leader. "He doesn't like doing that. That's not his strength," Trump said. "And that's why you have this horrible situation going on in Washington. It's a very, very bad thing and it's very embarrassing worldwide."
The 2013 shutdown, which ostensibly started when Republicans in the House refused to fund Obamacare, lasted for 16 days and cost the U.S. economy about $23 billion, according to financial analysts.
Related: Things you can't do during the government shutdown
Ten days into the shutdown, on October 11, Trump appeared on CNN to give Obama some advice. "You have to get people in a room, and you have to just make deals for the good of the country," Trump said.
"You just have a president that is not leading and not getting people into a room and not shouting, and cajoling, and laughing, and having a good time and having a terrible time," he said.
Trump's input into the current shutdown has served to push Republicans and Democrats further apart as they worked to forge a deal in recent weeks. During one meeting on immigration in the Oval Office, Trump reportedly asked: "Why are we having all these people from shithole countries come here?" sources told The Washington Post and other media. Trump later denied using the words reported.
A potential deal between Republicans and Democrats fell apart last Friday after Democrats refused to vote for short-term spending to keep the government open unless Republicans agreed to provide a fix for the Deferred Action for Childhood Arrivals immigration program, which Trump ordered to end last September.
Since the shutdown began at 12:01 a.m. Saturday, Trump has spoken with Republican leaders but not with Democrats, a White House official told the Associated Press Monday.
The president's absence is challenging his image as a dealmaker. "Nobody runs for Congress because they want to compromise their principles. They want to advance their agendas," Alex Conant, a Republican strategist, told the Associated Press Sunday. "In Washington, not everybody wants to make a deal. Trump's initial premise that politicians just needed to be prodded more to make a deal was always flawed."
Last Wednesday, just a couple days before the shutdown deadline, Republican Senate Majority Leader Mitch McConnell said he still didn't have a clear idea from the president what he wanted. "He's not yet indicated what measure he's willing to sign," McConnell told reporters. "As soon as we figure out what he is for, then I would be convinced that we were not just spinning our wheels going to this issue on the floor, but actually dealing with a bill that has a chance to become law and therefore solve the problem."
After the 2013 shutdown was resolved, on November 8, Trump tweeted that leadership meant, "Whatever happens, you're responsible. If it doesn't happen, you're responsible."