Ken Cuccinelli, the acting director of U.S. Citizenship and Immigration Services, said Wednesday that ending birthright citizenship does not need a Constitutional amendment.
"I do not think you need an amendment to the Constitution. I think the question is do you need congressional action or can the executive act on their own," Cuccinelli said during a breakfast event hosted by Christian Science Monitor.
The discussion of birthright citizenship, which is citizenship conferred on those born in the United States regardless of the citizenship status of their parents, has been a topic of debate under the Trump administration.
In August 2019, President Donald Trump told reporters that his administration was "very seriously" looking at birthright citizenship "where you have a baby on our land, you walk over the border, have a baby,-congratulations, the baby is now a US citizen...It's frankly ridiculous."
In an interview with Axios in October 2018, Trump claimed that he intended to end birthright citizenship through an executive order, but received considerable push back on the legality of that approach.
Then-Speaker of the House Paul Ryan responded to the comments saying that birthright citizenship could not be ended by executive order because "the 14th Amendment is pretty clear."
Despite strong rhetoric from the White House on pursuing the agenda, experts in constitutional law assert that an amendment would be required.
"Yes, it would require a constitutional amendment, and almost everyone else working on this topic would agree," Ian Bartrum, a law professor at University of Nevada, Las Vegas told Newsweek.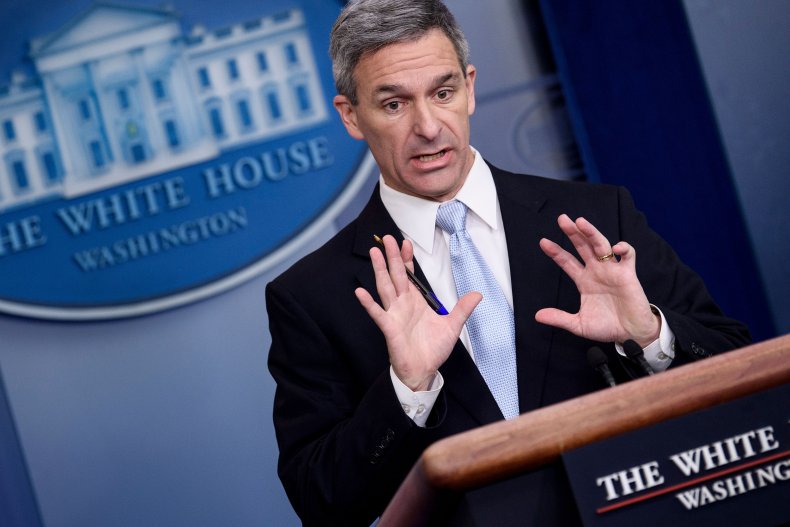 Birthright citizenship is protected by the 14th Amendment of the Constitution which states, "All persons born or naturalized in the United States, and subject to the jurisdiction thereof, are citizens of the United States and of the State wherein they reside. "
Bartrum mentioned that the 14th Amendment was created to overturn the Dred Scott case, which allowed states to deny citizenship to the descendants of former and freed slaves. He noted that overturning that amendment would be questionable.
A constitutional amendment can be proposed either by a two-thirds majority in both houses of Congress or by a call for a constitutional convention by two-thirds of the state. The proposed amendment would require ratification for three-quarters of state, making the possibility of such action quite low.
Cuccinelli took the post of acting director for USCIS in June 2019, and has already been tapped as a possible candidate for Secretary of Department of Homeland Security.
He has strong conservative support behind him for the post. On Monday, the Conservative Partnership Institute, an organization that supports Republican politicians and staffers, endorsed him for the position, which Trump has said he will announce this week.