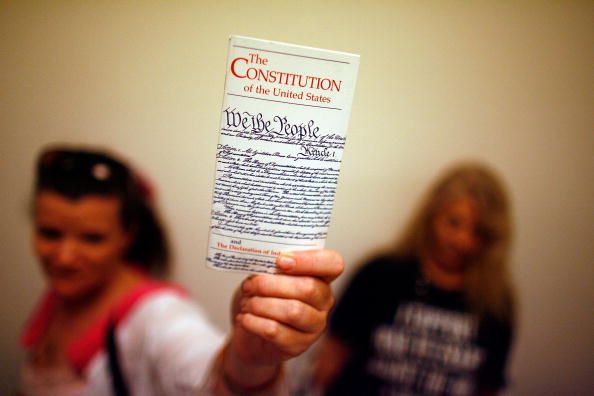 When the public hears news of a travel ban proposed by Donald Trump being struck down in whole or in part by the courts, it should recognize the interaction between the executive and judicial branches of government and remember that freedom of religion is protected by the First Amendment. When the public reads about Trump's campaign promise to build a wall, it should be aware that he cannot act unilaterally to make it a reality, but rather that he'll need the legislative branch to provide funding. And when the public hears fiery rhetoric about deportation, it should be aware that even people who are in the United States illegally have the right to due process under the 14th Amendment's equal protection clause.
Unfortunately, many Americans lack fundamental civics knowledge, according to the recent Constitution Day Civics Survey by the Annenberg Public Policy Center of the University of Pennsylvania, and therefore cannot understand current events.
"In light of the information in the news about First Amendment issues, the ignorance of the public about the First Amendment is startling," Kathleen Hall Jamieson, director of APPC, tells Newsweek. "So there are times in which one needs knowledge about the Constitution to make sense of what's happening in the news environment," she adds. "In particular when rights are at issue it's important that people understand what their rights are as they read the news."
The results, published on September 12, reveal that more than half of Americans (53 percent) believe people in this country illegally have no protections under the Constitution. If that weren't startling enough, only about a quarter (26 percent) of Americans can successfully name all three branches of government, with one-third of respondents unable to name a single branch, 27 percent who knew one branch and 13 percent who knew two.
More than a third (37 percent) of respondents could not name a single specific right guaranteed under the First Amendment. Roughly 48 percent of respondents named freedom of speech, while only 15 percent said freedom of religion, 14 percent said freedom of the press, 10 percent said the right of assembly, and just a meager three percent said the right to petition the government.
While most respondents said atheists and Muslims have the same rights as other citizens (79 percent and 76 percent, respectively), a staggering 15 percent said atheists do not have the same rights and 18 percent said Muslims do not. "Any percent answering incorrectly is problematic," says Jamieson, who points out that even the relatively low percentages indicate that a lot of people don't understand freedom of religion.
Less than half of respondents (49 percent) said they oppose "the U.S. Congress forbidding the news media from reporting on any issue of national security without first getting government approval," with 39 percent said they were in favor, demonstrating a lack of understanding of prior restraint even when asked without the jargon.
The survey was conducted for Annenberg by an independent research company between August 9 and 13. Participants included 1,013 U.S. adults, age 18 and older, with some responding via cell phone and some in Spanish. The margin of error was roughly 3.7 percent.
The center has been doing its annual Annenberg Constitution Day Civics Survey—ahead of Constitution Day, celebrated this year on Monday—for several years. The exact questions included change every year based on what concepts and knowledge might be necessary to understand what's happening in the news. With immigration and religion at the heart of many political debates since the 2016 presidential election and the media under assault from the president and others, Annenberg crafted questions this year about those issues. It tends to ask the question about the three branches every year, seeing what Jamieson calls a "depressing stability of the results.
"What this survey shows is that we have not done the job that we collectively have to do as a nation in building a deep understanding of what the Constitution says and why it says it," Jamieson says. And "simply fixing civics education at this moment will not change public knowledge. We have to find other ways to increase foundational knowledge."