Trump's Approval Drops Among Christian Groups, Including White Evangelicals, Poll Shows
President Donald Trump's support among Christian groups slipped since April, although the majority of Protestants and white Catholics approve of the job he's doing.
Trump's drop in support among Christian groups ranged from four percentage points to 11 with the highest being among Catholics, according to a Pew Research poll. The president still holds a 72 percent approval rating from white evangelical Protestants, a key group in his 2016 election victory, but support has dropped by six percentage points since April.
Back in 2016, 81 percent of white evangelical Christians voted for Trump, Pew Research found, representing a three percent increase from Mitt Romney during the 2012 election. Despite the recent slip in approval, if the election was held today, Pew found 82 percent of white evangelical Protestants who are registered voters would vote for Trump or would at least lean toward voting for him.
In April, Trump had a majority approval rating from Christians, Protestants, Catholics and every subcategory that was polled except Black Protestants. Two months later, Trump lost a majority approval rating from Christians and Catholics, dropping from 55 percent and 52 percent respectively to 49 percent and 41 percent.
Newsweek reached out to Trump's campaign for comment but did not receive a response in time for publication.
Pew conducted the poll between June 16 and 22, following Trump's controversial visit to St. John's Episcopal Church and the Supreme Court's landmark LGBTQ ruling.
Amid protests following George Floyd's death, Trump ventured from the White House to the historic church, where he held a Bible up for a photograph. Reports of tear gas being used to disperse protests ahead of the president's visit sparked criticism from prominent, local religious leaders.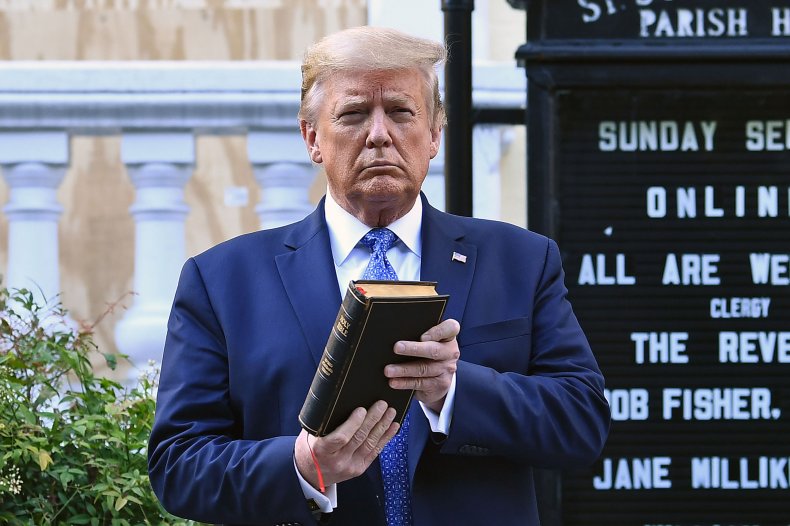 Archbishop Wilton Gregory, the top Catholic leader in Washington, D.C., said in a statement that John Paul II, who headed the church for over 30 years, would not "condone the use of tear gas and other deterrents to silence, scatter or intimidate them for a photo opportunity in front of a place of worship and peace." Bishop Michael Curry, the chief pastor of the Episcopal Church, criticized Trump in a statement, saying he used a church building and the Bible for "partisan political purposes."
However, other religious leaders saw Trump's visit to the church as a moment to send a positive message. Robert Jeffress, who heads the 14,000-member First Baptist Church in Dallas, told The Atlantic, he thought it was "completely appropriate" and was happy that Trump held up the Bible to show "God hates racism ... but God also hates lawlessness."
"I will never forget seeing [Trump] slowly & in-total-command walk ... across Lafayette Square to St. John's Church defying those who aim to derail our national healing by spreading fear, hate & anarchy," Johnnie Moore, the president of the Congress of Christian Leaders, posted on Twitter.
One reason why Trump's 2016 campaign appealed to Christians was the likelihood that he'd nominate conservative Supreme Court justices that would fall in line with their values. During his rally in Tulsa, Oklahoma, Trump championed his nominees, Justices Neil Gorsuch and Brett Kavanaugh, for being "great," and floated the possibility "we could get a few more."
In the weeks following the rally, the Supreme Court struck down an abortion law in Louisiana and ruled that gay, lesbian and transgender people are protected from being disciplined, fired or turned down for a job based on their sexual orientation. Both of Trump's nominees voted in favor of upholding the abortion law, but when it came to protections based on sexual orientation, Gorsuch wrote the majority opinion.
White evangelicals are crucial to Trump's reelection in November and Reverend Rob Schenck told the Los Angeles Times the Supreme Court rulings "has definitely introduced doubt." However, Costi Hinn, a pastor in Arizona, said the disappointment isn't outweighing the belief that Trump needs a second term in office "so that the job can be finished."