Trump's Approval Rating Among Republicans Drop in Poll
New polling from Scott Rasmussen, who founded Donald Trump's favored right-wing polling company, Rasmussen Reports, has shown his lowest-ever recorded approval for the president while also noting that support among Republicans has slipped since mid-June.
Meanwhile, as most national and state level polls present a dismal picture of Trump's approval rating and support, five Republican senators have confirmed they will not be attending the Republican National Convention (RNC) in Jacksonville, Florida. GOP Senators Lisa Murkowski of Alaska, Mitt Romney of Utah, Lamar Alexander of Tennessee, Susan Collins of Maine and Charles Grassley of Iowa have all said they will not be at the August event.
Although an aide to Collins told The Washington Post that she has never attended the national convention during her re-election years, Grassley cited concerns about the surging coronavirus pandemic. Romney and Murkowski have publicly criticized Trump on multiple occasions.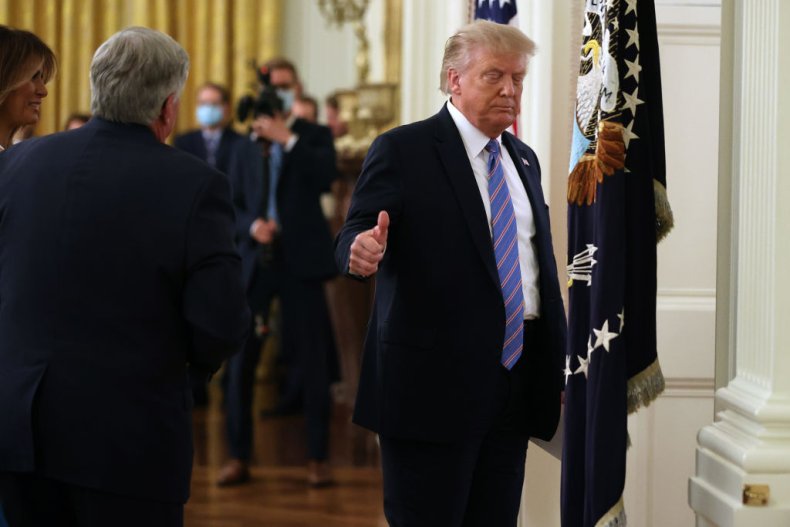 Now, Rasmussen's latest polling, which was published Tuesday, shows that Trump's support among Republicans has declined by 4 points since mid-June. It now stands at 80 percent, down from 84 percent.
Overall, Rasmussen said he recorded the lowest level of approval he has seen for Trump, at just 39 percent nationwide. Of that total, only 27 percent said they strongly approve. At the same time, 58 percent of respondents said they disapprove of the president, while 47 percent said they strongly disapprove.
Notably, Rasmussen is no longer affiliated with Rasmussen Reports, having left the company in 2013. Trump has frequently cited Rasmussen Reports, which typically appears to be more favorable to the president than other public polling companies, to tout his support from Americans. Rasmussen Reports currently shows 45 percent of Americans approving of the president, with 53 percent disapproving.
Rasmussen's latest polling aligns with Gallup, which showed the president's approval rating standing at just 38 percent at the end of June. However, Gallup reported that 91 percent of Republicans still approved of the president, a decline of just 2 points since February.
Newsweek reached out to the Trump campaign for comment but did not hear back in time for publication. Previously, the campaign has been dismissive of public polling in statements to Newsweek and other media outlets. It has argued that many public polling companies lean Democratic and are biased against Trump.
Campaign officials point to 2016 as well, when many polls showed former Democratic presidential candidate Hillary Clinton was far ahead of Trump. Clinton went on to lose by a significant margin in the Electoral College, although she won the popular vote by nearly 3 million more votes than Trump.
The president's approval rating has dropped noticeably as the coronavirus pandemic has worsened nationwide. The U.S. continues to be the country with the highest number of infections and deaths. As of Wednesday, more than 3 million Americans have been infected with the virus, and more than 130,000 have died. Those numbers are approximately a quarter of the global totals.
The headline of this article has been changed.