Trump's Approval Rating Climbs Among Black Voters, But Goes Down Overall
A new poll indicates that President Donald Trump's approval rating among Black voters increased while his overall approval rating slumped during the Republican National Convention.
The Hill-HarrisX poll released Friday indicated that Trump had gained 9 percent among Black voters when compared to the previous poll from two weeks ago, going from 15 percent approval to 24 percent. His approval rating among Hispanic voters also rose slightly from 30 percent to 32 percent, while he lost the same amount of support among with white voters, going from 54 percent to 52 percent.
The president's overall approval rating dropped slightly from 45 percent to 44 percent. The poll also found a 58 percent majority of both urban and suburban voters disapproved of Trump, while 42 percent approved. However, the president had an edge among rural voters, with 53 percent approving and 47 percent disapproving.
Trump had an 82 percent approval rating among Republicans, with 18 percent saying they disapproved. His approval with Democrats was 13 percent, with 87 percent disapproving. A majority of independent voters, 58 percent, said they disapproved of Trump while 42 percent approved.
Among voters that said they planned on voting for Trump, 7 percent indicated they would be doing so despite disapproving of the job he is doing, while 7 percent of those who said they would vote for former Vice President Joe Biden indicated that they approved of Trump.
Trump's approval rating among men was split evenly, with 50 percent each saying they approve or disapprove of this job performance. Women were decidedly less impressed with the president, with 61 percent saying they disapprove and 39 percent approving.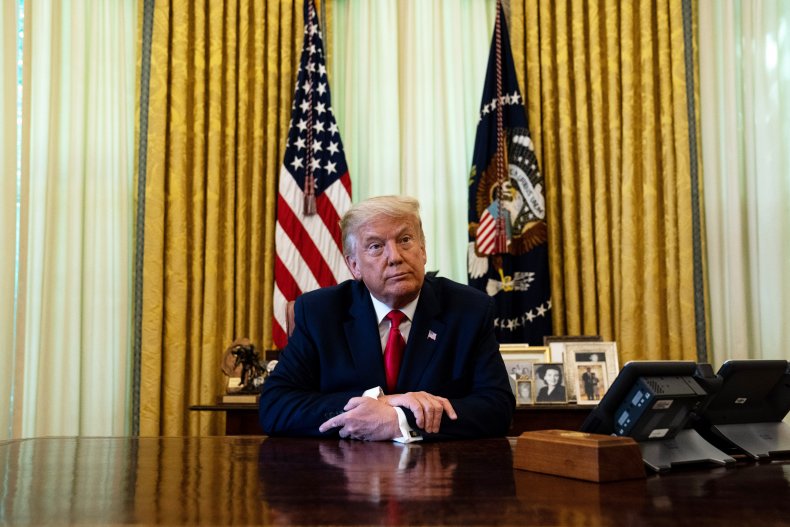 Every age group surveyed disapproved of Trump except for the 35-49 demographic, which gave Trump a very slight edge of 51 to 49 percent in favor of approval. The previous poll also found the same age group to be the only one that favored Trump, although at a slightly higher rate of 53 percent.
The new poll was conducted between August 22 to August 25, a time period that included the first two of four days of the Republican convention. It surveyed 2,861 registered voters online and has a margin of error of 1.83 percent. The previous poll was taken online among 2,828 registered voters between August 8 and August 11 and has a margin of error of 1.84 percent.
When compared to the approval ratings of former incumbent presidents who won their reelection bids, Trump's ratings do not look favorable. Former Presidents Barack Obama, George W. Bush and Bill Clinton all had significantly higher approval ratings at the same point in their presidencies, according to FiveThirtyEight.
In addition, the percentage of those who say they disapprove of Trump is similar to the most recent incumbents to lose their bids for a second term. Former President George H.W. Bush had a slightly lower disapproval rating before losing to Clinton in 1992, while Trump's disapproval rating is within 1 percent of matching that of former President Jimmy Carter, who lost the election of 1980 overwhelmingly.
Newsweek reached out to the Trump campaign for comment.