Trump's Approval Rating on Economy Dips to Lowest Since September Amid Coronavirus Pandemic
Americans are unhappy with President Donald Trump's handling of the U.S. economy during the coronavirus outbreak, according to a poll released Wednesday by CNN and research firm SSRS.
With most states placed under stay-at-home orders by their governors in an effort to curb the spread of coronavirus, many non-essential businesses have been closed, throwing millions of individuals out of work.
Trump holds a 48 percent approval rate on how he is dealing with the U.S. economy among those polled. When the same question was asked in March, 54 percent of Americans approved of Trump's economic policies. That number represents the first time Trump's approval rating in that area has gone below 50 percent since September 2019.
While 39 percent of those surveyed classified economic conditions in the U.S. as "good," 60 percent said they were "poor" with 32 percent calling them "very poor."
However, 67 percent of those polled said they expected the economy to improve in about a year, with only 31 percent estimating that conditions will be "poor."
Americans surveyed in the poll were nearly evenly divided as to whether or not the coronavirus has caused them any economic hardships. While 49 percent said they had experienced financial difficulties, 51 percent of those polled saying they had not.
Newsweek reached out to the White House for comment but did not receive a response in time for publication.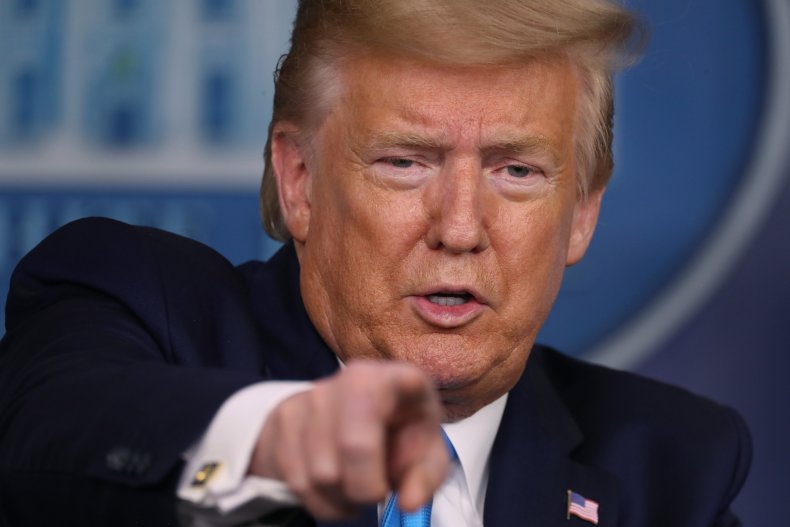 1,002 adults participated in the poll, which has a plus-minus 3.7 percent margin of error, conducted in the first week of April.
Since the U.S. began taking measures to combat the spread of coronavirus, Trump has often spoken of his desire to reopen the country for business. His initial aim was to begin reopening American businesses by Easter Sunday, but instead chose to extend nationwide social distancing guidelines.
"We can expect that by June 1, we will be well on our way to recovery," Trump said during a March news briefing. "We think by June 1 a lot of great things will be happening."
Unemployment rates in the U.S. have increased greatly, with over 6 million individuals filing for unemployment benefits during the first week of April.
In March, Trump signed off on a $2 trillion coronavirus emergency economic stimulus package designed to help some individual Americans by sending them direct cash payments of approximately $1,200. Money is expected to start being distributed in April via direct deposit.
"This will deliver urgently needed relief to our nation's families, workers and businesses," Trump said during the signing ceremony, "and that's what this is all about."
More funds could be on the way to Americans, according to Trump, who said Monday his administration "could very well do a second round" of direct cash payments.
"It is absolutely under serious consideration," Trump added.
Small businesses were also encouraged to enrol in the Paycheck Protection Program, a loan program that would ostensibly allow employers to keep employees on the payroll and cover other expenses, such as utilities and rent.